By Najiya O, TwoCircles.Net
Exams were over and the students were getting ready for the school annual day celebrations.  It was an important day in the life of Raees, then in class 10. He had been out all day, buying things and making arrangements for the annual celebration, which was to be a memorable get-together before leaving the school for higher studies.  He was lying on the rear of the truck that carried items like banner and boards to the school.  Dreaming of the next day, he dozed off a little.  That was when the accident took place.
---
Support TwoCircles
---
A month later when exam results were published, he was still in the Intensive Care Unit at the Calicut Medical College Hospital. Raees was just like any other boy his age only that he liked to find beauty in the small wonders around him.  He saw pain and joy in the ordinary lives around him.  He would bunk classes to be with his grandfather in the fields, or to go on a short train journey and meet a tea-shop owner near the railway station.  But the fatal accident in April 2002 on his 17th birthday changed his life altogether – he would be confined to his bed for the rest of his life, being able to move only his head, but at the same time doing what he can, for those around.
Raees, however, says that the accident has been the most beautiful thing to happen in his life.  He cites several reasons to say so for it changed a lot in his life.  It made him what he is now – a writer, speaker, film maker, a familiar face in protests for life and rights, and one of the founders of the NGO Green Palliative.  In his words, Raees is 'an avid listener to those who want to talk.'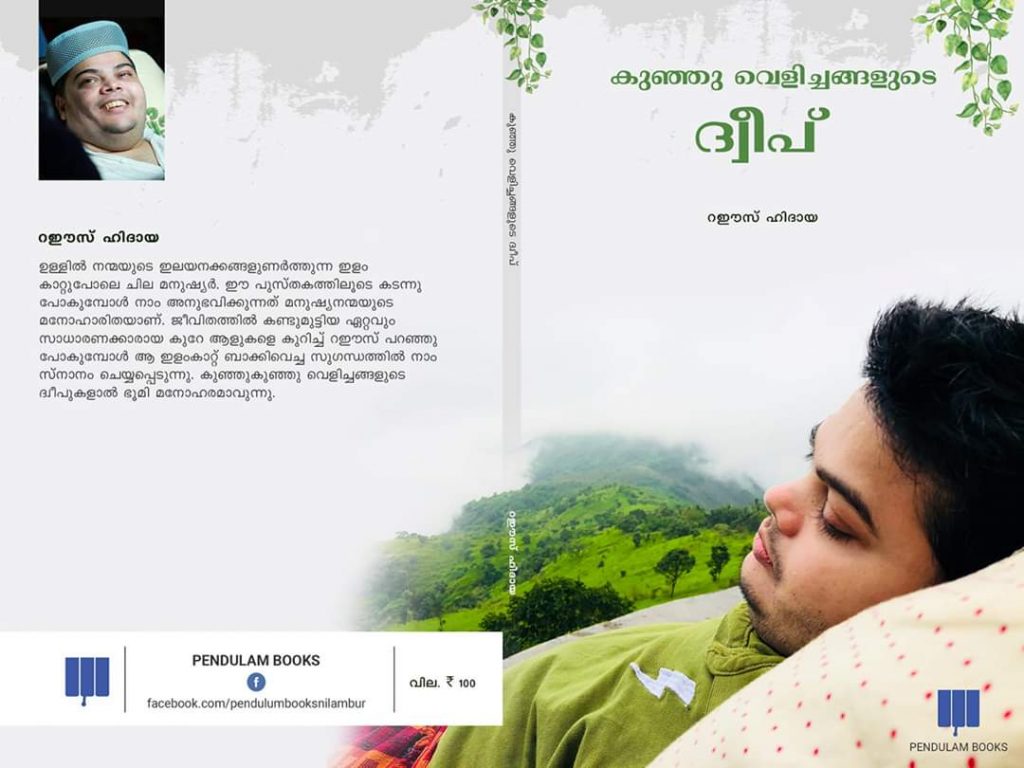 "I saw another world there," recalls Raees about his hospital days. Being in the ICU for a month and shuttling between hospitals for four months, Raees was totally depressed for one whole year.  He didn't like to see or talk to anybody.  Things began to change after he was admitted at the Calicut Medical College for physiotherapy after a year.  The experience at the government hospital was totally different from the private hospitals he had been in till then. It was at that time that he began reading 'In the Shade of Quran' by Sayyid Qutb.  The reproach for mere words and mantras without any good actions as said in the explanation of Surah  Ma'un caught his attention.  The explanation of the surah with live examples around him changed Raees, shaping his attitude towards life, religion and spirituality.
"The best thing I can do as a person is to be a good listener," says Raees.  He explains that he spends around 70% of his time listening to people because they just want to talk to someone who they can trust and confide in, without getting judged or rebuked.
"Actually when they tell me their problems, they too are listening to their own stories by which they can troubleshoot and find solution," feels Raees. The best things that anyone can give another are sharing their time and giving a hug, he opines. In an attempt to do something for the society, Raees and his friends began helping out the needy through several ways. Two years later, owing to government requirement of registration of organizations, they registered the Green Palliative as an NGO to coordinate all that they have been doing.  Although a registered unit, Raees discusses that Green Palliative does not have any demarcated designations like trust member, chairman, casual volunteer because the group is adamant that such demarcation shouldn't come, rather when a deserving case is presented, all of them discuss the matter while some investigate it thoroughly and then all of them together decide on whether to take it up.
The Green Palliative is known for campaigning daily humanitarian needs that often get overlooked by people. It organized a renowned campaign for wheelchair accessibility in the state, emphasizing on the need for wheelchair-friendly spaces, especially footpaths and government offices, in 2015 (https://www.youtube.com/watch?v=MCKfV7N5v5s).  "A person on wheel chair has the right to go out and work, and fulfill his needs," continues Raees, saying that wheelchair bound people are treated as patients. When we see a person on wheel chair on the road, we stare at him, may be because we are not used to the sight. Rather, we must understand that despite a physical disability, these are people motivated to earn and fulfill their dreams.  A change should come in the society by not letting them forcibly stay confined to the rooms in their houses "but expose them to the joy and wonders of the world outside, making their experiences good and persuade them to live there."
'Perunnakkodi' is another project of the Green Palliative in which new clothes are distributed to needy children for the two Eid celebrations every year.  The project, which had begun initially for children and widows, is beneficial for several others too now, and has attracted a good applause.
"Making a strong assertion that I am there to protest," said Raees, about his social media posts of protests. In several anti-CAA protests in Malappuram, Kozhikode and nearby places organized by different parties and groups, Raees on bed was a common sight.  He has earlier been a part of social programmes but the protests following the death of Junaid brought him to the front when he started posting photos of his participation on the social media. He stated that the level of politics and genuineness involved attracts him to protest for causes.
Raees's hobbies include reading, writing, music, films and travelling.  His first book 'Kunju Velichangalude Dweep' (roughly translated as 'the island of tiny lights') was published last year. It is a story of his experiences, perspectives and musings under short titles.  He has worked with a music album themed around the citizenship laws, Citizen Number '21.  He is the creative director of the music album 'Kaaval' (guard), music that is based on the coronavirus times.  His first directorial venture is a short film titled 'Thoppi' which mocks the communist party's attitude towards Muslims.  He is enthusiastic about sharing his views and thoughts on the social media too. Though he has done a lot, Raees keeps saying, " I am never a single word. Nothing have I done alone. Things that come out of me are the result of what I have heard, learned or known from many others."
"Being a child I didn't know it then, but now I realize he was a Sufi from who I learned a lot," says Raees, about his grandfather, his inspiration.  He used to bunk classes and roam around to know the world from his grandfather who taught him life. It was him, Raees narrates, who instilled several lessons in the mind of little Raees in his early years, and all of these having contributed to the person we see now. He believes "one can learn more from field of a cherumi (agricultural serfs in yesteryears in Kerala) than from the fields (chapters) of books."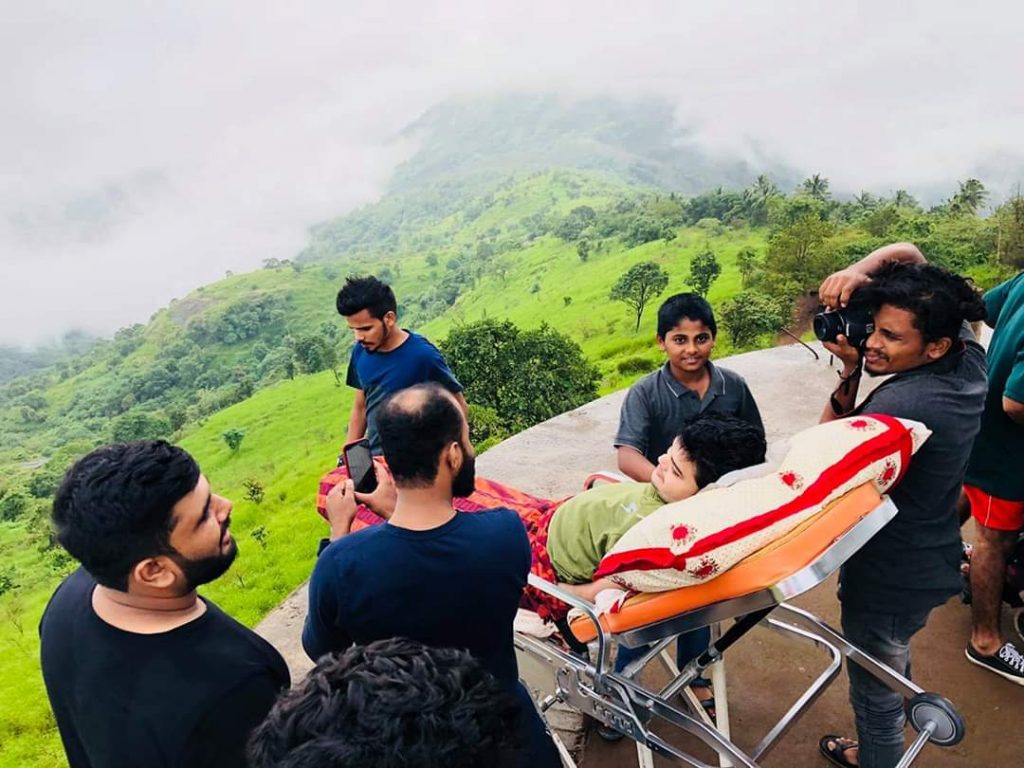 A passionate traveler, Raees learned journeying from his grandpa.  He explains that his grandfather being a Sufi, his travels were always in search of people and to them, and not to any place.  He would travel from one person to another, and then to yet another. Raees learnt the same. But now that he has limitations, he travels with family or friends in private cab. Close friends are his greatest strength- they take him to places like Kodikuthimala (522 metres above sea level in Malappuram district) or the Kurishumala in Wayanaddistrict, or to meet Shamnad (a bed-ridden friend in Kollam) or Ahmedka (an aged person at Vazhakkad in Malappuram).  Just as he goes to meet people, there are also those who come to meet him, like the very aged Ahmedka who came with his grandson one day and talked a lot barely a few weeks before his death.
Another inspiration in Raees's life is his mother  –  her love, courage, strength and prayers being his guiding light.  He recalls an incident about two years back when his mother had asked him why there were gaps between the fingers for every person.  Unable to find an answer, he turned back to her and she said – "they are to hold on to another's hands." It was she who never considered him any different from what he was before the accident, helping Raees to live as any normal person despite the accident rendering him physically disabled for life.
"And now we are hiding in our houses out of the fear of a virus which we can't even see with our eyes.  This asserts the pettiness of man," opines Raees, when asked about the pandemic. He says that even though the development achieved by the modern world is unprecedented, today we are scared for our deaths due to a tiny virus. He feels that this may be the time that God gave us to recognize the beauty around us, to realize how blessed we are, and to know and get closer to our family.
SUPPORT TWOCIRCLES
HELP SUPPORT INDEPENDENT AND NON-PROFIT MEDIA. DONATE HERE