By Auqib Javeed, TwoCircles.net
Srinagar: "We just need the dead body of our kin. We aren't demanding anything," says 50 year old Sara Bano at her residence  in Turkawangan village in South Kashmir's Shopian district.
---
Support TwoCircles
---
Bano's son Zubair Ahmad Lone (24), a mason by profession, was killed along with two other youth in an encounter with government forces in Lawaypora area of Srinagar city. The police and army claimed that the three youth were militants.
Zubair was the younger one among five siblings. His two brothers—Mohammad Irfan and Altaf Ahmad are working in Jammu and Kashmir Police department while others are businessman.
Speaking to TwoCircles.net, Bano said that her son left the home after having lunch with the family on 29 December, adding, "He told me he will come back after sometime."
When Zubair didn't return home till late evening, his family members started calling him but his phone was switched off.
"At 7:30 pm we made the first call but the phone was switched off. We called again and again but there was no response," Mohammad Irfan told TwoCircles.net.
Irfan said for the whole night they couldn't sleep. In the morning they received a call from the village headman, Jehangir Ahmad Mir that Zubair had been killed in an encounter.
The news sent shockwaves in the family as Zubair had no history of association with militancy.
Mir told TwoCircles.net that Zubair has not a single case against him in the local police station and was never involved in any case of militancy.
The encounter
On 30 December, hours after Jammu and Kashmir police along with CRPF and Army claimed to have killed three "militants" in an operation, Bano along with families of two other youth, claimed that the slain militants were civilians and were allegedly killed in a "fake encounter."
The families of the trio came all the way from South Kashmir to Srinagar (some 50 kilometres) and staged a protest outside the Police Control Room (PCR) Srinagar alleging that the slain were not militants but civilians.
The incident comes days after the police admitted that an army officer was involved in the killing of three Kashmiri civilians in July 2020 in a staged gunfight in South Kashmir's Shopian and were buried far away from homes as unidentified militants.
The other two slain youth killed in the Srinagar gunfight were identified as 24-year-old Ajaz Maqbool Ganai from Putrigam village in Pulwama and Athar Muhstaq Wani from Bellow, Pulwama.
The families of the slain youth claimed that the three youth were home till Tuesday and were not militants.
Muhstaq Wani, father of Athar Muhstaq told TwoCircles.net that his son was with his family till December 29 afternoon.
Athar, 17, left home after lunch and was at his maternal uncle's house for some time, his father said.
"Whenever he goes outside, he informs his mother at least come what may. We won't swallow this that he reached Srinagar without informing us," Wani told TwoCircles.net.
Wani said that at around 3 pm, he informed his sister that he is in Srinagar with his friend and might stay for the night. Athar was 11th standard Arts student.
"That was the last time we were in touch with him after that we lost contact with him," Wani said.
But Wani has apprehensions that he was made to call by "someone" to inform his family about his presence in Srinagar.
Like Zubair, Athar's phone was switched off throughout the night. His family argues that even if he was a militant or OGW as police claims, why wouldn't he make a last call to family.
"This is making us suspicious. The whole story of government forces looks cooked-up," Wani said.
In what has become a norm in last many years, most of the local militants make a final call to their families to say goodbye. Many audio calls of these militants then go viral on social media.
Athar was the lone son of his parents. He is survived by his father and a sister.
His father says Athar and brother of slain Aijaz were friends but his son had no links with Aijaz.
The uncle of the slain youth, told reporters outside PCR Srinagar that he was innocent and called the encounter "staged".
"Why did you kill our kin. He was innocent, what was his fault?" questioned the 60-year old man protesting outside PCR.
Another family shares the same narrative and alleged that their kin was also killed in a "staged encounter".
"My brother left the home yesterday. He had to submit a form in university. At around 3 pm, he informed us that he will stay in Srinagar," sister of slain Aijaz Maqbool, 24 told TwoCircles.net
On 30 December, Aijaz's father Mohammad—a policeman, who is posted in Ganderbal district of Central Kashmir called his family and informed them that their son had been killed in an encounter.
"We were shocked to know, how could this happen. He was living with us till yesterday. How can he become a militant overnight," Aijaz's sister said.
"He was at home for the last two months as he was not keeping well. I don't know why are the police linking him with militants," she said.
The family members of the Aijaz said that its impossible that their son can be a militant as he was living with them till 29 December. He was a 2nd year student.
"I wonder how our kin became militant. On 29 December at 10 am, he had tea with me. He must have been brought down from the Sumo. Why did they kill him? He was a student," said Bashir Ahmad Ganie, grandfather of Aijaz Maqbool.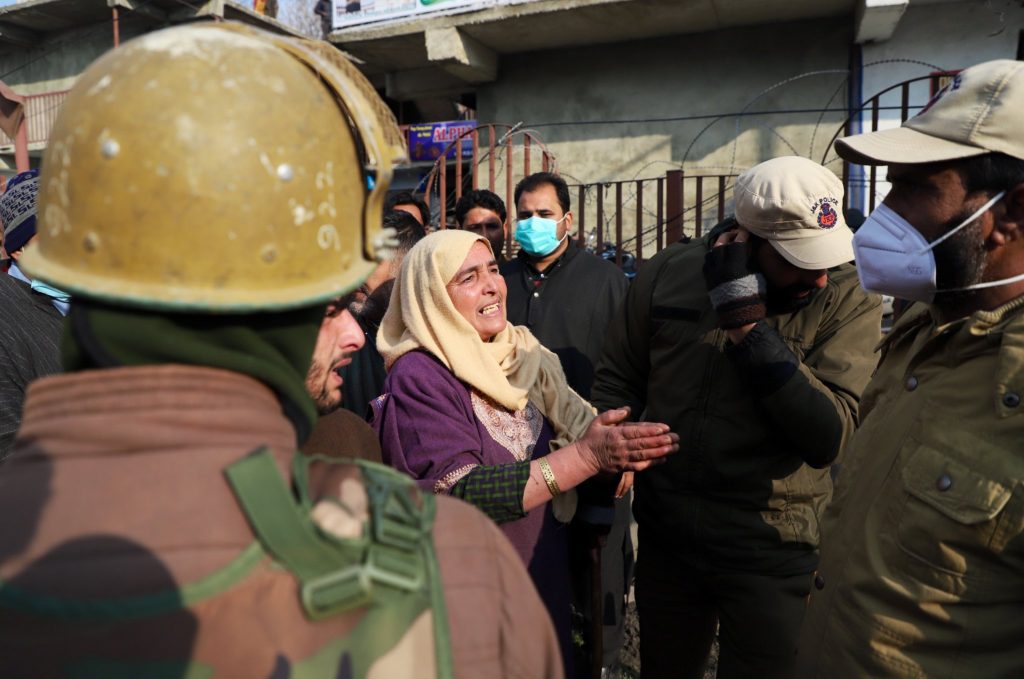 "Slain youth were not on Police's list of militants"
The Jammu and Kashmir Police, although accepted that the three "militants" killed in a gunfight were not on its list of militants, they however, said that two of them were "hardcore associates" (OGWs) of militants while third one might have joined very recently."
In a statement issued here, a police spokesperson, said that parents are generally not aware about the activities of youngsters involved in militancy. The police spokesperson said that three men were given two chances Tuesday night and another chance on Wednesday but they did not surrender.
Giving an instance, he said, one student from Pulwama, who was taking coaching in Srinagar was caught for lobbying a grenade with the help of CCTV's footage.
"His parents were totally unaware about his activities. Several OGWs after committing crimes like grenade throwing & pistol shooting etc stay normally with their families" he said.
"Police is investigating the case and after thorough investigation will come to the conclusion soon on merits," he added.
Earlier, the General officer Commanding (GoC) Kilo Force H S Sahi said that the three militants killed in an encounter at Lawaypora on Srinagar outskirts were planning a big strike on the highway to gain publicity.
The bodies of all three were taken to Sonamarg for burial. The family members were allowed to participate in their last rites.
Outrage over encounter
Soon after the families protest, social media was abuzz with outrage by netizens from all sections of society demanding a probe into the incident.
Former J&K chief minister and Peoples' Democratic Party president Mehbooba Mufti said that authorities should come clean on this encounter.
"Worrying that in the past few months after the Shopian fake encounter other families too in J&K have alleged that their sons were innocent & killed in a staged encounter. Authorities need to come clean on this," tweeted Mehbooba along with a video of protesting relatives of the youth killed in encounter.
Another regional party National Conference also sought time a bound inquiry into the circumstances leading to the killing of three persons.
The party's Additional Spokesperson Sarah Shah said the versions of people and family pertaining to the killing of three people at an encounter site are contradictory, therefore the situation necessitates the constitution of a fact finding team that could reveal the circumstances that will probe the matter on a fast track basis.
Police to investigate the claims
Following the outrage the Jammu and Kashmir's Director General of Police (DGP) Dilbagh Singh on Thursday said that he has no reason to dispute what a senior army official has stated about Lawaypora encounter in which three "militants were killed", but added that police will "still investigate the claims made by families of slain trio."
"I have no reason to dispute what the GoC Kilo Force (H S Sahi) has stated about the Lawaypora encounter. The families of two slain youth claimed that their children had gone to submit forms at a University. I want to ask them what were their children doing at the encounter site if they had gone to submit a form," DGP Singh said in reply to a query during a press conference at Jammu.
Families contest police version
However, the families of the trio contested the claims of the police chief and said if their kin were militants/OGW's why didn't police inform them or detained their kin.
"If my brother was a militant or OGW as police claims, why did't they inform us ever and why weren't our houses raided and why was't Zubair ever called to the police station," Mohammad Irfan, brother of Zubair told said.
The government forces in Kashmir usually contact the family members when any youth joins militant ranks and many a times they call the parents to the encounter site to persuade the militants for surrender. However, the family members of the trio claimed that they weren't informed until they received the call after the encounter.
Father of Athar also echoed the views of Irfan and said police has made the story in "within few hours".
"How is it possible that they came to know in an hour only that they were militants or OGW's. If they had any link with militancy, they would have been called or arrested as they were living with their families," Wani told TwoCircles.net.
Meanwhile, on Thursday the family of Aijaz Ahmad whose father is a policeman on to Lt Governor of Jammu Kashmir Union Territory Manoj Sinha demanded the dead body of Aijaz and sought investigation in the case.
To mourn the killing of three youth, complete shutdown was observed in most parts of Pulwama and Shopian districts of South Kashmir on Thursday.
Local news reports quoting eyewitnesses said that all business establishments remained shut in the area and public transport also remained off the roads.
Internet services too remained snapped in Shopian on Thursday. The services were barred after the the killing of 3 youth in Srinagar encounter on Wednesday.
SUPPORT TWOCIRCLES
HELP SUPPORT INDEPENDENT AND NON-PROFIT MEDIA. DONATE HERE