By Sukanya Roy, TwoCircles.net 
Bhilai: Misfortune befell the families of 150 workers, including 75 children, staying in Bijli Nagar and Anusuya Nagar of Hathkhoj basti, in Bhilai Industrial Area, Chattisgarh, when bulldozers rolled in on 17 July and tore down two houses and a dozen small shops. The bulldozers left only after threatening to demolish these two localities by the end of the week. The state's Department of Industry and Commerce plans to set up new industrial units in these areas, which currently houses Adivasi and Dalit workers who are employed in the surrounding factories.
---
Support TwoCircles
---
Accommodating these units will require workers' houses and community utilities, like stalls, shops, and handpumps to be demolished. In the absence of any rehabilitation measures provided by the Chhattisgarh government, neither land plots nor financial compensation, local workers will be rendered homeless and disenfranchised.
Amid the ongoing COVID-19 pandemic, eviction inevitably makes social distancing and practising sanitary safety measures impossible amongst an already vulnerable population.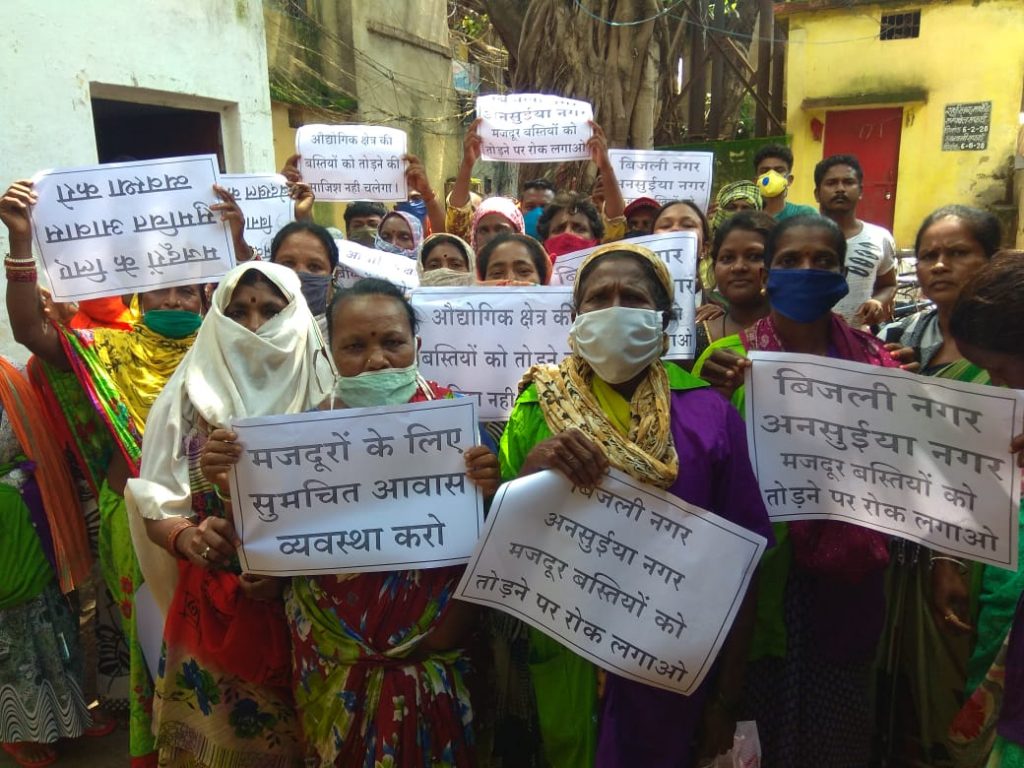 Given that no one would be willing to rent out houses, forced displacement will only expose the workers further to the risk of dengue and malaria rampant during the monsoons, and push them irredeemably towards a health crisis.
Yasrasa Yadav, a local from Bijli Nagar spoke to TwoCircles.net, in a dejected voice. "I have seven members in my family and we are poor people. What can we do if we are left homeless? We cannot cope with this kind of loss."
About a month ago, a notice had been issued regarding the setting up of new industrial units by demolishing workers' bastis. Local people, led by activists, appealed to ministers and the District Collector, questioning this proposed eviction plan which left out proper rehabilitation guidelines. They demanded resettlement in places close-by, with access to schools and hospitals. These demands were not taken seriously and the workers continued to live in uncertainty.
Last week, the bulldozers abruptly tore down two houses, and ten tea-stalls and small shops in Bijli Nagar. At the moment, people could do little more than stand by, terrified, watching their thirty-year-old houses, a testimony to their lives of struggle and sustenance, crumble into dust. Enraged and hapless, locals and trade union leaders from the Bhilai Industrial Area confronted the Collector about this undemocratic encroachment of their rights but were sent away with vague, inconsiderate replies.
Citing a thought-provoking comparison, Kaladas Dehariya, long-time activist at Chhattisgarh Mukti Morcha, asks, "How are people and families being forced to move in the monsoon season, when even a bird is used to seeking shelter in its nest when it rains?"
Alok Shukla, convener of Chattisgarh Bachao Andolan, wonders, "The state today is such (that) we are encouraged to build more cowsheds to rear and care for cows. Yet it isn't a big political issue when people are turned out onto the streets. The lives of humans are disposable".
Shukla is perhaps referring to the Gowdhan Nyay Yojana launched by Chattisgarh CM Bhupesh Baghel, who has remained dedicatedly oblivious to the plight of people displaced due to development projects within his state, his silence on the Bijli Nagar demolition included.
Deliberate oversight concerning workers' housing and welfare has been characteristic of industrial projects in Bhilai. When the industrial area was initially being set up many decades ago, the government and industrial owners had promised to build safe, spacious labour colonies to house the workers contributing to the factories. However, land kept being allotted to a growing number of industrial enterprises, and the promise of housing the workers was grossly neglected.
In the absence of any governmental support and permissions, the workers started constructing their tenements close to the industrial area, over the following years. The workers and their families put in tireless hard work pooled their money and were slowly able to get electricity and water connections to their houses. Today, the Bhilai Industrial Area comprises at least 450-500 industrial units of varying capacities, interspersed with workers' bastis.
Even though they have been paying property taxes and bills for these modest amenities, the workers have not yet received pattas for their houses. These settlements that have come up through community initiative are still termed 'illegal', on account of being built on government land. This reflects a corrupted face of legality, both punitive and myopic in its scope, skewed towards industrial rights over human rights, and not considering labour welfare.
Savitribai Soni, one of the factory workers, echoed grave worries. "When we first built our houses thirty years ago there was no water supply here. Now there are some handpumps. We are somehow existing. Now they have broken down two of our houses. We have been given one week to clear out. How can we move amid the pandemic? We earn daily wages from the factory and have to make sure our children survive."
The demolition of workers' houses is to be carried out in phases, and eviction in Bijli Nagar and Anusuya Nagar is only the first attack in this frenzied chain, which will uproot thousands of families by the time of its dreadful completion. Apart from setting up new industrial units, the government plans to convert 300 acres of land to build a green park, for which land and resources of over a 1000 families will be usurped, disrupting their communal infrastructure and patterns of mobility.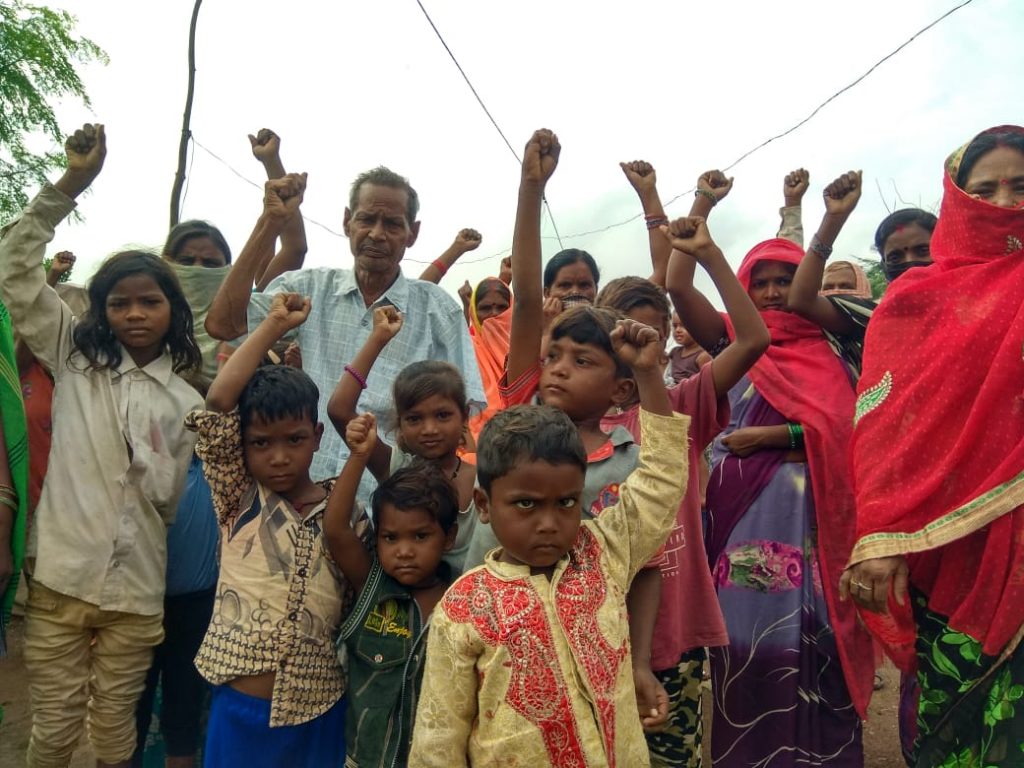 Dehariya concludes, "The state is acting under direct pressure from corporate entities because their interest lies in profit. Industrialists have become fearful of the growing number of trade unions in the industrial area with whose help workers are mobilising for greater rights. Therefore, big corporations are using scare tactics of demolition and eviction to stop us. The government is fully complicit in this matter".
Advocates Priyanka Shukla and Shalini Gera had filed an urgent petition at the Bilaspur High Court pleading to stop these demolitions. Speaking to TwoCircles.net, Advocate Shukla said, "The government is openly flouting the workers' Right to Shelter. The slum dwellers are poor workers, mostly from the SC/ST community. Not providing them with land papers means repeatedly flinging them in the face of homelessness, as they are often forcibly displaced by construction projects and have to start anew each time."
The petition seeks to stay the demolition until adequate rehabilitation measures are envisaged and implemented. Special consideration must be given to the ease of workers' mobility during the lockdown, and the new plots must be allotted in the vicinity of the factories to cut transportation risks and costs, given that the workers sustain on a daily budget. It also argues that the monsoon season is extremely unfavourable and impractical for shifting.
As a preliminary victory, Justice P. Sam Koshy has issued an interim stay on demolition in Bijli Nagar area till the 17 August and has directed the State to present details of the rehabilitation plan. What happens next is what one hopes will not be a thoughtless repetition of recent history in Chhattisgarh, when 400 families were evicted in Bilaspur, over a river beautification project.
SUPPORT TWOCIRCLES
HELP SUPPORT INDEPENDENT AND NON-PROFIT MEDIA. DONATE HERE