By Nazish Hussain, TwoCircles.net 
Jharkhand: The death of a five-year-old girl in Hesatu village of Donki gram panchayat, Latehar Jharkhand on May 16 – apparently due to hunger has left a question mark on the government's ability to successfully implement relief schemes for the poor.
---
Support TwoCircles
---
The family claims the death of the child occurred as they did not have any food in the house for over three days. For the mother of the child Kalawati Bhuiyan, "bhookh (hunger) is the reason for the death of her girl."
 "The day it happened I was not at home," said Jaglal Bhuiyan, father of the deceased child.
Jaglal works in a brick kiln in a different village named Sukulkhut, which is nearly 40 kilometres away. Jaglal was unable to send any money to the family for the last two months. The family belongs to Bhuiyan (Dalit) community. Nimani was one of the eight children. The family lives in a two-room mud house and do not own any land.
The family said that they also don't possess any ration card or job card.
"For two-three days we did not have any ration. The child was hungry. On the day she died, she had eaten something and went to the river to take a bath. It was noon. When she reached home she complained about dizziness. She fell unconscious and later died," said Jaglal.
Jaglal said that "she was empty stomach so she got struck by the loo (hot wind)."
The deceased child's mother said that they had asked Mukhiya for ration. "But she said she did not have any ration. After that, we asked neighbours for food and that is how we were managing," the mother said.
Following the incident, a local activist Dilip Rajak went with a team to the family. Rajak, who works with NREGA Sahatya Kendra in Manika and Right to Food campaign said that 'this landless family did not possess any card and didn't have any government assistance.'
"The Mukhiya told me that she has made a list of people who did not possess any card and informed the BDO, but nothing was allocated to us which is why Mukhiya couldn't help," he said.
Jean Dreze, a prominent economist-activist, was also part of the team that went to the village following the incident questioning how come the family was living in such a condition but had not received any support.
"Also, they did not have any ration card or for that matter any job card. And especially when the Jharkhand government has several times committed to giving food grains not only to those who have ration cards but also to those who do not possess a ration card. In practice in this whole area, we still see those who do not possess ration cards are still not getting any food assistance. Most of them are Bhuiyan," Jean told TwoCircles.net.
According to Jean, atleast 30 families in Hesatu village do not possess any ration cards nor have they applied online. "This is a serious failure on part of the district administration and state government, because how come they allow 30 extremely poor household be left without a ration card all this time," he said.
Sub Divisional Officer (SDO) Latehar Sagar Kumar said that they went to the village Hesatu but couldn't ascertain from the family and relatives that the family did not have any ration.
"The family, though they are permanent residents of the village, don't stay for long in the village due to their work. For two to three months they stay here and then would migrate to other places for employment. For this reason, they couldn't get any ration card," he said.
Kumar said the family also doesn't possess any job card. "We have issued them a job card now so that they wouldn't have to move to other places for work," he said, adding, "There are around 7 to 8 children in their family. We checked with Anganwadi and the children are enrolled there. The mother is a breastfeeding lady. Her name is also enrolled there and she has received ration from the centre."
Activists, however, maintain this assistance is not sufficient for the family.
Dilip has been providing relief food packets to needy families during the ongoing lockdown. "During this lockdown, we have received names of many people who we have reached out to and provided assistance from our side. We have reached around 23 people and distributed 10 kg of rice. These people did not possess any ration cards and were living in extreme poverty. They belonged to a vulnerable section of people," said Dilip.
Talking about the family in Hesatu, Dilip said that the family had not applied for ration card online. "When we talked to the dealer, he gave us a list of 6 families, who had applied online. And when the ration gets allocated to us we will distribute it among these people," he added.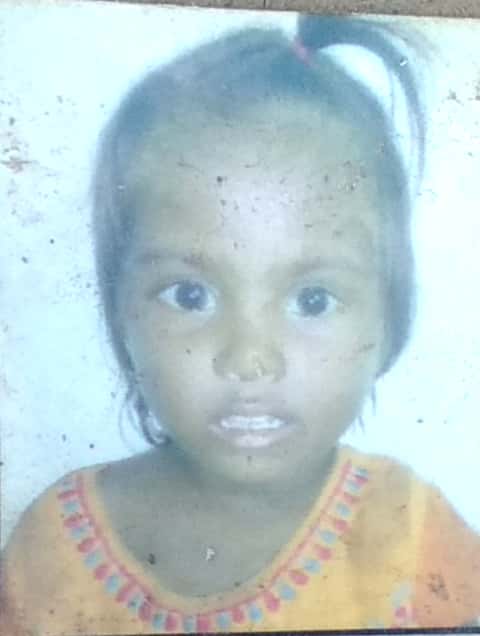 Families who have not applied for the ration card online are facing a lot of hardship.
Dilip said that this has been the situation in Manika block. "We have been working in different panchayats of this block. There are 84 villages in this Manika block and we have been trying to reach people in these villages, especially those who are living in extreme poverty. Also if ration cardholders have a problem we have been helping them as well," he says.
Dilip said the aggrieved family has now been given 40 kg Rice and for economic assistance, they have been given 5,000 cash.
SDO Kumar said that even the other government departments are also trying to reach out not just to the particular family but also others in the village to provide them benefit.
"We have conducted a survey to find such needy people. We have asked BDOs to make a list of all those people who have not yet been covered for food assistance, to avoid such a situation," he said.
Economist Jean Dreze said the incident raises the question of the responsibility of the central government that amasses food grain reserves.
Pertinently, a few weeks ago the Jharkhand government wrote to the central government to request additional food grain allocations so that they could cover the households without ration cards. But the central government refused.
Jean believes that the only way to ensure that there is no starvation or deaths due to hunger is by introducing the PDS system at all places.
"I strongly support the universalisation of PDS in the rural areas and also in urban slums. I think it is the only safe way of ensuring that there is no starvation. And it can be done quite easily if the central government agrees to release more food grains stock. If the central government doesn't do it, then the state govt has to do it on its expenses which I think they can," he said, adding, "It will take some effort to do it."
SUPPORT TWOCIRCLES
HELP SUPPORT INDEPENDENT AND NON-PROFIT MEDIA. DONATE HERE