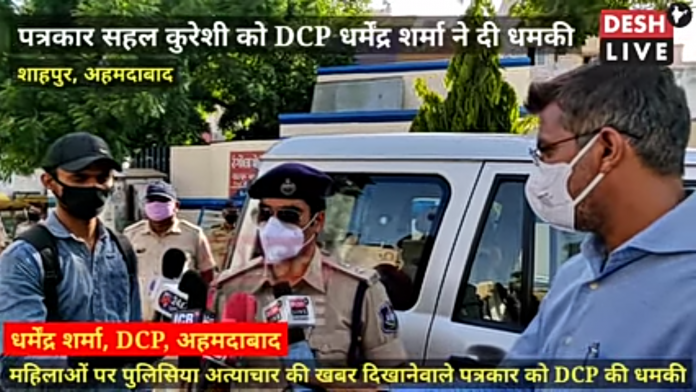 Nazish Hussain, TwoCircles.net 
Ahmedabad: A local journalist Sahal Qureshi has alleged of receiving threats from Gujarat police following his reporting on the recent police action in Shahpur area of Ahmedabad.
---
Support TwoCircles
---
Sahal is a freelance journalist, who contributes stories to Desh Live – an online web-based channel and Swaraj Express, a news channel.
In a communique, Desh Live said that Sahal Qureshi had previously reported on police brutality in Gujrat where the police had forcefully entered homes of Muslims in Shahpur, Ahmedabad and had beaten women (including a pregnant woman) and elderly people during the evening hours when people break their fasts in Ramadan.
"Following this, Sahal was interviewing DCP Dharmendra Sharma along with other journalists, on 23 May 2020. In the middle of the interview, the DCP asked for the camera recording to be stopped. He then threatened Sahal openly stating that it is you who had reported the police brutality on women and an FIR should be lodged against you. Sahal politely responded to his query to which the DCP responded by disrespecting Sahal and then ordering Sahal to get out of there," Desh Live said.
Talking to TwoCircles.net Sahal said, "Referring to the video where I spoke with women about police brutality in Shahpur, DCP asked the ACP to file FIR against me."
"The DCP asked to file a case against me for violating the lockdown. However, in that video, I have been repeatedly asking people to maintain social distance and follow lockdown rules," he said.
According to Sahal, police has been targeting him after his reporting from Shahpur where he uncovered 'police brutality' – and which was, later on, picked up by national media and was talked about on social media.
"At one instance, around 4 to 5 days before the incident of 23 May, DCP pointed towards me and said, 'He is the one who is behind all this' referring to the reporting on police brutality in Shahpur," Sahal said.
Sahal said following the threats by police, he has written to the commissioner, DIG, IG, Human Rights Commission Gujarat, National Human Rights Commission and Chief Justice of Gujarat narrating the whole incident.
"I raised the issue of police brutality in Shahpur at international level and for this reason, police are taking revengeful action against me. It is very difficult to report in Gujarat. I want protection and action against the DCP," he said.
Sahal said on 24 May he was again stopped by the police. On asking the reason for stopping him, he was told that DCP has given strict instructions that he (Sahal Qureshi) can not go out.
"After this incident, I emailed the DIG again. I have not received any response so far. I told him that I will move the High Court if no action is taken in 48 hours," he said.
Sahal said he doesn't want to back off from taking his harassment case to higher ups. "Why should I back off when I am telling the truth. Also, there is clear evidence of DCP threatening me over my Shahpur reporting," he said.
Sahal said that police can't muffle the voice of a journalist by misbehaving with them. "If the DCP is speaking like that, what can we expect from other police officers," he said.
Afraid that Police can frame him in a case, Sahal said, "There is a history of fake encounters in Gujarat. They can trumpet up any charges against me. When the DCP is threatening me on camera, he can do anything."
Commenting on the incident, Congress chief spokesperson for Gujarat, Manish Doshi said that it is not right to threaten a journalist for doing his job. "When I got this message from the media I felt what was happening was wrong. I spoke with the journalist and he told me that he has filed a complaint to certain officers. Media is the fourth pillar of democracy and journalists are only working to bring out the truth," Doshi said.
Doshi said that he will raise the issue before his party and the government.
Desh Live said that cases like these highlights how journalism is threatened today wherein people in authority make a complete mockery of journalism, "And go ahead and even threaten journalists with criminal cases if they do not report along their lines of interest."
TwoCircles.net tried to reach DCP Dharmendra Sharma for comment but all calls went unanswered. This story will be updated, as and when, DCP Sharma responds with a comment.
SUPPORT TWOCIRCLES
HELP SUPPORT INDEPENDENT AND NON-PROFIT MEDIA. DONATE HERE