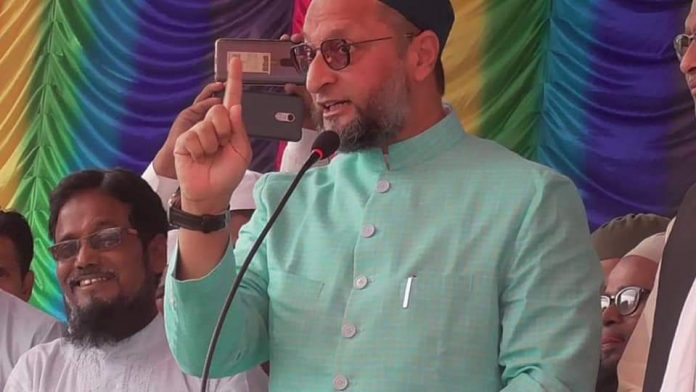 By Aas Mohammad Kaif, TwoCircles.net
"We were considered untouchable and vote cutters, now they have got their answer. We will now focus on the expansion of our party and will contest elections in West Bengal and Uttar Pradesh as well," Thus spoke the elated and proud Asaduddin Owaisi, President of the All India Majlis-e-Ittehadul Muslimeen (AIMIM).
---
Support TwoCircles
---
AIMIM's President Asaduddin Owaisi (Sadar Sahib or 'the President' to his acolytes) is delighted with the results of the Bihar elections. Though the National Democratic Alliance (NDA) has managed to reach the majority mark, his party has won five seats. In a very close finish, at times hanging by just a thread, Nitish Kumar led NDA managed to get 125 MLAs which is only three more than a simple majority whereas the challenger Mahagathbandhan's (Grand Alliance) Tejaswi Yadav had to contend with 110 seats. The final results were announced at 3.00 am amidst accusations of rigging and manipulation.
In the light of dismal results, secular parties are holding Owaisi responsible for their defeat. In close contests in the Muslim majority Seemanchal region, the polarizing politics of AIMIM damaged the prospects of secular parties and thus benefited NDA in a dozen seats. In this division of votes, the secular majority community also preferred NDA candidates. The region of Seemanchal borders Nepal and Bengal and consists of districts like Kishanganj, Araria, Purnia and Katihar. This Muslim majority area is extremely underdeveloped and usually only appears in the news during floods which occurs almost every year. This year the region is being talked about out of turn and that's certainly because of Owaisi.
Seemanchal's Taslimuddin was one of its most powerful leaders and also Lalu Prasad Yadav's closest ally. In this election, his two sons have won MLA seats on the AIMIM ticket as RJD didn't give them tickets. The sitting MP from the area, Mohammad Javed, is the Congress's only Muslim MP in Bihar. AIMIM has won Amour, Kochadhaman, Jokihaat, Baysi and Bahadurganj seats in the area. Apart from these, AIMIM contested six more seats in the Mithilanchal region. Owaisi organised a total of 65 rallies, out of which 50 were only Seemanchal.
With the rise of Owaisi in Seemanchal, Congress has suffered the most. In 2015, they won nine seats and in this election, they won only one. Whereas NDA has benefited immensely. NDA has managed to win 12 seats across Purnia, Katihar and Araria. Congress leaders are blaming AIMIM's polarization politics for NDA's victory on 11 seats in the Seemanchal region. AIMIM's President Asaddudin Owaisi stayed in the area for 10 days and focused his speeches on issues like CAA, NRC and justice. The former mayor of Hyderabad, and Owaisi's right-hand man, Majid Hussain, was his observer here.
Talking to TwoCircles.net, Moin Ahmad of Purnia says, "The biggest fear of the people of Seemanchal is about CAA and NRC. Seemanchal borders the states of Northeast and Nepal. When floods here sweep away our kids, who can keep papers safe? Owaisi spoke about CAA and NRC in each of his speeches. People of Seemanchal were already scared so this appealed to them. They felt that the secular parties never came out openly on this issue and this person will stand with them. If the MLA doesn't even get one road constructed, they will raise their voice in the assembly. People thought they will voice their concerns. This is a story of secular parties losing trust."
Prof. Majid Mejaz says that, "Secular parties always presented the BJP as a bogeyman to the Muslims. Muslims would vote to defeat the BJP and the secular parties would benefit from it. In terms of getting something back, some loyalists will get some crumbs." Majid further adds that, "This election has made one thing clear i.e. the new generation of Muslims wants to shed this baggage of secularism. The importance of middlemen leaders in the minority community is slowly decreasing. As soon as the people are getting a chance they are distancing themselves from imported leaders."
Majid says, "With just 15% of the population, the Muslims were neither in a position to defeat the BJP nor they were ever going to. It's the majority community which makes BJP lose or win, therefore saving secularism is the responsibility of all the communities, but it's more for the majority community."
AIMIM's stellar performance in Bihar is a harbinger for the country's politics in the coming years. This is a new kind of political beginning and this politics will directly harm the non-BJP parties who have been treating Muslims as their indentured labourers. In the upcoming U.P. State Assembly elections, AIMIM's win is a warning bell for the Samajwadi Party, because Muslims are its main voters.
Before the last phase of polling, Randeep Surjewala, Congress's national spokesperson, called a press conference and accused Asaduddin Owaisi of contesting elections as a BJP's frontman. Similar things are being said in Uttar Pradesh as well. After this "Owaisi Show" in Bihar, many leaders of Akhilesh Yadav led Samajwadi Party in Uttar Pradesh are already declaring Owaisi a BJP agent.
A former minister from Meerut, Mohammad Abbas says, "Owaisi is solely responsible for NDA's victory in Bihar. They are BJP's B team. They contested nine seats in Telangana but in Bihar contested 24 seats. The NDA won 11 of them. Owaisi is helping BJP in polarization. If their formula is implemented then BJP will win 523 seats all across India. It's because of their conspiracy that the secular forces have been defeated in Bihar. We need to be careful with such people."
SUPPORT TWOCIRCLES
HELP SUPPORT INDEPENDENT AND NON-PROFIT MEDIA. DONATE HERE