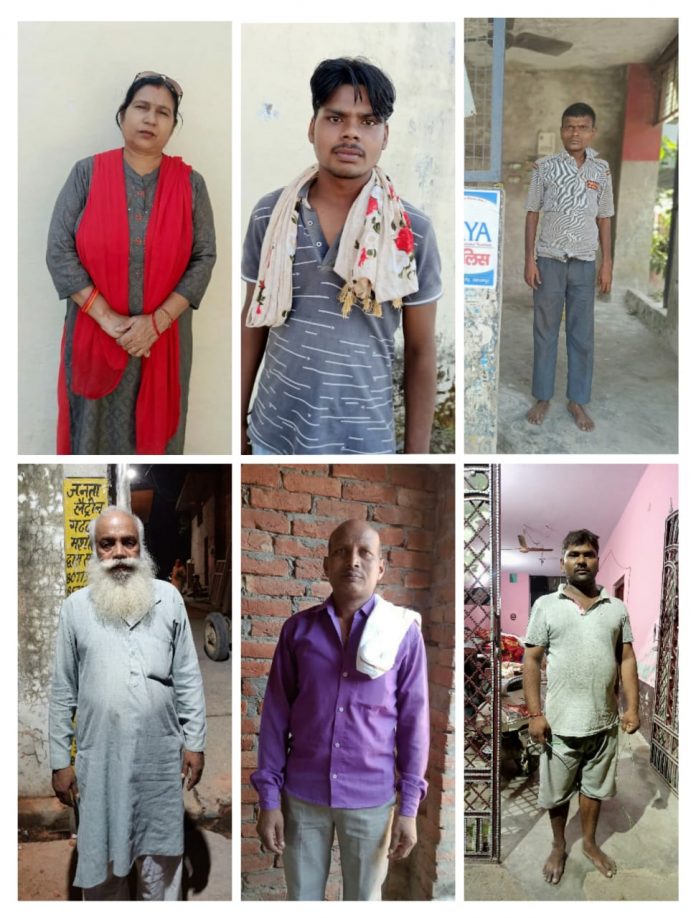 By Musheera Ashraf, TwoCircles.net
Saharanpur: Dalit's represent over one-sixth of India's population. The Indian constitution outlaws caste discrimination and the practice of 'untouchability'. It prohibits non-Dalits from insulting or humiliating Dalits. Despite the constitutional guarantees, Dalits endure near complete social ostracization. The caste practices are still prevalent in India as in some states Dalits still are not allowed to cross the line dividing their part of the village from that occupied by higher castes.
---
Support TwoCircles
---
The Uttar Pradesh chief minister Ajay Singh Bisht commonly referred to as Yogi Adityanath, won five consecutive Lok Sabha elections from the Gorakhpur constituency. His constituency is no different in terms of caste-based exploitation. On 13 June, over a hundred upper-caste people attacked a colony of the Dalit community in Pokhari village of Uttar Pradesh's Gorakhpur district.
Last month, a 19-year-old Dalit woman (the Dalits were once called "Untouchables") was allegedly gang-raped and assaulted by a group of upper-caste men in Hathras district of the state.
The latest National Crime Records Bureau data show an increase of 7.3 per cent in crimes against scheduled caste people with 45,935 cases, an increase from 42,793 cases registered in 2018. Uttar Pradesh alone accounts for over 25 per cent of the total cases by recording the highest number of atrocities against SCs (Dalits) in the country.
During the recent coronavirus lockdown in Uttar Pradesh's Saharanpur, Mamta, a 44-year-old Dalit domestic worker, was reportedly beaten up when she raised her voice against not being given rations that were supposed to be distributed among all the residents.
While the world was fighting the deadly coronavirus, which has caused a socio-economic and financial loss in many countries, India remains to be among the countries which needs to take some stringent steps towards curbing the coronavirus and the deep-rooted caste-virus.
Situated between the two holy rivers of India the Ganges and the Yamuna and one of the major districts of Uttar Pradesh, Saharanpur has around 22% Dalit population. The practise of untouchability and caste discrimination makes Saharanpur no different from other parts of India.
In this photo story, TwoCircles.net documents the experience of caste discrimination faced by Dalit people in their daily lives.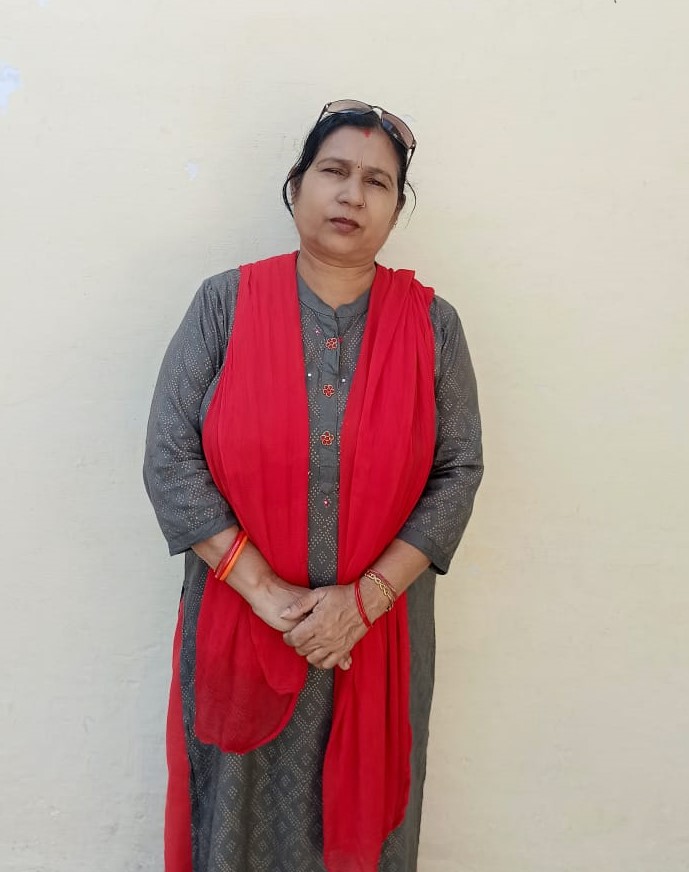 Meera Kamli, a 44 years-old-teacher recalls her experience of being discriminated against many times at the workplace and at the locality where she resides. Meera is a post-graduate. She says, "I have experienced caste discrimination from the so-called educated people as well".
Narrating her story she says she was looking for a rented house in Madhav Nagar Colony. Her husband was told by someone that there is a house, which they get at a reasonable price. Her husband met the owner and he agreed to give his house. "When he was leaving the owner asked him about his caste and upon learning that we are scheduled caste, the house-owner changed his mind and refused to rent out the house," Meera says, adding, "This was the mandatory question people would ask us whenever we would go to see any house for rent."
"Being a Dalit in India is still considered as a sin," she says.
The upper-caste Hindu owners would refuse to rent out the house as they came to know about the caste and if the owners would come to know about the caste before showing the house they would say that their house is not vacant.
Angered by the treatment meted out to her, Meera would sometimes retort back with these words, "The house you live in is made by our people and the clothes you wear are also made by our people. For how long will you deny our existence?"
Meera says that the exclusion and exploitation of people based on their caste is still prevalent in India and it is a misconception to think that our society is free of this ill mentality. "We bury such uncountable discriminations in our heart and this is not something new for us," she says.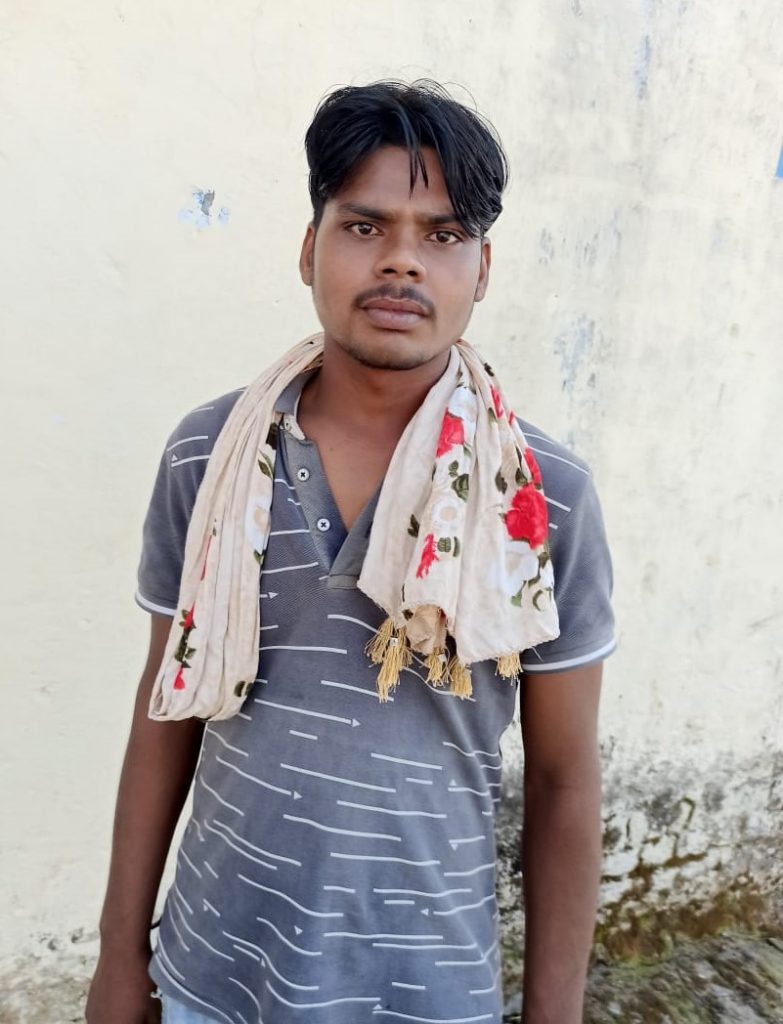 Ankit, a 20 years old boy from Harijan community completed his junior high school studies at a government school in his village Sarakdi Sheikh. To continue his studies, he later took admission at a school which had students of all faiths including Rajputs, Thakurs and Dalits.
"I was not lucky enough to complete my studies," Ankit says.
Ankit dropped out of the school after he was harassed by the Rajput students. "They would lock us inside the washrooms and would ask us to use another washroom because we are from the lower caste," he says.
As these incidents continued, Ankil got disinterested in his studies. He left the school. He earns a living by driving an auto.
International human rights law forbids caste-based discrimination and obliges India to prevent, prohibit and eliminate such discrimination. Nevertheless, many Dalit children are treated as 'untouchable' by teachers and other students. This includes segregation in classrooms, exclusion from school ceremonies and denial of access to water supplies.
Ankit also recalls his friend's experience, who was denied entry to one of his Rajput friend's houses and was given water outside the gate. "These kinds of incidents show what they think about us," says Ankit. "They don't respect us," adds Ankit.
India's caste system is perhaps the world's longest surviving social hierarchy. A defining feature of Hinduism, caste encompasses a complex ordering of social groups based on ritual purity.
Sher Singh is a 68 years old resident of village Aasanwali. Aasanwali has a mixed population of Rajput's, Dalit's and Muslim. Sher Singh belongs to Dalit community and is considered as one of the most respected people of his community. "Caste Discrimination is something that our people face every day," says Sher Singh.
Sharing his experience Singh talks about two people of his caste who work in the fields that belong to Rajputs. They are treated differently and are made to sit and eat at a different place than where Rajput's do.
Singh narrates an incident where he was shouted upon by the bank employee who after coming to know about his Dalit identity told him to keep a distance. "I brought this matter and clarified it with the higher authorities".
Singh feels he is lucky to speak against this discrimination but most of the Dalit's don't get the chance to speak.
Singh says that power and traditional religious thoughts are the reason why upper caste people think they have control over the less privileged people.
A person is considered a member of the caste into which he or she is born and remains within that caste until death, although the particular ranking of that caste may vary among regions and over time. Differences in status are traditionally justified by the religious doctrine of karma, a belief that one's place in life is determined by one's deeds in previous lifetimes.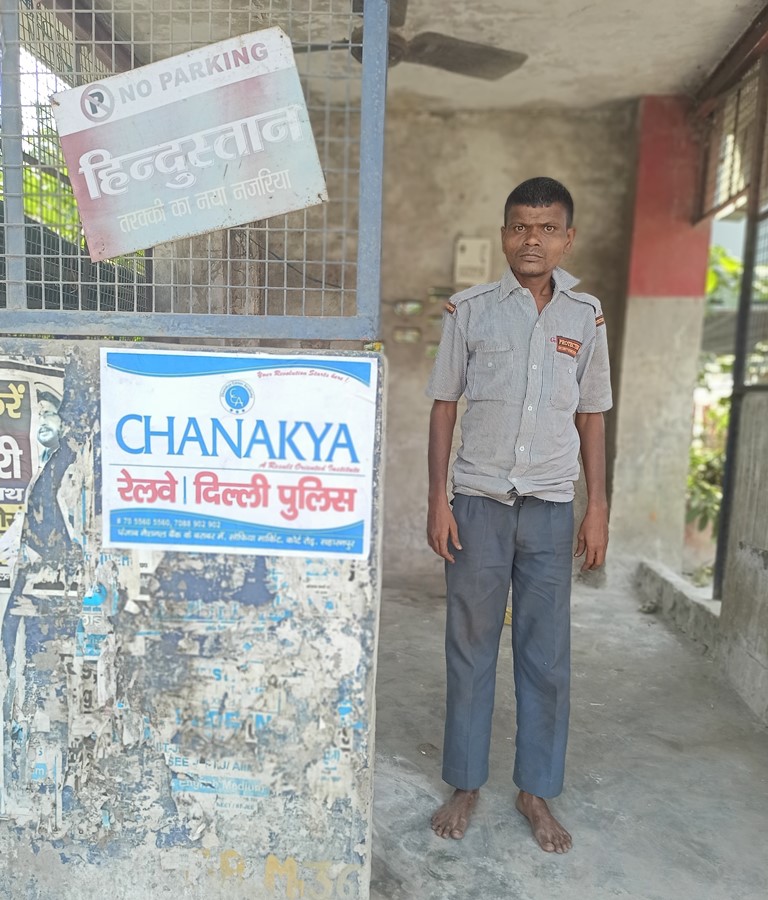 Sumit is a 38-years-old cobbler. His parents died in his childhood. Sumit started to work at a house as domestic help, but when the people of that house came to know about his caste, he was told to leave. "I would have worked for them and would have lived as per their rules," he says, "but my caste is a hurdle".
When they came to know he is a Dalit, some of the members would tell him that he smells bad and he was given food in different utensils.
Sumit sleeps at the roadside. "I fear asking for help now," he adds. Sumit took cobbling as his occupation.
Sumit feels that upper castes see the people of his caste as a bad omen. "I haven't shaken hands with any upper caste person in my life," he says.
Sumit says that he has been suffering mainly because of his caste. Otherwise, he would have worked for someone and lived with them.
Despite its constitutional abolition in 1950, the practice of "untouchability" i.e the imposition of social disabilities on persons because of birth into a particular caste remains very much a part of rural as well as urban India.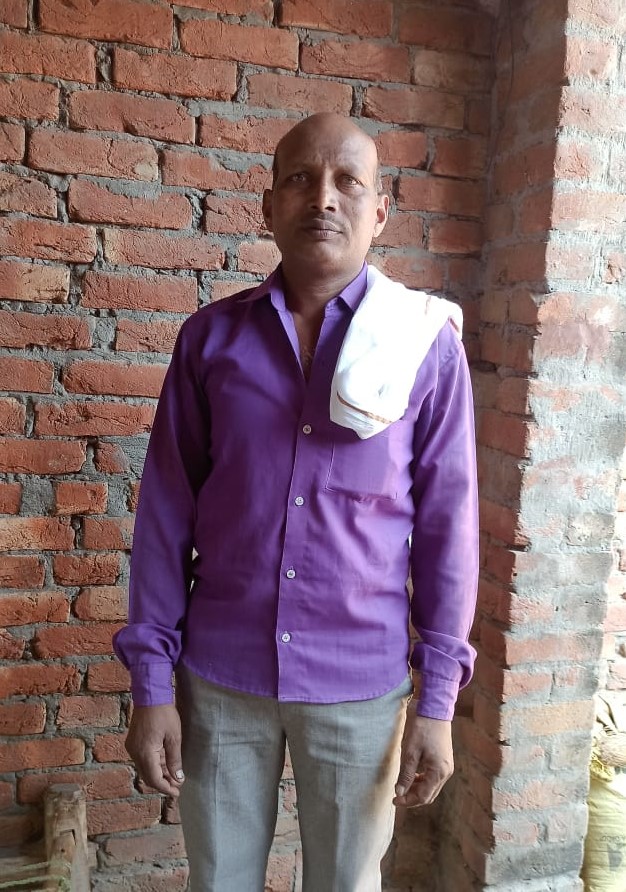 Surendar Singh is a 40 years old milkman who resides in Sarakdi Sheikh village in Saharanpur. Singh buys and sells buffaloes according to his needs. "To be discriminated for being a Dalit is so common, that we don't even tell our family members if we face any such incident," he says.
Surendar recalls one of his many experiences of being insulted for being a Dalit. Once he went to buy a buffalo from a person who belonged to a Thakur family. As Singh saw the buffalo, he agreed on buying it. Singh said he felt a little tired and sat on a bed that was lying behind him. To his surprise, the Thakur's became very angry. They asked him to stand up at once and told him to sit on the floor. Singh felt very insulted. He took his money back and left the house immediately. "We keep having such bitter experiences," he says, adding, "People say Chamaar's don't keep themselves clean, but we bathe every day as anyone from Thakur or Rajput family would do".
Surendar feels heartbroken by such incidents but finds himself helpless.
Sharing another incident he says how he was denied water in his neighbourhood village when he went there for some work. He had to walk another 2 kilometres to find a hand pump to drink water.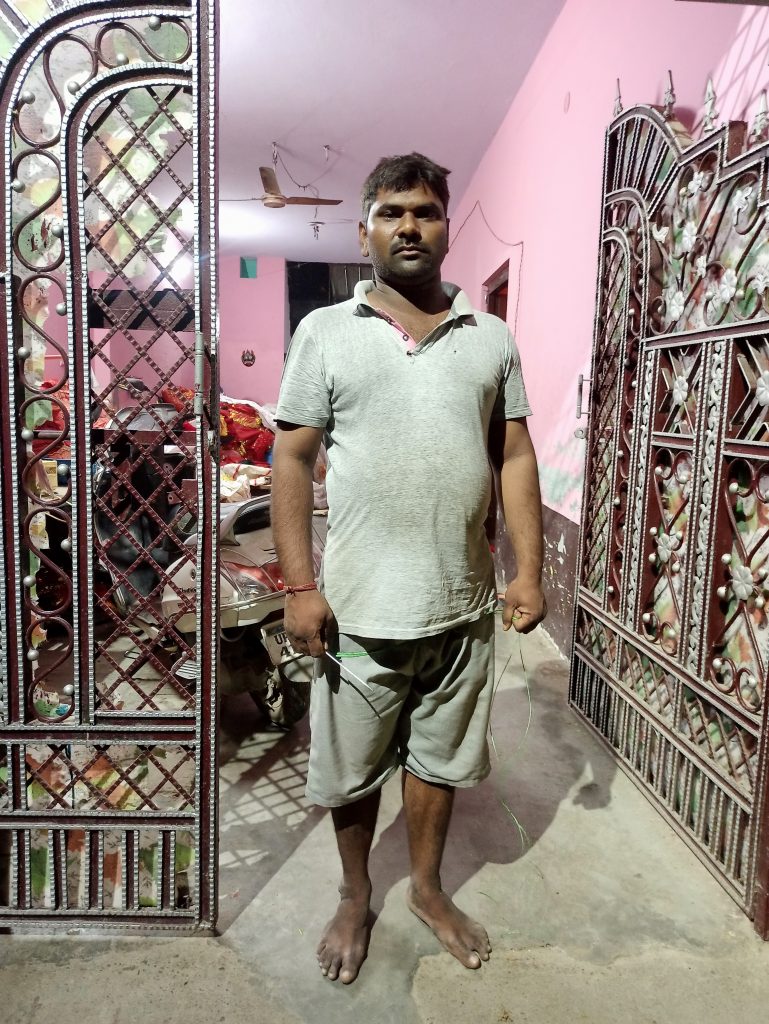 "We face exploitation at every point of our lives," says Sonu.
Sonu sews red chunnis (stalls) that are draped around the idols in the temple. He sews and sells them in wholesale in the market and Brahmins, Pandits and Thakurs buy them and offer them for the idols in the temple. "They don't let us come inside their house when I go to deliver the order of chunnis," he says, adding, "They offer a chunni sewed by me to their God, but deny my entry in their house" he chuckles.
Sonu feels disappointed when someone instructs him to stay away or keep distance because of his caste. "I argue with them sometimes, but mostly I prefer to be silent," he says. Sonu thinks that this mind-set is deep-rooted and will never go away from this upper caste dominant society. He calls this practice as cancer and says that, "It will destroy these upper-caste Hindus because they hurt us by pointing out our caste and making us feel small."
Sonu's mother used to tell him not to fight with any upper caste student at school because we don't have the right to argue with them.
Calling illiteracy as one of the main reason for such discrimination he says "the authorities also discriminate us, they think about us only at the time of elections and forget us soon after the elections."
Sonu recalls an incident from his neighbouring village where there was a clash between Dalits and Thakurs. But the Dalits were not able to file the FIR because they lacked power. The power lies in the hands of so-called traditional superiors. Sonu doesn't have any hope that this discrimination will ever end. "We have to make our children strong to go through this," he says. "They like our services but not us," he adds.
SUPPORT TWOCIRCLES
HELP SUPPORT INDEPENDENT AND NON-PROFIT MEDIA. DONATE HERE