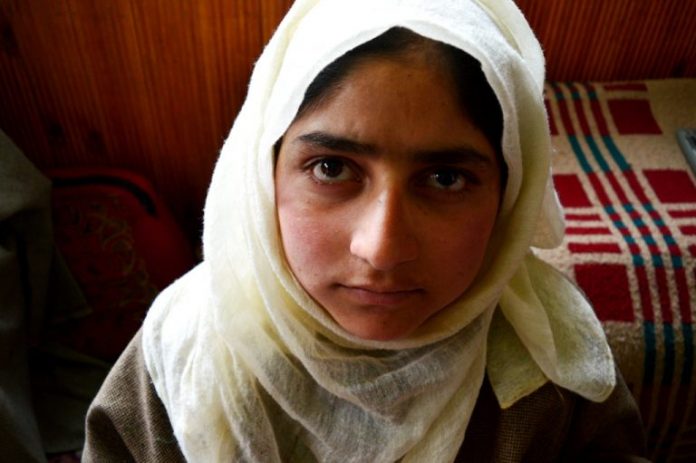 By Asma Hafiz, TwoCircles.net 
It was the raging summer of 2016. Kashmir was witnessing one of its massive public upsurges. Thirteen-year-old Ifra Shakoor was preparing for her board exams when she heard a massive cry outside her neighbourhood in Pulwama. Worried about the safety of her brother, she ran towards the door to look for him. The moment she stepped out, security personnel aimed his shotgun at her face and fired. She collapsed and fainted. A few hours later, she woke up to an image of a sharp light in the operation theatre and the clattering of surgical instruments. The injury has left Ifra with partial vision in just one eye.
---
Support TwoCircles
---
"There is still a pellet lodged inside the back of my left eye and it causes severe headaches. I dropped out of school after my treatment because it was too painful. Now, I just sit at my house and do nothing. This is the reality of my life now," Ifra told TwoCircles.net.
Ifra has known loss since her childhood. Her father was killed in a cross-firing between militants and security forces. Her ailing grandfather takes care of her needs and ensures she doesn't miss any hospital visit but he says it has been difficult to go for checkups post-August 5 2019 when India stripped Kashmir of its special status and imposed strict security and communication lockdown. This was followed by the division of the erstwhile state into two union territories – Jammu & Kashmir and Ladakh.
With their future in dark, pellet victims in Kashmir find themselves in a distressing position especially after the security lockdown imposed by the government in August last year. While some are unable to go out for regular checkups, some are finding it difficult to cope with life after lockdown. With nothing to hold onto, the victims feel betrayed and forgotten. Surviving in a world without light, lockdown in Kashmir is adding to their hardship as they grapple with financial constraints and acute depression.
"We have been under lockdown for a year now and going out for regular checkups has become difficult especially in a place like Pulwama. Every day there is a new battle to fight but we do it for Ifra," says Abdul Aziz Dar, Ifra's grandfather.
 During a fresh wave of protests that erupted against the killing of Hizbul Mujahideen commander Burhan Wani in 2016 at the hands of security forces, armed forces raided a neighbourhood in Rahmoo area Pulwama, thrashing civilians and destroying property. Azra Jan (16-years-old at that time) jumped out of her window to save herself. When she attempted to flee, the forces fired pellets at her. She suffers from a complete loss of vision in one eye.
Azra says lockdown in Kashmir is making things harder for her. She says she has become more irritable and does not like talking to people. According to her, travelling to the hospital has become increasingly difficult due to the new restrictions imposed by the government and the heavy military presence in her hometown makes her uneasy.
"With the lockdown and the recurrent curfews, I have become more anxious. I constantly fight with my parents and small things trigger feelings of trauma. Going for regular checkups is proving to be difficult. We are not able to get whatever little help we were receiving before the pandemic," she says.
Pellet gun emits a cluster of metal balls at a high speed whose trajectory is difficult to predict. Security forces have been using pellet shotguns in Kashmir as a crowd control method since 2010, claiming it is a "non-lethal" weapon. But several human rights organisations, such as Amnesty International paints a different picture. While these organisations have protested against the use of pellet guns in Kashmir, Indian forces continue to use them to quell protests. The forces have been accused of directly aiming at the chest and eyes of protestors, leaving them blinded and maimed.
In 2015, then fifteen-year-old youth Najeeb Nissar was coming home from tuitions when he was hit with pellets near a protest site in downtown Srinagar. His brother claims that "he was made a direct target". His family flew to Indore the next day to avail better medical facilities. He has partial loss of vision in one eye. Najeeb's family says victims seeking treatment outside Kashmir are not able to travel due to lockdown.
"Last year we had to delay the treatment due to indefinite curfew in Kashmir and this year we are facing an entirely different problem. Continuous delay in treatment can have many adverse effects. If we had better health facilities in Kashmir, perhaps, things would have been different," says Nabeel Nissar, brother of Najeeb.
According to Nabeel, most pellet victims in his vicinity undergoing treatment outside Kashmir are facing severe hardships.
"I talked to some victims and they are facing the same problem – missing appointments due to continuous lockdown. At this rate, their health will only worsen," he adds.
Thirty-one-year old Ashraf Wani was showered with pellets while escaping a military raid in 2016, leaving his both eyes damaged. To work for the welfare of the pellet victims, he started an NGO called Pellet Victims Welfare Trust, in September 2017. However, he says, he has hardly visited the office, situated in Srinagar, since last year.
Ashraf says most pellet victims suffer from mental health issues because of the trauma. The trust – run by 30 pellet victims – extends help to around 1300 pellet victims.
"In most cases, the victims are school going kids who discontinue their studies after treatment. We try to motivate them to continue their education but most of them have lost all hope. This is because there are no facilities for them and they require special help. Now that the schools in Kashmir are closed, they are not able to give online classes because most of them cannot afford smartphones. This has added to the ordeals of the already plagued victims, causing anxiety. Our stories reek of pain and loss" says Ashraf.
Department of Psychiatry of Government Medical College (GMC), Srinagar, surveyed 380 pellet victims post 2016 uprising. According to the study, titled 'Psychiatric Morbidity in Pellet Injury Victims of Kashmir', "85 % of 380 pellet victims examined during this post-2016 uprising period were found to be suffering from various psychiatric disorders."
The study revealed depression was the most common psychological disorder diagnosed in the victims (25.79%). This was followed by Adjustment disorder (15.79%), Post Traumatic Stress Disorder (9.21%) and Anxiety disorders (9%).
During the mass public unrest in Kashmir in 2016, Aamir Hussain Dar was part of a funeral procession when security forces fired pellets at the gathering. Regaining consciousness later, he realised he could only see with one eye. Due to financial problems, Aamir stopped seeking medical treatment in 2018. He struggles to make ends meet by working as a blacksmith in his hometown Shopian. He says since last year he has been suffering from bouts of anxiety and small issues enrage him.
"Some days back I shouted at my mother for a trivial thing and now I regret it. This is something I am not able to control. With the lockdown and restricted movement, these episodes have only increased. Other than blindness, mental health issues afflict us," exclaims 24-year-old Aamir.
On asking if they ever considered consulting a psychiatrist for Ifra, Abdul Aziz sighs, saying, "We have used all our resources on her surgeries, seeking another treatment is going to be difficult. We tell her not to lose hope. That's all we can do for her now. In Kashmir, there is no end to hardships."
SUPPORT TWOCIRCLES
HELP SUPPORT INDEPENDENT AND NON-PROFIT MEDIA. DONATE HERE