On the occasion of Eid, a protest against the recent Israeli actions in Palestine took place in an area in Srinagar, the summer capital of Jammu and Kashmir, during which a local artist painted a mural in solidarity with the Palestinians. Next day, the artist was arrested by the police and released after three days. Jolted by the arrest, the artist said that he "longer will draw political art".
Auqib Javeed | TwoCircles.net 
---
Support TwoCircles
---
SRINAGAR – Emotions ran high in the conflict-torn region of Kashmir following Israel's airstrikes on Gaza that have claimed over 200 lives so far and injured thousands.
Cutting apart political differences, people from all walks of life condemned Israeli raids on Palestinian worshipers at Al-Aqsa mosque and airstrikes in Gaza.
When Israeli jets and forces raided the Palestinian worshipers, Kashmiris took to social media to express solidarity with the Palestinians.
With the hashtag #KashmirStandsWithPalestine, Kashmiris shared messages of solidarity with the besieged Palestinians on social media.
On the occasion of Eid, scores of youth staged protests in the summer capital Srinagar, following which police detained 21 protesters including a graffiti artist from Srinagar.
Few youths assembled at Srinagar's Padshahi Bagh and asked a local graffiti artist, Mudasir Gul to make a mural in solidarity with Palestinians.
Gul, 32, had no idea that it would land him in trouble and he will be arrested.
The artist painted a face of a sobbing woman, wearing the Palestinian flag as the headscarf, and had written: "We Are Palestine," on the platform of a bridge. The image went viral on social media.
The next day, a police unit from the J&K police raided Gul's house and detained him.
"I was first taken to the bridge, where the cops forced me to remove my paintings," Gul, who was released after three days told TwoCircles.net.
He said he had no inkling that the graffiti would invite such reprisals for him.
"I expressed my emotion and my feelings through my art. I didn't write anything anti-national but I was still detained," Gul told TwoCircles.net.
Gul said art is his passion. He used to paint and try his hands on different paintings, sketching and portraits since his childhood.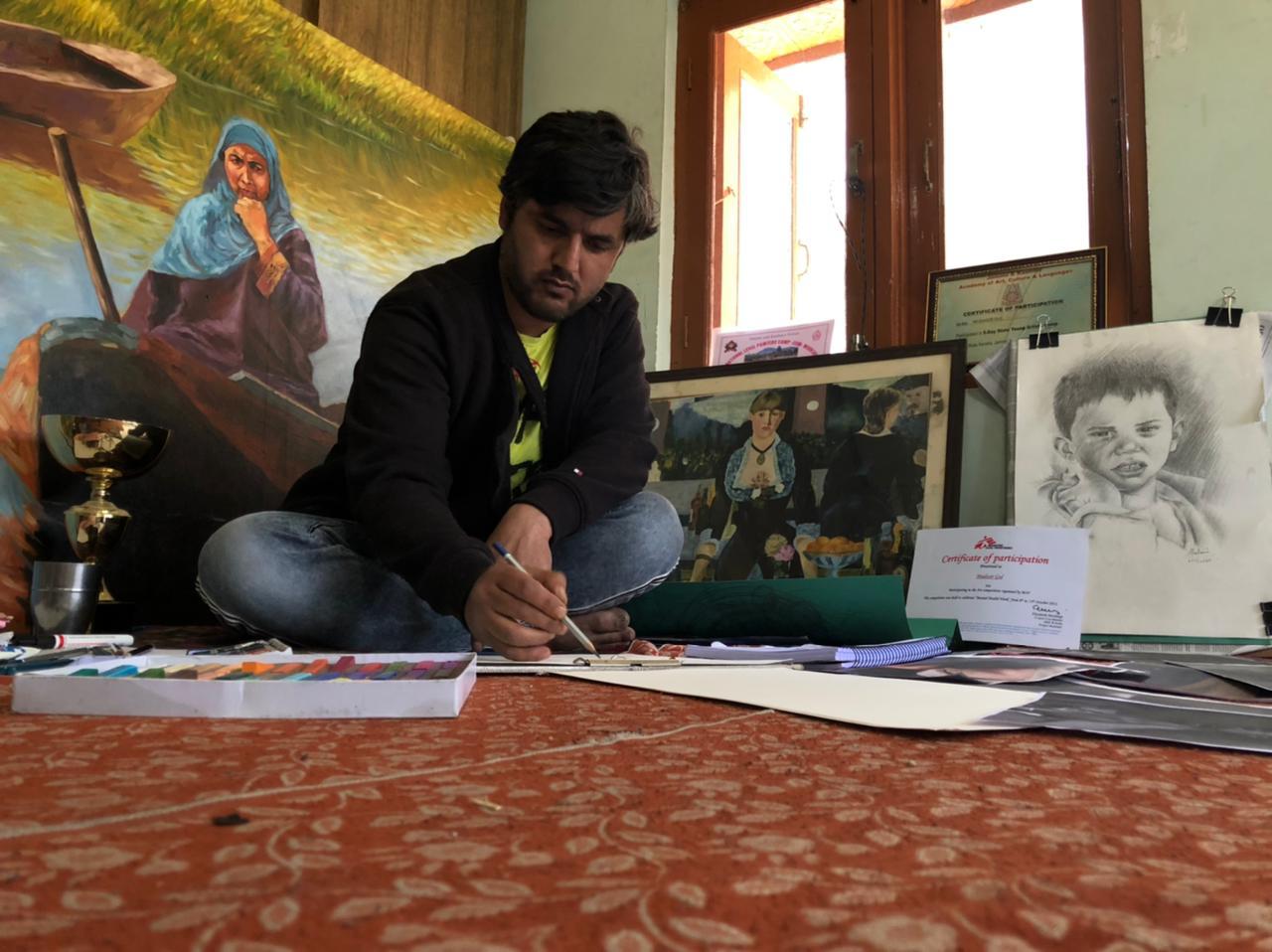 "I used to participate in painting competitions during my schooling. By noticing my talent, the teacher would always suggest making a career out of it," he said.
He completed his degree in fine arts at University of Kashmir but couldn't find a job.
"I used to do small projects on a commission basis but it was very difficult to find a job," he added.
This, however, didn't discourage Gul to give it up. He continued to pursue his dreams. He has won two national awards.
Gul said that three days of detention has changed his life entirely and he sees his life in a different prism.
"I will never make any "Political graffiti" or any mural that will get me in trouble," he said, adding, "The idea behind this mural was just to express our feelings in support with the people of Palestine since you can't even talk about the oppression in Kashmir so I thought it should be safe but I was wrong," Gul told TwoCircles.net.
He said he now regrets the making of the mural and never thought that this "too shall be considered anti-national".
"I will continue with the artist's work but will never make any political mural or graffiti that will put me in trouble," he says.
His detention evoked massive criticism from netizens across the world, with people urging the authorities to release him.
Gul, along with others who were detained were released without any charges after "counselling" and strict warning from the cops.
Protests in Kashmir in solidarity with the people of Palestine is not new. These protests have taken place in Kashmir on several occasions against the Israeli aggression on Gaza and occupied territories of the West Bank.
On Eid, a video showing an elderly lady from Kashmir praying for the end of oppression in Gaza was widely circulated on social media.
Last week, the police in restive South Kashmir also arrested a prominent religious preacher Sarjan Barkati after a video of him expressing solidarity with Palestinians surfaced online.
Barkati's arrest comes six months after he was released from four-year detention earlier in January.
For Gul, the rumours of police slapping the Public Safety Act (PSA) against him were making him anxious.
"For the three days in jail, I was thinking, what will happen now? What If I was booked under PSA? These thoughts were running in my mind," Gul told TwoCircles.net.
Gul said he was not treated as a "criminal" at the police station but was told that his mural might create law and order problems in the valley.
"I was told that the art might create disturbance in the valley since emotions among the people towards the Palestinians are high in Kashmir," he said.
He said he wasn't part of even the "peaceful protest" that took place in the area. "I made the mural and left for home," he said.
Gul, who belongs to a business family, is now pressurized by them to stop drawing 'political art'.
SUPPORT TWOCIRCLES
HELP SUPPORT INDEPENDENT AND NON-PROFIT MEDIA. DONATE HERE