This year, the Imarat-e-Shariah of Bihar is celebrating its centenary. In its hundred years of existence, the Darul Qaza and Darul Ifta run by Imarat have worked tirelessly and effectively for dispute redressal for Muslim families. There are 71 Darul Qazas run by Imarat in four states of India and more are being. Every month these centres dispose of nearly 250 cases ranging from marriage disputes, divorce to inheritance matters. The system of mediation at these Islamic centres – inexpensive, timely and accessible, have helped Darul Qazas emerge as an effective alternate dispute redressal forums for the Indian legal system. 
---
Support TwoCircles
---
Sami Ahmad | TwoCircles.net
BIHAR – After ten years of marriage, a lady in her mid-forties from the north Bihar city of Saharsa is waiting at central Darul Qaza in Bihar's capital Patna for the hearing of her plea for Khula (separation) from her husband. She had applied for Khula on June 28 this year and on August 29 she was expecting a verdict. For this Islamic mediation process, she had to spend only Rs. 510 as stationary costs for three hearings. 
It is this system of mediation based on Islamic sharia that attracts hundreds of families every year to the Darul Qazas being run by Imarat-e-Shariah, Bihar-Jharkhand and Odisha which is situated at Phulwari Sharif, Patna. Apart from these three states, these Darul Qazas are functional in the eastern Indian state of West Bengal too.
This service of Islamic mediation is now a hundred-year-old in Bihar. 
The lady in question is married to a doctor who hails from another north Bihar city of Begusarai. Two years ago, she had gone to a police station to complain about her husband and 'domestic violence', but the husband as per her managed to get away with it and the police did not act. Distraught by the police inaction, she, at last, came to plead for her case at the Darul Qaza, which will be delivering its verdict soon. As per her, two notices have been sent to her husband.
Like her, nearly 3500 people approach these Darul Qazas run by Imarat-e-Shariah every year for mediation in disputes. 
Till 2019, 81, 550 pleas were registered and resolved at these Darul Qazas. 
Imarat-e-Shariah runs two types of Darul Qazas – one which delivers the decision on its own and the other one is required to send the proceedings to central Darul Qaza at the headquarters of Imarat-e-Shariah at Phulwari Sharif, Patna. A verdict is pronounced after carefully reading the statements of parties and the witnesses.
Apart from the central Darul Qaza at Phulwari Sharif, Patna, there are 71 other functional Darul Qazas spread over four states and run by Imarat-e-Sharia. In Bihar, there are 50 Darul Qazas, Jharkhand has 13, two are in Odisha and six in West Bengal.  
Naib Qazi Wasi Ahmad of the central Darul Qaza told TwoCircles.net that with "the expansion of Darul Qazas, the increase in population and people's faith – the number of cases being heard here has increased." 
"There are more than 200 staff who work for these Darul Qazas," he said. 
Easy accessibility and low-cost procedure are the main reason for people who visit these Darul Qazas, apart from "the feeling of getting justice from an Islamic centre."
Mohammad Shamshad of Phulwari Sharif, Patna approached Darul Qaza to seek a verdict for his son whose wife has not been living with him for the last two years. 
Sharif made the plea to either direct his daughter-in-law to live with his son or seek Khula (separation) as his son does not intend to divorce her. "At this Centre, we don't face 'Tarikh pe Tarikh'," he said. Sharif was referring to the time-consuming process at government courts across the country, where hearings for cases take months and sometimes years. 
In another case, one Mohammad Alam is appearing for the hearing of a Khula (separation) plea of his brother's wife, who had applied for it. His brother was sent a letter to put forward his side and was now explaining his side of the dispute. 
Sharif and Alam told TwoCircles.net that they have great faith in this system. 
"We came here because we know how much money and time is consumed at the government courts," Mohammad Sharif said. 
Darul Qaza hears issues on divorce, inheritance, domestic violence
Maulana Mufti Mujibur Rahman Bhagalpuri is the deputy Qazi of central Darul Qaza and looks after the training programme of the future Qazis (a magistrate or judge of a Sharia court). 
Talking to TwoCircles.net, he said that Darul Qazas mainly mediates in the matters of inheritance, marriage, divorce and waqfs in accordance with sharia laws. "It is viewed that resolving disputes according to the Islamic teachings requires trained and upright Qazis. Delicate issues like long absence of a husband, complications in conjugal life and rights of an orphan etc. are some of the issues that can be resolved in a proper Darul Qaza within the shortest possible time and the least cost," he said, and added, "Domestic violence is one of the most important issues that are resolved at Darul Qaza."
Although issues of inheritance and distribution of wealth also come for hearing at the Darul Qaza, these are mainly disposed of at Darul Ifta with basic information. Caution is maintained in dealing with the pleas for divorce. No plea is entertained by a husband for a divorce if he comes alone. Therefore, there is no question of Triple Talaq validation at Darul Qazas. 
Easy application process
One can apply for a remedy in accordance with Islam at Darul Qaza on a plain sheet of paper or on the complaint form published by Darul Qaza. The case is registered with a Qazi. A copy of the case with other necessary papers is sent to the respondent and a reply is sought within 20-25 days depending upon the nature of the case. It is followed by an intimation of the date for hearing to both parties. Statements of both parties are noted. It takes two to three hours to complete the hearing. Afterwards, the statement of witnesses is recorded. Following the completion of the hearing process, the parties are told to wait for the final decision. The Qazi prepares his decision and it is sent by registered post to both the parties. Importantly, no advocate is required at Darul Qaza.
Right to appeal  
Though the rate of appeal against any decision by Darul Qazas is less than 1 per cent, there is a provision to appeal against any decision at the central Darul Qaza, headed by the chief Qazi Maulana Anzar Alam Qasmi. 
On August 29, Maulana Qasmi was reviewing an appeal against a Darul Qaza decision in a case of dissolution of Nikah (a Muslim marriage) from a Darul Qaza at Govandi, Maharastra, which is run by All India Muslim Personal Law Board (AIMPLB). 
"When a case is complicated, the central Darul Qaza run by Imarat-e-Shariah is approached for the resolution," Maulana Qasmi said. 
Low cost of applications
An application for dispute resolution can be given on a plain sheet of paper. A complaint form costing Rs. 10 is also available. Rs. 500 is charged for stationery and postal expenditures. No advocate is required to appear for any party and these costs are saved by parties. Authorities at Darul Qaza said that the centre spends around one thousand rupees on each case. 
Training process for Qazis
Imarat-e-Shariah runs two training programmes for Qazis. The Al Mahadul Aali Lil Qaza Wal Ifta invites applications for a two years course of Qazi and Mufti. Each year, 25 aspirants who seek to qualify as Alim and Fazil are selected after a written examination followed by an interview. The selected candidates for the course are provided with free accommodation and food. Each student of the course gets a scholarship of Rs. 600 in the first year and Rs. 800 in the second year. 
In addition, central Darul Qaza admits around twenty Muftis for its six months course of Qazis. Apart from Islamic Jurisprudence, the trainees are also trained in the Indian legal system, English language and computer skills. Lectures of noted legal personalities are also arranged at Al Mahadul Ali Lil Qaza Wal Ifta.
Chief Qazi at central Darul Qaza, Maulana Qasmi told TwoCirctles.net that "the central Darul Qaza at Patna Bihar is the only centre in India for such training." 
"As All India Muslim Personal Law Board (AIMPLB) has also started Darul Qazas in different parts of the country, they too send aspiring Qazis here," he said. 
Maulana Abul Kalam Azad connection
Interestingly, the first Darul Qaza was established one year before the establishment of Imarat-e-Shariah (established in 1921) but under the Imarat, the Darul Qaza got formal recognition. 
Mufti Mohammad Waseem Ghazi while talking with TwoCircles.net briefly covered its history. "The first Darul Qaza was started at Khanqah Mujibia in a single room, which is in the same vicinity and the first head Qazi was Maulana Nurul Hasan followed by Maulana Aun Ahmad Qadri. The third Chief Qazi was the renowned Islamic scholar Maulana Mujahidul Islam Qasmi who served for around 40 years. Maulana Jasimuddin Rahmani and Abdul Jalil Qasmi were the next Chief Qazis. At present Darul Qaza is headed by Maulana Anzar Ahmad Qasmi," he said. 
Interestingly, the Imarat-e-Shariah has a Maulana Abul Kalam Azad connection, who was the first Education Minister of independent India. 
After the decline of the Mughals, the system of Darul Qazas was affected. A big congregation of India's Ulema was held on June 26, 1921, presided over by Maulana Abul Kalam Azad. The Imarat-e-Shariah was established on that day. Maulana Abul Muhaasin Mohammad Sajjad was the man behind this congregation who had wished to establish an Imarat-e-Shariah Fil Hind. He was also the founder member of Jamiat-e-Ulema Hind. Prior to this, there was an Anjuman-e-Ulema Bihar established in 1917. The proposal of establishing Darul Qaza was passed in its second annual meeting which was realized in 1920. 
Tradition of record-keeping
Maulana Badar Anis is in-charge of the record room of central Darul Qaza at Patna. 
He said that the central Darul Qaza has had a great tradition of maintaining records of each case resolved here since 1921.
"These records are required when a family is involved in a case dating back decades earlier. People come to seek copies of the earlier decision. There are three staff members deputed to maintain the records. A fee of Rs. 10 per page is charged for those who want to retrieve the earlier decisions made at the central Darul Qaza," he said. 
Maulana Anis happily shows the original copy of the first verdict which dates back to 10 Ramadan, 1338 Hijri. "It is very difficult to maintain the records as the papers get fragile though chemicals are used to keep the pests away," he said, adding, "There is a proposal to digitize the records but due to lack of funds, it is yet to start."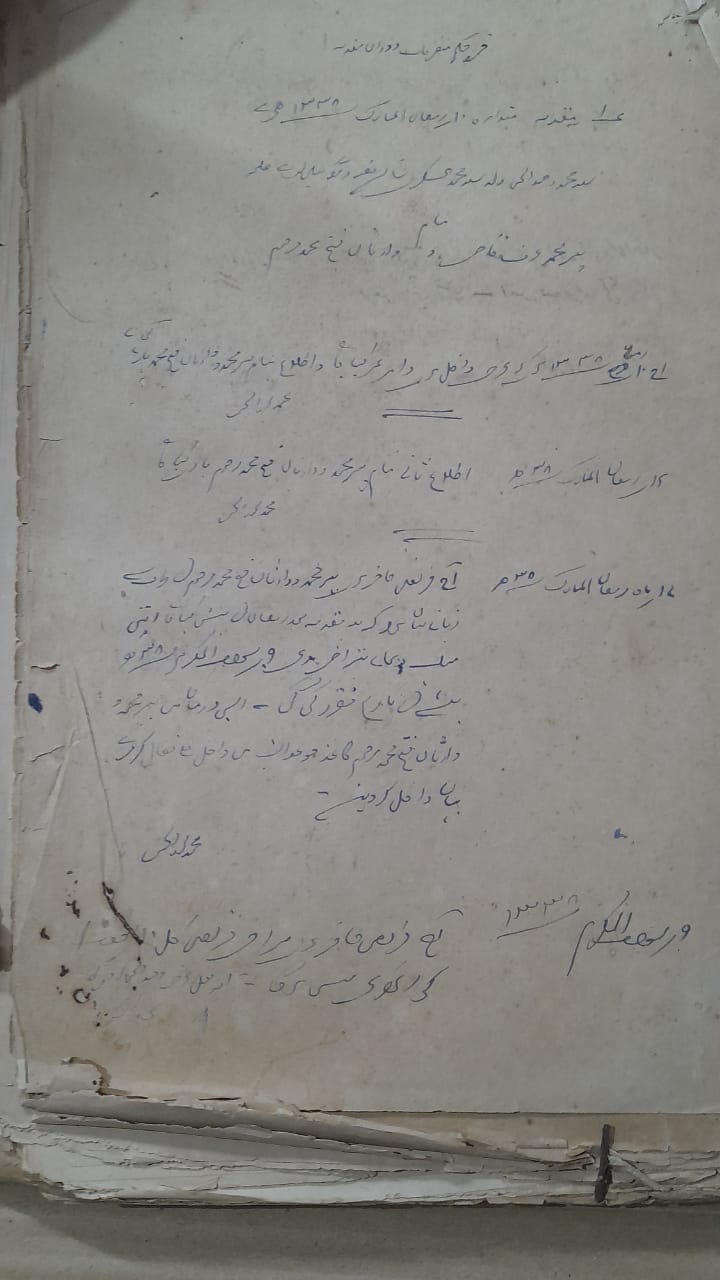 To preserve the important decisions by Darul Qazas, a collection series is being published. While two such volumes have been published, a third one is ready for publication and a fourth volume is being also prepared. 
Aiding the legal system 
Senior counsel and Additional Advocate General at Patna High Court Khurshid Alam told TwoCircles.net that "the Indian legal system is in great need of alternate dispute redressal forums." 
"There is a great need for outside the court settlement. Darul Qazas run by Imarat-e-Shariah is a great effort in that direction where aggrieved parties don't have to pay a lot of money and wait endlessly for a decision. As civil courts also decide in matters of marriage, divorce and inheritance according to one's religion, Darul Qazas are in fact helping the legal system without costing even a penny to the government," he said. 
He further said that a case in a civil court takes five years on average to settle while it takes only three to four months at the Darul Qaza for mediation. "I believe Darul Qazas are run in quite an impressive way and it needs to be given a formal recognition by the legal system," he added. 
SUPPORT TWOCIRCLES
HELP SUPPORT INDEPENDENT AND NON-PROFIT MEDIA. DONATE HERE