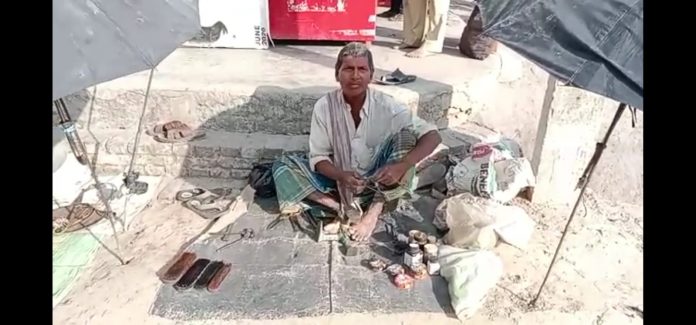 With cow vigilantism at its peak and a dearth of private skinning orders, Dalit cattle skinners of BJP-ruled Uttar Pradesh have been left with no work.
A Tripathi | TwoCircles.net 
---
Support TwoCircles
---
UTTAR PRADESH — In the backdrop of the grand swearing-in of Bhartiya Janata Party (BJP) leader Yogi Adityanath, who took oath as Uttar Pradesh Chief Minister for a historic second term, Shivraj Kumar, a 64-year-old Dalit hailing from Bahmmanpur village of Lakhimpur Kheri, who owns a makeshift shoe-mending shop at Bahmmanpur Crossing market, was beset with worry. He was a traditional cattle skinner until 2017 when the BJP came to power in Uttar Pradesh. 
Kumar was apprehensive about whether he will be able to resume his ancestral trade to earn a decent living. 
"I am a poor man. I don't have many aspirations in life neither from people nor from our dear Yogi Ji. What we want is to lead a fear-free life and an official confirmation, allowing us to resume our ancestral trade. Many others like me were forced to quit (out of fear).," Kumar said. 
Cattle skinning and hiding is not a new trade in India. 
According to Dr Tej Bahadur Singh, associate professor and head department of sociology, at the University of Kanpur, the trade finds its traces in ancient India. "In Vedic age, we find a lot of information about keeping. In Rigveda, which is the oldest holy book of Aryans, animals were considered wealth. The cows were milked thrice a day, castration of males was practised and oxen were used for farm transport. It is also mentioned that Aryans preferred cows and used to keep dogs for guarding houses and for hunting boars," Professor Singh said.
Professor Singh said that in Rigveda, cows have been defined as "aghanya", i.e, not to be killed. It is also stated that the people of ancient India considered that the whole cow family or "gau vansh" was essential for the existence of humanity, its protection, nourishment, development, and culture. "Cow milk provided special energy, strength, and intelligence. Cow dung and urine nourished agriculture farming. Bullock power helped in the development of techniques in agriculture like carrying draft, transportation, and cottage industry. Skin from dead animals supported the leather industry and handicrafts," he said. . "And it is believed that with the use of skin, comes the trade of skinning animals in which people from the Dalit community were engaged," the professor added.
Though the trade was not new to India, it hogged headlines after 2014—the year when the Modi government came to power in the Centre. The trade scenario got worse in Uttar Pradesh in 2017 when BJP won elections and came to power.  
Talking about the impact of the BJP's coming to power on those associated with the cattle skinning business, Shyam Lal Valmiki, national general secretary of a trade union Akhil Bhartiya Safai Majdoor Sangh (ABSMS), told TwoCircles.net that it was the "Una flogging incident that was perhaps the biggest incident to be reported in July 2016 in which seven members of Dalit family were assaulted by a group of people in the pretext of cow protection in Una, Gujarat."
"This was not the only case to be reported during the BJP rule. Similar incidents were reported in UP's Mainpuri district where an almost riot-like situation developed after two Dalits were caught skinning a cattle," Valmiki said. 
"Incidents like these and growing cow vigilantism," Valmiki said, "left a deep impact on the Dalits in Uttar Pradesh, especially those engaged in the cattle skinning trade." 
"There are many who quit their ancestral trade and switched to other businesses fearing attack," said Valmiki, who has been working for the welfare of the Dalit community.
Shivraj Kumar, a Dalit from Bahmmanpur village of Lakhimpur Kheri was a traditional skinner who quit his job fearing assault. "People then used to appreciate our work and often used to give us food, grains and other edibles in return but nowadays we can see hatred in the eyes and fear in the air. But under BJP's rule, violent assaults on Dalits became a common affair. I quit my ancestral trade and opened a shoe mending makeshift shop at Bahmanpour crossing," he said.
Kumar said that he used to make Rs 50 for skinning an animal, which used to amount to Rs 250 or 300 per day. However, the profit, he said, was quite low in shoe mending trade. "I earn Rs 60 or 80 Rs, which is too less to meet my family's needs," he said.  
Kumar said he did not have many expectations from the BJP government and wondered "if they will be able to resume their family trade or not."
Godhan Kumar is a traditional cattle skinner who hails from Dalit dominated village of Chakhra in the Lakhimpur Kheri district. He also quit the trade fearing assault. "Hiding is our occupation. It's a tradition which people of our community have been doing for ages. 
Unfortunately, people, especially the cow vigilante groups seem to have forgotten Indian history and often attack the poor Dalits to gain some cheap publicity," Godhan Kumar said. Heis currently employed with a local Cow Shelter in the area for which he is paid Rs 5000 per month.
Godhan Kumar said in the present grim scenario when there is no private skinning work, Zila Panchayat's annual contract used to be the only ray of hope for the cattle skinners. "But from 2018 onwards, the Zila Panchayat Kheri hasn't floated the tender labelled as—Mrit Pashu Shav Uecchhedan Sahkari. This was the only source of government employment for the people engaged in cattle skinning. The trade met a dead end," he said.  
"There is no official order to scrap the tender but we are told that it has fallen victim to the apathy of the officials," he added.
Ashok Kumar Singh, who is posted as Upper Mukhya Adhikari with Jila Panchayat Lakhimpur Kheri, who takes care of the tender and other related issues, told TwoCircles.net that it is an annual tender, however, following some technical issues, the tender could not be floated in the past couple of years.
Lakhimpur Kheri is perhaps not the only district where the s tendering process, that not only added to the employment of the cattle skinners but also used to generate massive revenue for the state government, has been subsided. In such a scenario when cattle vigilantism is at its peak, and the dearth of private skinning orders and threat looms large, the cattle skinners here are left with no other option than to switch to another trade. 
SUPPORT TWOCIRCLES
HELP SUPPORT INDEPENDENT AND NON-PROFIT MEDIA. DONATE HERE