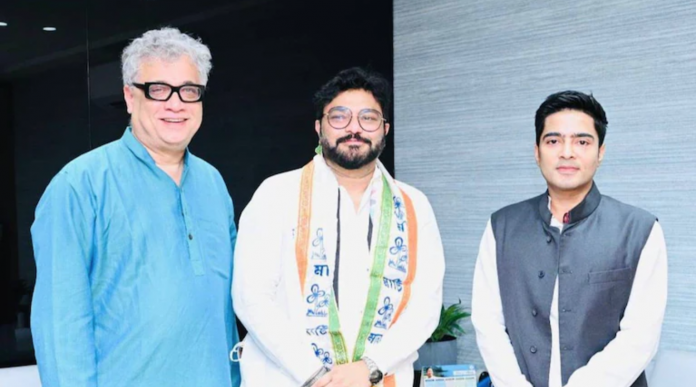 Babul Supriyo's name evokes a strong reaction among Muslim voters for his vitriolic statements against Muslims in the past.
Sami Ahmad | TwoCircles.net
---
Support TwoCircles
---
WEST BENGAL — The by-election for the Ballygunge assembly seat of West Bengal is scheduled on April 12 and it has the Muslim voters in a fix over one candidate. He is Babul Supriya Baral, popularly known as Babul Supriyo. Babul is the candidate of Mamata Banerjee led All-India Trinamool Congress (TMC). His main rival is considered to be the debutant Communist Party of India-Marxist CPI (M)'s Saira Halim Shah, who is the daughter of General (Retired) Zameer Uddin Shah.  
The singer turned politician Babul is a former Bharatiya Janata Party (BJP) member of parliament from Asansol and a former minister in the Modi government. After losing the ministerial berth, he quit both BJP and his membership in parliament and later joined TMC. The TMC leadership is well aware of the protest over Babul's past with its national general secretary and Mamata's nephew saying in an election rally that the "real candidate is Mamta Banerjee".
Babul's name evokes a strong reaction among Muslim voters for his vitriolic statements against Muslims in the past. His infamous 'will skin you alive' statement, his pro-CAA-NRC speeches and his controversial role in the Asansol anti-Muslim riot in which one religious preacher's son was murdered have incensed Muslims of the country. 
Out of seven civic wards for this seat, five are reported to have more than sixty per cent Muslim voters. Strangely, out of eight MLAs it had since 1952 only one Muslim candidate of TMC was elected in 2006.
Muslims overwhelmingly supported Mamata in last year's state assembly election in which TMC won 213 seats out of 294. This by-election is held due to the death of TMC MLA Subrata Mukherjee who had got around 70% vote share in 2021. BJP's Lokenath Chatterjee was second with just over 20% vote share. CPI (M)'s candidate Dr Faud Halim only got 5.6% votes.
Both BJP and CPI (M) have changed their candidate for this election. BJP has fielded rookie Keya Ghosh. But it is CMI (M)'s Dr Fuad Halim's wife Saira Shah Halim who is hogging the limelight as her uncle Naseeruddin Shah also put his weight behind her by releasing a video message for her.
Manzar Jamil is the joint founder of Forum Against NRC-CAA in Kolkata. He told TwoCirles.net, "We wonder how Mamata chose a person of such a tainted past for this prestigious seat where secularism thrived for long. We are anguished to see Babul as TMC's candidate."
Social activist Imtiaz Molla is part of the campaign called "No Vote for Babul". He told TwoCirlces.net that this by-election hogged the limelight because of Mamata's controversial decision to field Babul as a TMC candidate. "Mamata has shown a disdain not only for the sentiments of the Muslims but also for the secular voters. We all know Mamata had been with the BJP but she parted ways and challenged Modi, Muslim community rallied behind her. She opposed NRC-CAA but is now a big-mouthed opponent of Anti-CAA agitators, Babul is her candidate. How can we forget that?" he said.  
Molla talked about the killing of the student leader Anish Khan of Aliyah University, Kolkata and the Birbhum violence where eight Muslims were burnt alive after the murder of a TMC leader who was also a Muslim.  
Mohammad Mahmood who runs a restaurant in the city told TwoCirles.net that though Babul had left BJP "how could we believe that he had changed his communal mindset". "Not TMC, but their candidate is an issue. Babul is an opportunist," he said. 
Abu Jafar Molla, the national general secretary of the Fraternity Movement echoed similar sentiments while talking to TwoCirlces.net. He does not rule out the possibility that the diehard Muslim supporters of TMC may still vote for it, as "they see only Mamata. They are not much aware of the past of Babul."  
Afroz Khan is a voter of the Asansol Parliamentary seat from where Babul had resigned. The by-election for this seat is also slated for April 12. The poll is in the news also for TMC's candidate — actor Shatrughan Sinha. 
Afroz said that it was BJP's politics that made Babul spit venom but now as he is in TMC, "he is celebrating Shab-e-Barat, wearing topi and attending Iftar. It would not be a surprise if a sizable section of Muslims still votes for Babul in the name of TMC and Mamata."
Rabiul Islam teaches Mathematics at St. Xavier's College Kolkata. He told TwoCircles.net that he was not sure what the Muslim community would do as a whole but "there is a feeling of betrayal by Mamata among a large section of Muslim and secular supporters of TMC for Babul's candidature."
Sami Ahmad is a journalist based in Patna, Bihar. He tweets at @samipkb
SUPPORT TWOCIRCLES
HELP SUPPORT INDEPENDENT AND NON-PROFIT MEDIA. DONATE HERE