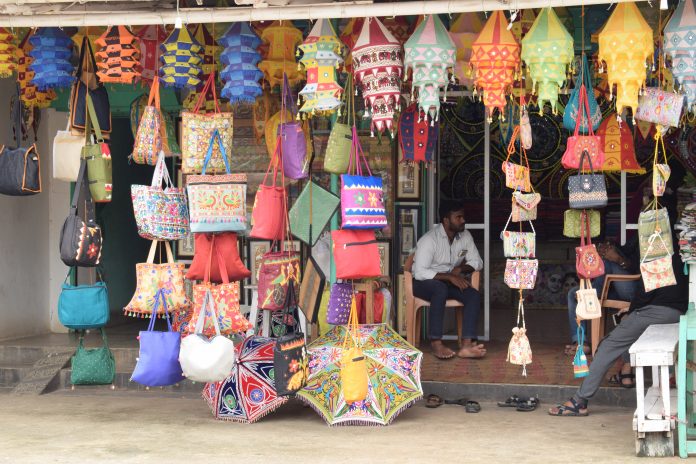 Once known as the hub of applique works in Odisha, a market in Chandua has lost its shine with most of the shops selling applique works shutting down in the last two years. 
Partho Burman | TwoCircles.net
---
Support TwoCircles
---
ODISHA — From 135 stores selling traditional applique works in 2019 to only 35 stores at present, the colourful Chandua market in Pipili town of Puri district in Odisha has lost its shine.  
Located 44 kilometres from Puri on national highway, Pipili is a globally known destination for its applique, a textile craft that dates back to the 12th century, when Lord Jagannath temple in Puri, Odisha, was established. Applique craft, which originated in Odisha for the sole purpose of worshiping Lord Jagannath, is the art of sewing small pieces of cloth together to shape larger pieces of fabric. In 2004, the Limca Book of Records recognised Pipili's applique work, which was 177 feet in length and symbolized India's battle for independence. 
Several shopkeepers at the market told TwoCircles.net that in the last three years "sales of these handicrafts have dropped." They said natural catastrophes like cyclones, floods and the construction of the Pipili-Bypass in 2015 have contributed to the decline of the traditional handicraft business and added that "Covid-19 and the subsequent lockdown spelt a death knell for this market."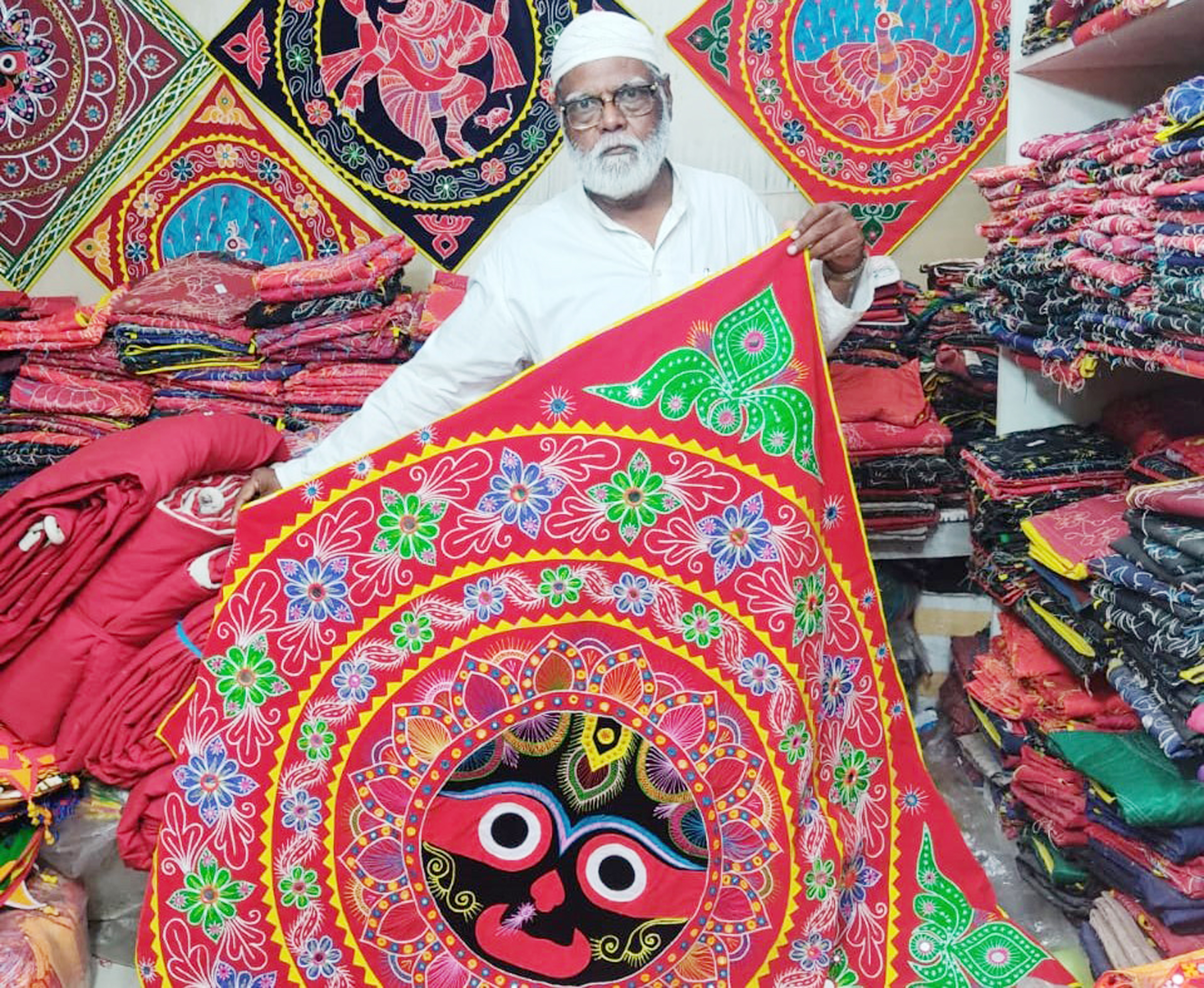 Jabar Khan, proprietor of Diamond Applique Work Shop at the market told TwoCircles.net that "over 10,000 artisans did stitching and embroidery work here between 1990 and 2005." 
"Over the last 20 years, the applique business has shrunk from a high of Rs. 100 crore to a low of Rs. 5 crores," he said. 
He said at present the town has 60-70 artisans. "These artisans and businessmen are struggling to keep the craft alive," he said. 
He said cyclones in 1999, 2013, 2019 and the flood in 2008 are some of the factors contributing to the decline of this trade. 
Ramesh Chandra Mahapatra, Chairperson of Pipili Applique Cluster, an organization that regulates the market, said, "Pipili-Bypass poses the biggest problem. Before the construction of the bypass, all cars travelling between Puri and Konark had to pass via Pipili. But as a result of the bypass, the road was diverted resulting in the decline of our trade," he said.  
Khan said that artisans and shopkeepers have been significantly affected due to the construction of the bypass. "Previously, items were sold directly to domestic and foreign tourists but this has decreased dramatically since the Pipili-Bypass was built. At least 70% to 80% of the business has been seriously harmed," he said. 
In 2019, the shop owners submitted a written plea with the Odisha government to allow visitors' vehicles to go via Pipili and asked that "major vehicles such as buses and trucks can use the highway." 
"Since the stores are on the road, it would have benefited us. But authorities chose to disregard our suggestion," Khan said. 
For Sribatsa Mahapatra, an artisan at Subhalaxmi Applique Works, the decline of the trade is attributed to the artisan's decision to pursue other work.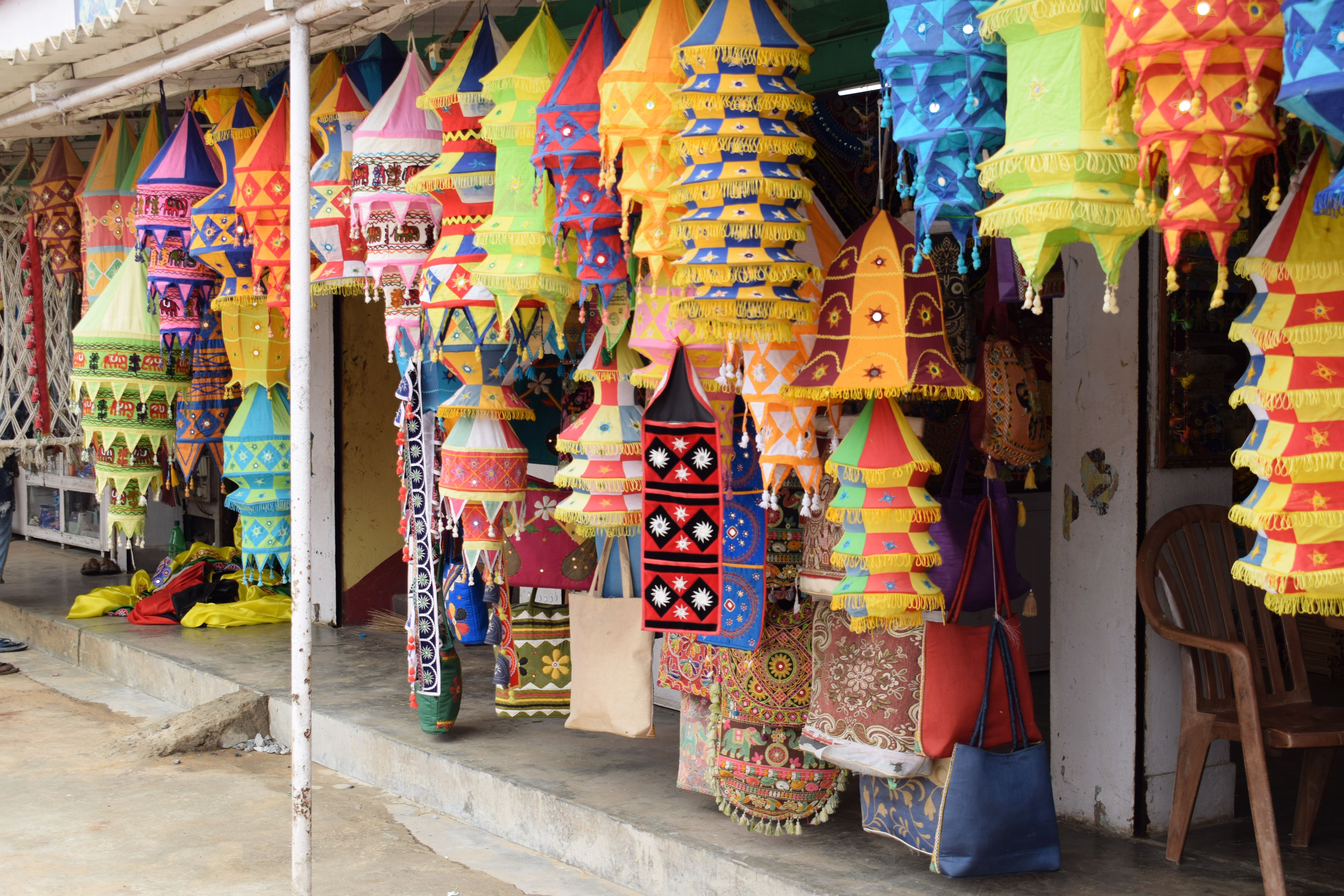 "Another key factor resulting in the decline of this trade is the artisan's decision to pursue other careers such as carpentry, masonry, and tent-making (which includes chandeliers, gates, platforms, and buffet stands), where they could earn more money," Mahapatra said. 
Mahapatra said that Covid-19 proved to be disastrous for the trade. "People haven't visited this market for more than two years due to Covid-19 resulting in a drop in sales and closure of stores," he said.  
Khan, who has witnessed the Pipili market's rise and fall, said that Pipili was no longer the exclusive appliqué market that it used to be once. "It now sells various handicraft products of Odisha. Products made by machines are gradually replacing traditional handicraft items. Only 2 percent of all artisan labour is done by hand while 98 percent of applique work is done by machines," he said.
 
Partho Burman is an award-winning independent journalist based in Kolkata. He writes inspirational, motivational and environmental stories. He tweets at @ParthoBurman
SUPPORT TWOCIRCLES
HELP SUPPORT INDEPENDENT AND NON-PROFIT MEDIA. DONATE HERE