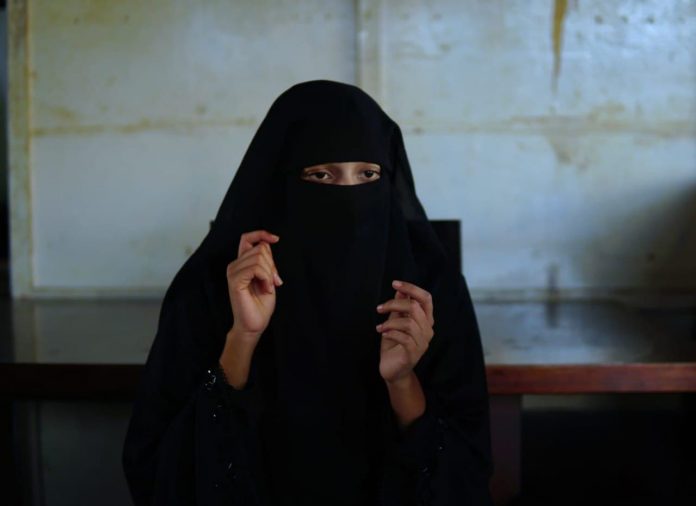 Hazra Shifa is a higher-secondary student at the government pre-University (PU) college of Udupi, Karnataka which is at the centre of Hijab row in the state. Shifa was one of the Muslim girls who were denied entry to the college premises and has since missed all her classes. In this interview with TwoCircles.net, Shifa narrates how the controversy started, the atmosphere at her college, and her hope for the future. 
Basil Islam | TwoCircles.net 
---
Support TwoCircles
---
Can you briefly narrate how it all happened?
After passing my 10th standard, I took admission to the government pre-University (PU) college in Udupi, Karnataka. At the time of admission last year, my mother asked the college authorities if I was allowed to wear a headscarf on campus. They said that students at the college don't wear headscarves and they won't be able to give me a separate rule. We agreed to it. However, soon afterwards, when I started attending classes (without my headscarf), I saw that some of my seniors were wearing headscarves. I was shocked to see this. I felt discriminated against. If senior students could wear it, why can't I? 
When I asked one senior student about how come she is wearing a headscarf while we are disallowed to do so, she recounted how wearing a headscarf was not easy for her, and how she was harassed at the college. She told me some teachers would pull the scarf off her head and ignore her questions in class because she was wearing a hijab. It seemed they (teachers) didn't care about imparting education. 
For us juniors, we thought that if senior students can wear hijab, we should be allowed to do so too. We approached the college authorities and put forward our request to wear a hijab. They didn't agree. Instead, they asked us to sign a paper saying we agree to not wear hijab to classrooms. We didn't agree to this. When we checked the admission guidelines, there was no mention of restrictions on wearing the hijab. It was compulsory to wear the uniform though. 
There was also a clause in the form restricting religious activities inside the campus but the authorities conducted occasional Pujas (a Hindu worship ritual) and other religious events inside the campus. We didn't object to these religious activities at any point and supported them. But when it comes to our religious rights, I don't understand their position. Why are they not supporting us? Why are they not standing up for our rights? 
It all started in September last year. On one occasion when some of us wore hijabs to the class, we were pushed out of the classroom. We were kept out of the classroom for the whole day. From that day onwards, the administration and teachers started discriminating against us. They will point fingers at us and insist that we shouldn't greet each other with salaam (Islamic greeting) or speak in our mother tongues, including in Urdu and Byari. This, they said, was done to promote an English speaking atmosphere on the campus, although the rest of the students and teachers spoke in Thulu or Kannada all the time. This kind of discrimination was going on for a long time. 
So you were disallowed to wear hijab from September last year?
That's right. We were not allowed to wear Hijab. In December 2021, we sent our parents to meet the principal and seek permission to wear hijab. The authorities didn't pay any heed to our parents' requests. The principal simply ignored them. 
Were you ever allowed to wear a Hijab inside the classroom?
Only once. On December 27, 2021, we started wearing headscarves. I had lab practicals that day. I went inside the lab room and attended classes. The very next day, authorities asked us to bring our parents to meet them. After this one instant, they didn't allow us to wear hijab and they pushed us out of the classrooms. Since December 28, we have not been allowed to go inside the classroom. 
What has been the response of your classmates?
Initially, all of them supported us. They wanted us to protect our rights. We were happy that they understood and stood with us. 
However, on January 1, there was a meeting convened by Udupi MLA Raghupati Bhat, who is also the president of Udupi government PU college's development committee, with the faculties and administrators of PU college (pre-university college/pre-metric). Our headscarves were the topic of that meeting but neither the principal nor the MLA didn't allow us to attend the meeting. Only parents were allowed to be present there. During the meeting, MLA Raghupati Bhat declared that "if you (Muslim girls) wear Hijab to classes today, then tomorrow our students (Hindus) will wear saffron shawls." The saffron shawls came into the picture from that day. After the MLA gave this statement, the very next day, some students started wearing saffron shawls to colleges. 
It is very disheartening to hear that some of the students have started to complain against us that they are getting distracted because we are wearing Hijab. They are saying that their education is getting spoiled because of us. I don't think that is true. We are the ones who are thrown out of classrooms, we are the ones who are getting discriminated against, we are the ones who are facing police, we are the ones who are denied education. They are attending classes inside. So, how are we distracting them? 
What do you think about students marching wearing saffron shawls and raising slogans against Hijab?
It didn't happen on our campus. It happened at other colleges. Those protesting against Hijab are going against their friends and the right to education. I want to appeal to everyone through this medium that we shouldn't make communal strife out of this. We all are equal citizens of this country and we should live together. 
Have you ever been prevented from performing prayers on campus?
Yes. One day, we were offering namaz by the stairs as there is no prayer room on the campus. One of the lecturers stopped us and took us to the principal. The principal warned us to not repeat this on campus. He said that if he sees us repeating it, he will throw us out of the college. This happened twice. 
Following the controversy, were you told to study at other colleges?
Yes. The Udupi MLA told us that "if you want to study without Hijab, then you can do it here, or else I'll give you TC [transfer certificate] and then you can go to 'other' colleges." I don't think it is a solution. We should be able to live together and study together. Education should not be segregated. We must be able to understand each other better and only then can we put a stop to this madness. If there is a conflict between us wearing Hijab and the school/college dress code, then they [authorities] should think about changing the rules, not us. They should not throw us out of the classrooms. 
How has your life been impacted by the Hijab row?
I have lost my peace of mind. I think about exams, and want to study, and when I open my textbook, I am not able to concentrate. I am distracted by public threats, abuses and comments made against us. I had never imagined that I would face this at this stage in my life. I never thought it would get this worse. 
I wish our demands would be accepted positively and we would be allowed back into the class soon. It's my sincere hope. 
How have your parents responded to this controversy?
Naturally, our parents are concerned about us because of the threats made against us, and about our future. But amid all this, they are our greatest source of inspiration and support. They tell us to go ahead and fight, and it is our fight to win as we are fighting for our rights. 
Basil Islam is an independent journalist and researcher based in South India. He tweets at @baasiie
SUPPORT TWOCIRCLES
HELP SUPPORT INDEPENDENT AND NON-PROFIT MEDIA. DONATE HERE