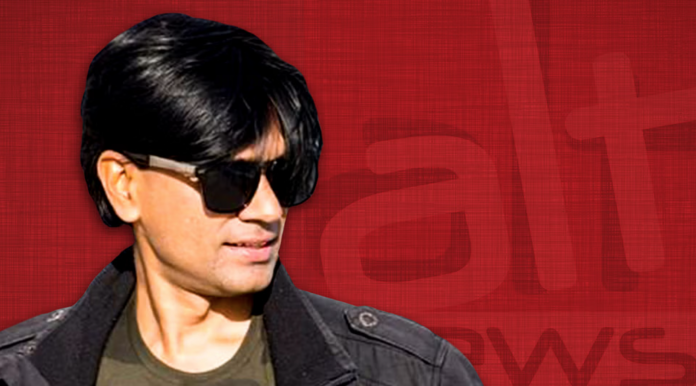 Multiple tweets of Alt News fact-checker Mohammad Zubair reveal that these were shared without context by the Hindu right-wing contributing to his arrest. 
Vipul Kumar | TwoCircles.net
---
Support TwoCircles
---
NEW DELHI — Journalist and fact-checker with Alt News Mohammed Zubair is in judicial custody over a tweet alleged to have hurt religious sentiments. Multiple human rights bodies and activists see Zubair's arrest as an attempt by the government to stifle freedom of expression.   
While the immediate reason for his arrest is his 2018 tweet, an investigation by The Wire has revealed a year-long concerted online campaign to discredit his work and project him as someone who routinely hurt the sentiments of the majority Hindu population. 
The complaint that led to Zubair's arrest was by an anonymous Twitter handle Hanuman Bhakt bearing the username @balajikijaiin. According to The Wire, at least 757 accounts including @balajikijaain have the same recovery email ID– [email protected] and are linked to Vikash Ahir, the state president of the Hindu Yuva Vahini (HYV) and Co-Convenor of the Bharatiya Janata Yuva Morcha (BJYM) in Gujarat. 
Ahir also reportedly raised funds for Shambhu Lal Regar, convicted for hacking and burning a Muslim man alive in 2017 in Rajsamand, Udaipur.  
Among the last tweets of Zubair before his arrest were aimed at calling out BJP member Nupur Sharma for her derogatory remarks against Prophet Muhammad during a live TV debate. 
Following strong condemnation in India and diplomatic flak from Islamic countries, BJP suspended the spokesperson from the party. 
But the way Zubair highlighted Sharma's comments made him the target of the Hindu right-wing and resulted in online campaigns demanding his arrest.
Soon afterwards, Twitter hashtags including #ArrestZubair #ArrestMohammadZubair and #ArrestBalsphemerMdZubair trended. 
In May, an FIR was lodged against Zubair in Sitapur, Uttar Pradesh after he described Hindu religious leaders giving hate speech as hate mongers. 
Eventually, Zubair was arrested for one of his tweets on March 24, 2018. This tweet was flagged by @balajikijaiin saying Zubair's tweet is insulting the Hindu deity Hanuman. The tweet is a work of satire on the Hindutva regime of the BJP in which a screenshot of a 1983 movie by Hrishikesh Kissi Se Na Kehna. Notably, this movie was passed by the censor board without any objection, neither did it hurt any religious sentiment until Zubair posted a screenshot from the film. In the screenshot, there is a repainted signboard at the entrance of a hotel. On the signboard, "Hanuman" is written by overwriting "honeymoon" in Hindi. The caption of the tweet says "Before 2014 – Honeymoon Hotel, After 2014 – 2014 #SanskaariHotel". 
Other tweets and Facebook posts that were used in campaigns against Zubair alleging Hinduphobia and intentionally hurting religious sentiments were satires comments passed by various BJP leaders on different occasions. 
TwoCircles.net analysed the viral tweets of Zubair being shared without context and here's what we found:
1. In another tweet from 2018, Zubair referred to a 2013 tweet by BJP spokesperson Sambit Patra: "Two easiest ways of escaping Rape law:1)Turn Juvenile 2) Religious conversion err I mean turn 'secular'..#Guide book to perform SAFE-'RAPE'!
Quoting this tweet, Zubair replied "Dear @sambitswaraj, the Easiest way of escaping Rape Law in #RamRajya is to compare it with Lord Ram. Just like #Unnao BJP MLA said, " मेरे ऊपर तो आरोप लगा है, आरोप तो भगवान राम पर भी लगा था" (an accusation has been made against me, accusations were made against lord Ram too).
2. Another tweet being shared by the Hindutva brigade as evidence of an anti-Hindu tweet by Zubair is from September 2018. 
The tweet has a BJP poster featuring Narendra Modi and two monkeys sitting with the tail of one monkey on Modi's face. In the tweet, Zubair referred to a statement by Uttar Pradesh Chief Minister Yogi Adiytaath suggesting that monkeys would not harm you if you regularly recite Hanuman Chalisa. 
3. In another tweet, widely targeted by the Hindu right-wing, Zubair posted a photo that says, "Rome's church compound is in the shape of Shiva Lingam. Has Vatika become the Vatican? Christ came from Krishna? Is it all one big plagiarism by the west?" Zubair says that this was his inspiration to start a parody page named Unofficial Subramanian Swami on Facebook. It was done in the backdrop after some Hindu right-wing leaders had been calling the Taj Mahal as Tejo Mahalaya and Qutub Minar as Vishnu Stambh. The tweet by Zubair was a pun on this propaganda which a large number of people consume on their Whatsapp and other online platforms. 
On July 4, Zubair was produced before a court in UP's Sitapur for yet another 'objectionable' tweet calling Yati Narsinghanand and Bajrang Muni hatemongers. Incidentally, there are cases of hate speech against Muni and Yati and they were arrested earlier this year for inciting violence against Muslims and calling for genocide. The police were granted 14-day judicial custody in this case as well. 
Meanwhile, Zubair on Thursday moved an application in the Supreme Court seeking the quashing of an FIR filed against him by the Uttar Pradesh police in a case of hurting religious sentiments.
Vipul Kumar is a freelance journalist and a student at the Faculty of Law, University of Delhi. He tweets at @vipulizm  
SUPPORT TWOCIRCLES
HELP SUPPORT INDEPENDENT AND NON-PROFIT MEDIA. DONATE HERE