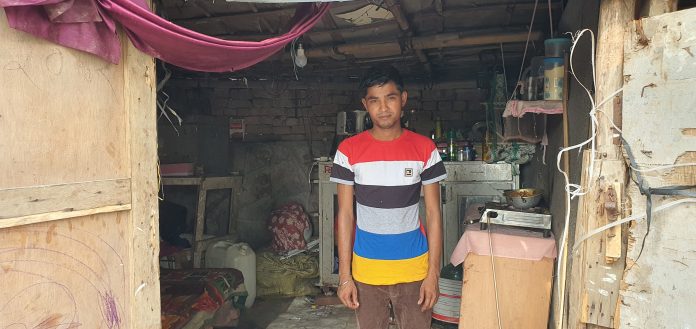 Scores of rag-pickers in the national capital New Delhi have been left stranded and without a livelihood, after the government banned plastic earlier this month. 
Mohd. Umair Yunus | TwoCircles.net
---
Support TwoCircles
---
NEW DELHI — The government's ban on plastic earlier this month has affected the livelihood of rag pickers in the national capital. One among them is Fazlur Rehman, a 23-year-old father of two children. He lives in Shram Vihar which is situated across the posh colony of Jasola Vihar. The name aptly describes its residents, as Shram, a Hindi word meaning labour. Most of its residents are migrant labourers. 
A few shanties are visible at the outset of the settlement. There are heaps of white garbage bags lying all around the shanties. Most of the residents are Bengali-speaking Assamese Muslims. 
Fazlur Rehman has been living in shanties since he came to Delhi with his parents and five younger siblings in 2008. The entire family worked as rag pickers in the nearby Shaheen Bagh area. Following his father's footsteps, he picks garbage from Shaheen Bagh and gets 100 rupees per month from every household. He gives half to his employer and keeps the other half to himself. 
Rehman has been stressed since the plastic ban imposed by the government of India on July 1. The government banned the manufacture, import, stocking, distribution, sale, and use of identified single-use plastic items, which have low utility and high littering potential, all across the country. 
Rehman told TwoCircles.net that his livelihood depends on plastic. Before the ban, he was making Rs. 500-600 every day after working for ten hours. "That has changed for the worse. There are days when I earn only Rs. 300," he said. 
He still gets plastic in the garbage but the sale of single-use plastic to recycling factories has reduced. 
Rehman said that the factories are still accepting single-use plastic but there is uncertainty that it can stop any minute. His livelihood hangs by a thread which has given him sleepless nights. 
"I spend all day going door to door, cleaning people's dustbins and filth in the hope that at the end of the day I would find so much plastic that I can feed my kids. What is the point of spending my life like this if I can't even do that?" he asked.
He is contemplating a change of profession and would prefer to work as a driver. 
"I will go to my village in Assam in a few weeks to meet my uncle. After coming back from there, I will think about changing my profession," Rehman said. 
He pointed out that he is not alone in this dilemma. Many other rag pickers are looking for "something far more stable."  
"The livelihood of hundreds of people like us is in danger. There is no system for our rehabilitation. I am an uneducated man but even I know that if you need to remove plastic from being used, you one to do it in a phase-wise manner and rehabilitate thousands and thousands of rag pickers across the country," he said.
He said that "rag-pickers are a major stakeholder in the process of cleaning in what the government calls Swachh Bharat Abhiyan." 
"We need to be recognised as such. No one asked us what we think of the plastic ban and how we are going to survive," he said. 
Rehman's father, his brothers, and his in-laws are all rag pickers. His three younger sisters are married. He didn't go to school. He learned numbers and calculations while being his father's apprentice as a rag picker. 
Musharraf, Rehman's employer, who was working a few steps away, did not think that plastic had been banned. He said that he will not accept it as a ban until the factory stops taking plastic. 
"If it is banned then it would have come on the mobile by now," Musharraf said. 
Rehman claims that Musharraf earns a lakh per month. "He owns a house along with two godowns in Zakir Nagar but gives very little to the workers," he said. 
While Rehman was talking to TwoCircles.net, his son Abdul Alameen called for him in Assamese. Four-year-old Alameen has bumps all over his face and head. 
Rehman wants to educate his kids, hoping for them to have a different future than his. 
"I want him to study in a government school nearby and get out of this generational trap of rag-picking," he said.  
Rehman's family lives in a small room with a CFL bulb hanging from the low-height ceiling and a small fan over a makeshift cot. He gives eight rupees per unit for electricity which amounts to 800 rupees every month to a woman named Beenu. According to Rehman, Beenu has installed sub-meters in all the shanties and the main meter is in her residence. 
"While Delhi Government has given 200 units of free electricity to every household, people from the most underprivileged community here are paying so much just for a fan and a CFL bulb," he said. The sub-meter read 3253 units. 
He said the room in the shanty is his entire world and the only asset he has, pointing towards a single burner stove, a set of shelves, plastic water bottles, a makeup box, containers having sugar and other necessary items, utensils, a medium-sized iron box over a large-sized table, a cage having chickens and a Sony Music system. 
Rehman said that he got the music system from a friend recently. He did not buy it. He got married in 2018 and moved to this room. This is the place Rehman finds his peace amongst his wife and his children after spending twelve hours in rag picking.
When asked if there are any schemes of the government to help them, Firoza, his aunt, said that the government has a lot of schemes for people like them but most of the time it does not reach them. 
"Ration comes only two times a year to us, before the two Eids. But other shanties across the road get rationed multiple times," Firoza said. 
Aliya, Rehman's daughter, was getting dressed up by her mother. Rehman called Aliya and asked her to smile for the camera. He kept his Lenovo phone aside and smiled with her. She loved getting clicked.

Mohd. Umair Yunus is a fellow of the SEED-TCN Mentorship Program.
SUPPORT TWOCIRCLES
HELP SUPPORT INDEPENDENT AND NON-PROFIT MEDIA. DONATE HERE