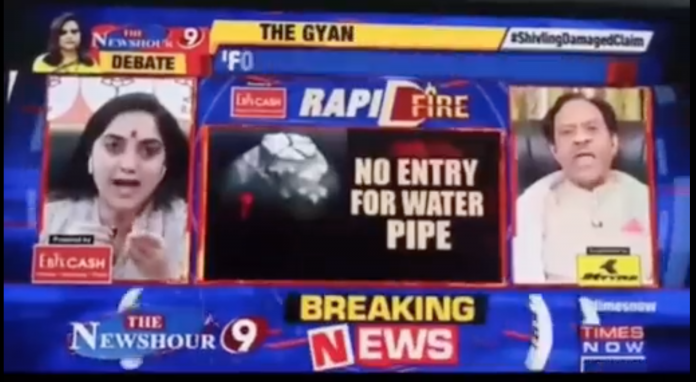 AIMPLB suggestion to Muslim scholars and clerics to avoid participating in discussions on news channels has received a mixed response. 
Tabeenah Anjum | TwoCircles.net
---
Support TwoCircles
---
NEW DELHI — Earlier this week, the All India Muslim Personal Law Board (AIMPLB) issued an appeal to Islamic scholars and clerics to refrain from appearing in arguments and debates on those TV channels whose sole intention is to make a mockery of and insult Islam and Muslims. The statement came amidst widespread protests by the Muslim community across the country, demanding the arrest of now suspended Bharatiya Janata Party (BJP) spokesperson Nupur Sharma over her derogatory remarks on Prophet Mohammed during a TV debate.
The AIMPLB said that by participating in these TV debates, the Muslim leaders were not able to do any service to the community and Islam and instead they indirectly insulted and mocked both religion and the Muslim community.
"To gather some legitimacy, these TV channels need Muslim faces in their debates. Due to their obliviousness, our Islamic scholars (Ulema) and intellectuals become victims of such agendas. If we boycott such programs and channels, not only will it affect their TRP negatively but they will also fail in achieving their desired outcome through these debates," the statement said. 
The statement received a mixed response from the intellectuals of the Muslim community. While most backed the statement, some expressed disagreement with AIMPLB.
"Muslim personal board is not the representative of the entire Muslim community and are no one to decide whether to go on TV or not it is," Hilal Ahmed, Associate Professor at CSDS, New Delhi told TwoCircles.net.
"In the TV debates when you are appearing on behalf of the Muslims, you get some sort of recognition. There are lots of Muslim men and women who are keen to go to these shows even after knowing that they will be treated as the punching bag. This is not going to stop such people from going to TV channels," said Ahmed. 
Hilal said that it's a reality that people will not stop going to these debates "unless they realize the damage that they are doing in vilifying their community by being participants in TV shows that propagate hate." 
While BJP was forced to take action against two of its leaders following outrage and a diplomatic row with Gulf countries, no action was taken against the channel authorities who allowed the impugned discussion to take place.
Noted journalist Shahid Siddiqui has stopped going to TV debates in the last four years.  
"I stopped going to these TV debates because they misinform the public and by becoming a part of the debates we give credibility to them. The anchors are biased and they just want to fill the seats without caring about who is speaking," said Siddiqui.  
"These TV shows contribute to nothing but just hate and misinformation," added Siddiqui, a former member of the Rajya Sabha from Uttar Pradesh and the chief editor of the Nai Duniya, an Urdu weekly published from New Delhi.
Navaid Hamid, President of All India Muslim Majlis-e-Mushawarat echoes Siddiqui's views. "In dire circumstances in which we are living today, silence is more important. Non-serious people who do not know about the topic go to these shows for financial interest and public relations or to get famous," he said. 
"The panellists don't have the understanding of issues and not politics, but they want to represent Muslims. What we see in the debates is an interesting trend of how they fill five seats with one certain ideology and give the sixth seat to a Muslim, who itself becomes a minority voice in the debate and is not heard but insulted," added Navaid who claims to have boycotted TV debates since 2017.
This is not the first time that Indian media is accused of Islamophobia. During the coronavirus coverage, sections of media in India was accused of running shows that appear to blame Muslims for the spread of the virus. In April 2021, a government spokesperson blamed the spike in coronavirus cases to an event by Tablighi Jamaat, an Islamic missionary organization, which was attended by preachers from other Muslim countries. Soon, hashtags like #CoronaJihad appeared on TV screens.
The Supreme court lawyer Shahrukh Alam, in an interview with Scroll, explained how TV news anchors contribute to structural violence against Muslims but aren't prosecuted. He said that the anchors tell people that Muslims are invaders and predators. "It has everyday consequences. That harm is not recognised by criminal law," he noted. 
In another instant, anchor Sudhir Chaudhary of Zee News, who is known for making inflammatory speeches on TV shows, on April 10 openly blamed Indian Muslims for the coronavirus pandemic. On the same day, the India Today network, ran what it called an investigation, titled 'Madrasa Hotspots', blaming the Islamic schools in New Delhi for misleading the government about number of children in their care and castigated them for not following social distancing norms. 

The Islamophobic tenor of these TV shows by a section of Indian media was condemned globally. The Organization of Islamic Cooperation (OIC) castigated Indian media for its coverage of coronavirus and expressed "its rejection of the targeting of Muslims anywhere."
Tabeenah Anjum is a journalist based in Rajasthan, reporting on politics, gender, human rights, and issues impacting marginalized communities. She tweets at @tabeenahanjum
SUPPORT TWOCIRCLES
HELP SUPPORT INDEPENDENT AND NON-PROFIT MEDIA. DONATE HERE