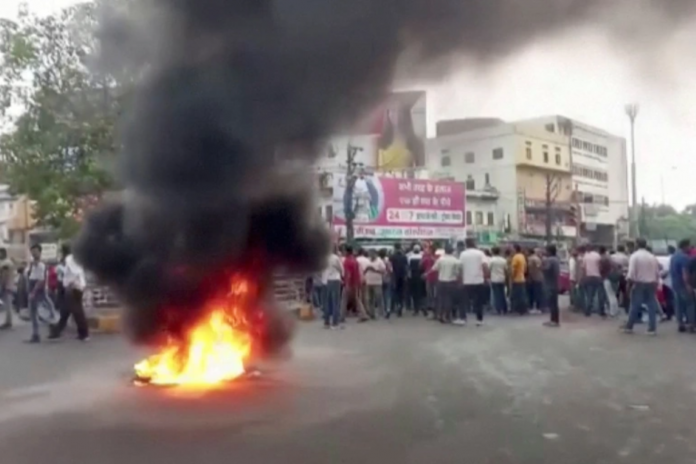 Muslim clerics and organisations condemn the act and demand action as per the law.
Muhammed Nihad PV | TwoCircles.net
---
Support TwoCircles
---
NEW DELHI — After protests following the beheading of a Hindu shopkeeper by two Muslim men on Tuesday, prohibitory orders under section 144 of the Cr.PC were issued throughout Rajasthan. The two accused, who purpotedely recorded the murder on camera, were arrested by Rajasthan police from Rajsamand district of the state late night on Tuesday. 
Earlier, protesters gathered in the streets to voice their outrage over the murder of Kanhaiya Lal, a tailor in the Maldas Street of Udaipur. The culprits claimed on camera that the victim had supported the offending remarks of Nupur Sharma, the former spokeswoman for the BJP, on social media. The two posted a video after the horrifying incident boasting about beheading and threatened Prime Minister Narendra Modi of meeting the same fate. 
Following unrest, curfew was imposed in the district for 24 hours. However, individuals providing essential services, exam-taking students, and exam-related staff members will be exempt.  
All districts in Rajasthan are on high alert with internet services temporarily shut across the state, NDTV reported. Chief Minister Ashok Gehlot has appealed to all the citizens to maintain peace and called for an emergency meeting today. 
The Home Ministry has transferred the case to the anti-terror task force National Investigation Agency (NIA), saying the involvement of "any organisation and international links" would be thoroughly investigated, The Print said in a report.
Gulab Chand Kataria, the leader of the opposition in the Rajasthan Assembly, blamed the incident on the state government's neglect. "Police should've provided protection when he asked for it & after his shop was closed for 4-5 days. It was a 100% failure of the police", he said.
The post-mortem of the slain has been conducted at the hospital with heavy police deployment. His last rites will be performed in Udaipur.
Meanwhile, the Assistant sub-inspector has been suspended for negligence. Udaipur divisional commissioner Rajendra Bhatt said that a financial compensation of Rs 31 lakh will be given to the kin of Kanhaiya Lal.
Muhammad Nihad PV is a sociology student at the University of Hyderabad. He tweets at @nihadbinnisar 
SUPPORT TWOCIRCLES
HELP SUPPORT INDEPENDENT AND NON-PROFIT MEDIA. DONATE HERE