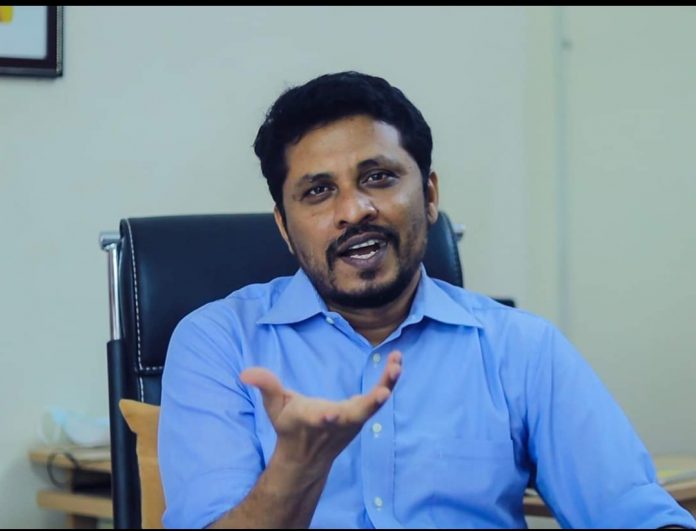 Arokiasamy Vincent Raj, popularly known as Evidence Kathir works to defend the rights of Dalits in Tamil Nadu. His organization has recently won the prestigious 2022 Raoul Wallenberg Prize. 
Afra Abubacker | TwoCircles.net
---
Support TwoCircles
---
50-year-old Arokiasamy Vincent Raj, best known as "Evidence" Kathir for his tireless work with the Madurai-based organization called Evidence, which he founded, has won the 2022 Raoul Wallenberg Prize. Evidence has been instrumental in identifying the magnitude of caste-based violence, honour killings in Tamil Nadu and fighting them in court and rehabilitating the victims.
In this interview with TwoCircles.net, Evidence Kathir talks about how he took up fighting caste-based violence, how caste still works in modern India and the challenges he faces in court. 
Below are the edited excerpts: 
You have been fighting caste-based violence for the last 25 years. How did it start?
I started as an environmental activist. I was part of People's Watch and a civil rights-based organization in Madurai. I left People's Watch to take up human rights violations cases and focus on caste-based violence. That is how Evidence was established in 2005.
How has the journey been?
It wasn't easy. It was full of struggles and challenges but it was fruitful also. We were able to touch people's lives. We have rescued many people and were able to help many to get justice. In Madurai, there are no mortuaries or police stations that I have not stepped into.
Our walk is towards justice but we don't stop there. 
In 2013, on an early morning, a 13-year-old girl was brought to the Evidence office. She was raped by three upper-caste Hindu men in Krishnagiri (Tamil Nadu). Even before taking her to the hospital, she was brought to the Evidence office. Her parents were afraid to go to the hospital without any assistance. Not only were those three men convicted, but the girl also continued her studies and cleared the NEET exam. We don't save individuals, we empower a generation.
What are some of the common cases of caste-based violence?
Caste-based violence happens on almost everything—for instance, for speeding a bike, for excelling in one's work, for falling behind in one's work or for even walking with dignity etc.
In the early days, I felt helpless in front of these many acts of violence in the state. However, after twenty-five years of dealing with caste-based violence, I realized that human beings also have the power to stop this type of violence. I realized that we may not necessarily win all cases but the very attempt to legally fight caste-based violence is a victory in itself. Dragging the perpetrators to courts for years for their actions itself is a victorious beginning. 
How do you understand the prevalence of caste in modern India?
Caste is the capital of India. India is a modern caste state. Irrespective of education or rural-urban divide, caste consciousness is still prevalent. There is also caste discrimination amongst the sub-castes in Dalits. That is the very nature of caste—to mistreat every other caste that is socio-economically below you. 
Those who say caste is important and should be followed, I can understand them and there is a chance of bringing change in them. But those who think caste discrimination doesn't exist are the most dangerous of all. 
You played an instrumental role in documenting honour killings in Tamil Nadu. What was that process like?
In Tamil Nadu, the first honour killing was recorded in 2005. In Dindigul, a Naikar girl and Dalit boy had eloped. The couple were found and the girl was brought back to the village. She was tied to a tree and treated like a dog. Three days later, she was poisoned and killed. When I went to the village, the temple looked freshly painted as if a festival had just ended. The temple had been purified with the money collected from people. 
I had a difficult time convincing the media to record the case as honour killing. Until then, these types of killings were called caste-based killings. It was also a common belief that honour killings only happen in north India and that there are no khap panchayats in states like Tamil Nadu. However, Evidence has found that caste panchayats are prevalent in Tamil Nadu also and these caste panchayats are organized and brutal.
You have asked for a special act against honour killing. You have also raised the concern to categorize honour-based crimes. How helpful can that be?
Apart from honour killings inflicted on girls, there are several other crimes done in the name of protecting the honour of the caste. Girls are kidnapped and brought back home when they elope. They are placed under house arrest. They are mentally tortured and suicides happen. 
Moreover, honour killings are sensitive cases as it is the family that kills their girls. Interestingly, not many people strongly justify honour killings. Most people are sympathetic to the sentiments of parents and the family. They say that killing is bad, but they feel sorry for the parents' pain which made them kill their child. The sympathy towards the parents is also found with police and courts. 
Evidence has conducted many fact-finding reports on caste-based violence. What guides your investigations?
An activist investigation is much different from that of police or media. Police come searching for the accused and the media is there for sensationalism.
Our work requires sensitivity and building trust with victims. Many a time, in cases of inter-caste relationships, families hesitate to say that their son loved a non-Dalit girl. It is up to us to convince them that loving an upper-caste girl is no crime legally and that it can be recorded in the complaint. Witnesses need to be protected and victims strengthened. Social perspective and knowing the values and beliefs of the people that we work for are more important.
Evidence meticulously documents cases. How elaborate is your documentation?
I trust documents more than people. I listen to people, but I don't take people in distress for every word they say. We can't expect a victim to say only complete truths. Nor can we expect a victim to have been only righteous throughout their actions. People might exaggerate or slip facts out of confusion or fear. People say, "Oorey kalavaram aayiduchu (The whole village rioted)." But if we check it might only be a group of five people. Such professional skills of verifying reports come with practice. 
In our case files, we record the victims and perpetrators' details. The details of Evidence fact-finding are kept along with that of police records. Later the complaints are tracked and we check what action the police have taken etc. A case file would record all these along with the copies of supporting documents and follow the case to its current status.
What are the major challenges you face fighting these cases?
Every case is investigated by several departments and the lack of coherence between departments is the major challenge we face. Sometimes, cases don't stand because the time entered in FIR and the post mortem does not fall in place. 
Moreover, although the cases of caste-based violence in the state are more and there is a lack of resources in the police department. The police force is not updated nor do they upskill themselves. The other challenge is the lack of reform within the police department. 
Afra Abubacker is an independent journalist based in Kerala. She tweets at @afra_abubacker
SUPPORT TWOCIRCLES
HELP SUPPORT INDEPENDENT AND NON-PROFIT MEDIA. DONATE HERE