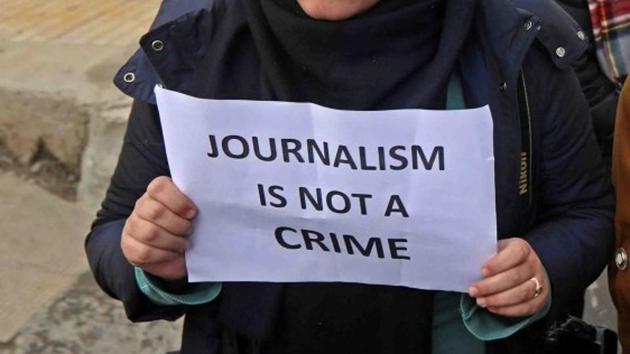 The remarks made by the region's top administrator in a fact-finding report by Press Council of India (PCI) has caused worry among the journalists community. 
TCN Correspondent 
---
Support TwoCircles
---
SRINAGAR — A recent report by the Press Council of India (PCI) on the state of media in the Union Territory of Jammu and Kashmir has come as a shocker for the journalist community in the region who have been working in a restrictive media atmosphere post abrogation of article 370 in 2019. 
In the report, the Lieutenant Governor of Jammu and Kashmir Union Territory Manoj Sinha is quoted as saying that the administration suspected that a large number of local Kashmir journalists were "sympathizers" towards the cause of militants and have "anti-national persuasion." 
The fact-finding team of PCI visited twice in October and November last year to the violence-hit region to investigate the allegations of harassment and intimidation of journalists in Kashmir following communication from the People's Democratic Party (PDP) president and former Jammu and Kashmir chief minister Mehbooba Mufti. 
The committee met a cross-section of journalists across the region who shared their concerns and apprehensions. 
'Shocking comments'
The comments by the region's top administrator have come at a time when journalists have accused the government of increased harassment against them. 
"This is absolutely shocking. LG should clarify the comments. We aren't militants but journalists," said a journalist, who works with a local newspaper, requesting anonymity. 
He further said that the administration is trying to criminalize journalism in the state which is not healthy for a democratic society.
"Journalism is not a crime. Questioning the government and its policies is the job of the journalists. We can't be labeled as militant sympathizers," he added, wishing not to be named.
The comments from the top administrator came a week after Jammu and Kashmir police accused detained Kashmiri Journalist Fahad Shah of having a "radical ideology right from his childhood" in its dossier, a copy of which lies with TwoCircles.net.
Shah who was booked under JK Public Safety Act (PSA) on March 14 was accused of "misguiding the common masses by circulating fake news against the government and its policies."
Prior to Shah, a reporter Sajad Gul was booked under PSA and is incarcerated at Kot Bhalwal jail in Jammu, which is nearly 330 kilometers away from his home in Bandipora. 
Steven Butler, Committee to Protect Journalists (CPJ)'s Asia program coordinator, in Washington, D.C told TwoCircles.net that the comments are "dangerous perception" from an administrative head to brand journalists as "anti-national" in a blanket statement like this. 
"It's irresponsible for a government leader to say things like this," Butler said, adding that, "It just serves to generate suspicion and make it easier for police to arrest or otherwise harass journalists who are just doing their job of reporting the news." 
Geeta Seshu, the founder of Free Speech Collective, a rights advocacy group, sees the comments as an attempt to undermine and delegitimize journalism in the valley. 
"To label and demonize journalists in this fashion is deplorable. It sanctions blanket punitive action under repressive laws without any shred of evidence," she said, adding that, "Journalists have a responsibility to gather and disseminate news in the public interest and hold those in power accountable."
"Likewise, the state has a responsibility to ensure freedom of the press and safety of journalists. Even in the best of times, this is an adversarial relationship and must be governed by mutual respect," she said. 
According to J&K police from 2016 till mid-October, 2021, 49 cases had been registered against journalists. Eight of these journalists were charged under the stringent Unlawful Activities (Prevention) Act (UAPA); 17 for criminal intimidation and 24 journalists were booked for extortion and other crimes.
A number of journalists were summoned to the dreaded 'Cargo Centre' for questioning — a location reserved for interrogation for armed militants and their associates. 
The journalists in Kashmir said the comments from the administration to the PCI's fact-finding team indicates that there is an attempt to blur the line between the militants and journalists—who are now seen as the "only threat in Kashmir to national security."
"Post abrogation of article 370, every institution was taken over and controlled. The independent media was difficult to bow down to, so there is an attempt to criminalize journalism," said another journalist, wishing not to be named fearing reprisal from the government.
Widening gap between govt and journalists
The gap between the government and the journalist community has widened ever since a group of scribes allegedly backed by the government attempted a coup at the Kashmir Press Club (KPC) — the umbrella body of Kashmiri journalists. 
A day before the coup, the Jammu and Kashmir government suspended the registration of the KPC citing adverse reports by the Criminal Investigation Department (CID) of J&K police. 
Several journalists have left the valley following the closure of KPC and increased perception of harassment among them and started taking refuge in different parts of the country, while many who are still working avoid bylines and have stopped tweeting. 
Reportedly, local newspapers have fired many of their staff members, citing no advertisements from the government while many journalists are working on low wages. 
"I am thinking of leaving journalism and doing something else, which will at least fulfill my daily needs," a journalist said. 
He added that the situation in Kashmir "is not conducive for journalists to work freely." 
SUPPORT TWOCIRCLES
HELP SUPPORT INDEPENDENT AND NON-PROFIT MEDIA. DONATE HERE