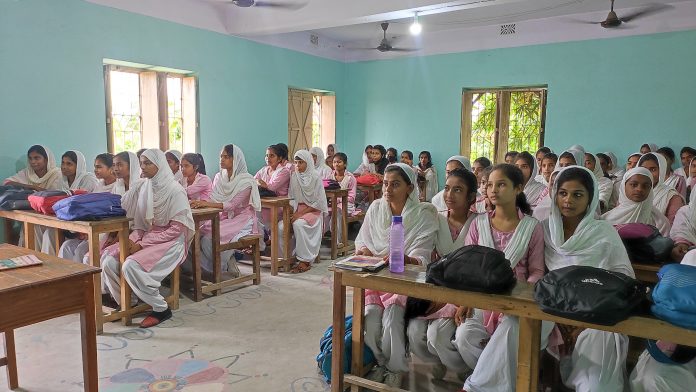 The upgradation of a girls' school to a higher secondary institution in a village in the Murshidabad district of West Bengal has come as a respite for many Muslim girls in the district to pursue higher education. 
Sufi Parween | TwoCircles.net
MURSHIDABAD (WEST BENGAL) — Till recently, Muslim girls from a village in Murshidabad in West Bengal could not pursue higher education due to the unavailability of a higher secondary school in the vicinity. Not anymore as the upgradation of SK Abdur Razzak Memorial Girls Madrasa to a higher secondary has paved way for many girls to pursue higher education and fulfil their dreams. 
Earlier, most of the 1200 students at this girls' school would drop out after matriculation. With its upgradation now, the school has become the first higher secondary school for girls in the Beldanga block of Murshidabad. Recognized by the West Bengal State Council of Higher Education this year, this girls' school caters to students from ten villages in the Beldanga block of Murshidabad and has the highest number of girls students in the district. 
Murshida Khatoon, the headmistress of SK Abdur Razzak Memorial Girls Madrasa is happy with the upgradation. 
"This is the first batch of class 11 of this school and 240 students have already taken admission, validating that opportunities propel aspirations," Murshida Khatoon told TwoCircles.net. 
She said that 122 students have enrolled in the arts stream and 118 students are enrolled in the science stream. "Children from different schools in the vicinity are also taking admissions," she said. 
Only 3% Muslim students finish higher secondary
Murshidabad, a district with a majority Muslim population (67%) is one of the most backward districts in the country. The literacy rate of the Muslim population in Murshidabad is 66.59% whereas male literacy is 69.95% and female literacy rate is 63.09%. About 35% of the Muslim general population is illiterate whereas the non-Muslim illiteracy rate is about 25% in the district. 
About 43% of Muslim children attend primary school but only about 3% of Muslim students complete higher secondary. The main reason for such a high dropout rate is the fewer secondary and higher secondary schools in rural areas. 
Murshida Khatoon said that she is "observing a change in our community after this school was upgraded to a higher secondary." 
"Earlier, girls didn't have an option as this is the only girls' school in the block. Safety is a concern for parents of girl students. They don't want their daughters to travel for twenty kilometres every day," she said.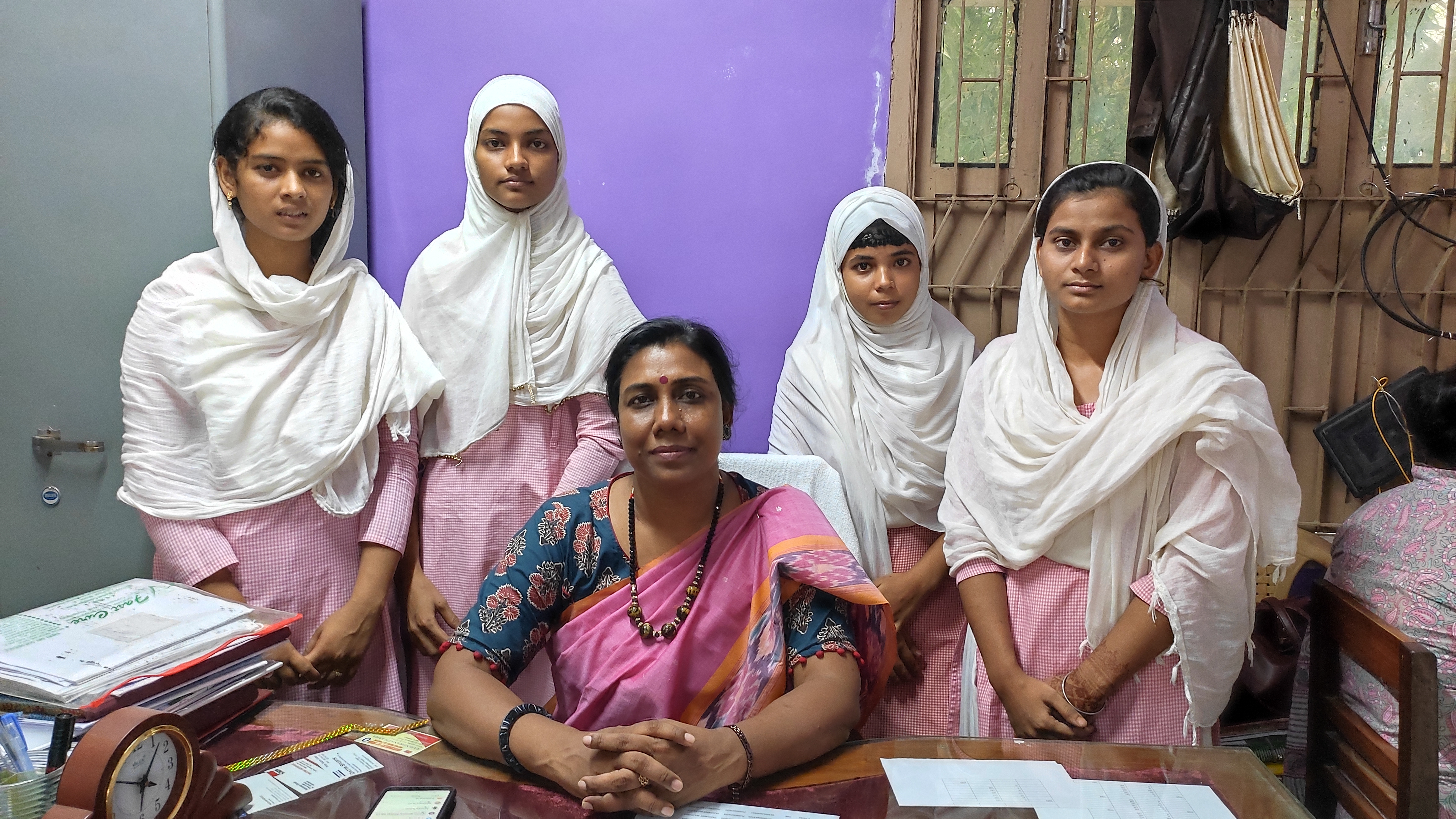 Due to these concerns, many girl students would drop out after class 10 and they would either be married off or do household chores. "Unless we create opportunities for them and give them access to those opportunities, how can we get them back to school?" the headmistress asked. 
Aaisha, a class 11 student, told TwoCircles.net that her elder sister Aatifa got married at the age of 15 because she didn't get a chance to continue her studies after matriculation. 
"After all, there was no accessible higher secondary school here," she said. 
Khatoon believes that a girl who gets married as a child is more likely to be out of school and be without work and cannot contribute to the community.  
"The biggest challenge was to stop the early-age marriage and child labour in our community and to promote the girls' participation in sports. We tried our best but realized that the lack of higher secondary school was a major obstacle because girls would drop out after class 10," she said.  
Khatoon revealed that the demand for higher secondary education for girls was mostly seen in their mothers. "They want their daughters to finish higher secondary. But when the school is too far from their houses, they cannot do much," she said. 
Khatoon said that mothers play a pivotal role in the education of their daughters. "When they see girls from similar financial backgrounds going to school on cycles, they too want their daughters to go to school. The state government provides a different scholarship for girls' education. This is what access to education does," she said. 
A student Saida Khatoon told TwoCircles.net that parents are apprehensive about sending their daughters to co-educational schools as they consider it unsafe. With another girls' school located nearly 20 kilometres away, parents prefer to keep their daughters at home. 
"One higher secondary school for girls is not enough. We need more schools to realize our dream," Khatoon said.
Another student Saniya, who is in class 11, summed up the problems hundreds of girls faced in her area. "This school is near my house. The other school is at least half an hour's drive from my house. I would not be able to attend that school. Now, I can continue my studies in the same school without any stress," she said.  
Sadia, a class 11 student, is delighted to be able to play sports now.
"I love to play basketball and football, and I like to run. I feel that I can go further with my interest because our headmistress is very good. She supports us in our interests to play sports," Sadia added. 
For Sukhtara, another class 11 student, the upgradation of her school to a higher secondary means she can pursue her dream of becoming a nurse. "Many girls must have seen the dream of becoming a nurse. Their dream couldn't be fulfilled because there were no facilities for higher education in our village but not anymore," she said.
Sufi Parveen is a fellow at the SEEDS-TCN mentorship program.