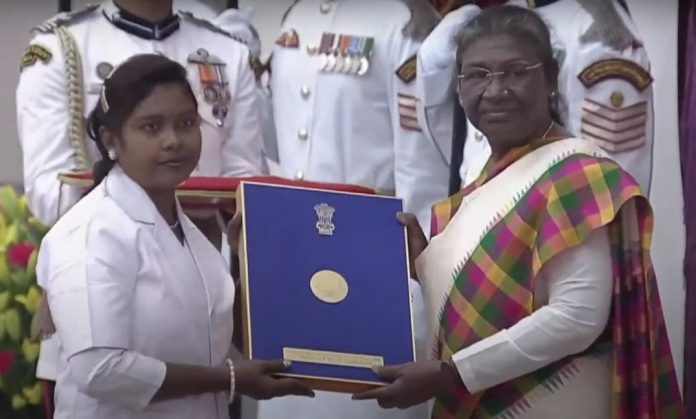 The young nurses believe that more Muslim girls across the country should opt for the nursing profession to serve society. 
Sami Ahmad | TwoCircles.net
---
Support TwoCircles
---
PATNA (BIHAR) —  Two Muslim nurses Naziya Parveen and Shabrun Khatun from Bihar were awarded this year's National Florence Nightingale Awards (NFNA) by the President of India, Droupadi Murmu at Rashtrapati Bhavan earlier this month. 
The National Florence Nightingale Awards (NFNA) were instituted in 1973 by the Government of India's Ministry of Health and Family Welfare as a mark of recognition for the meritorious services rendered by nurses and nursing professionals to the society.
Sajeeda Banu of Karnataka, Ahmedullah Wani of Jammu & Kashmir, and Mohammed Kasim AB of Lakshadweep are the other Muslims who were awarded this year. 
32-year-old Naziya Parveen has a B.Sc. in nursing and works as a staff nurse at the Sadar Hospital of Araria. Delighted with having won the award, she recalled how President Murmu congratulated her and hoped to meet her again. 
She was among 51 people from around the country who were awarded in different categories by the President. Her citation states that she has contributed to the establishment of the labor room and for helping in preparing the standard operating procedure.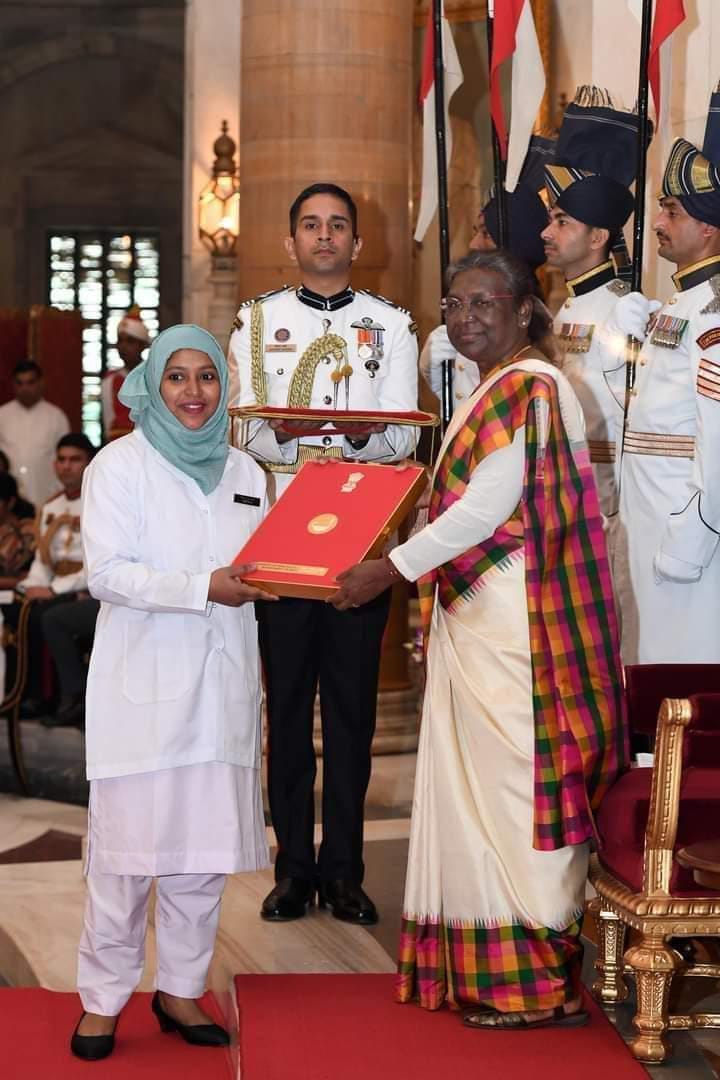 Hailing from Sultanganj, Bhagalpur, Naziya is the eldest of three sisters. She is married to a microbiologist Mohammad Shams of Gaya. After completing her high secondary education in Dumka, Jharkhand she studied nursing for GNM at JawaharLal Medical College, Bhagalpur, and worked with Jamia Hamdard in New Delhi for six years. It was challenging to move from Delhi to Araria but her family supported her as "there isn't much scope of work in Sadar Hospital." 
"I feel quite proud to be awarded as our society does not recognize the work of nurses. I am elated for being a Muslim awardee as we don't get nominated for such awards. I was asked if I was from Kashmir as I was wearing a hijab," she said.  
Mother of two kids, Naziya has inspired other Muslim girls to take admission to nursing courses. Local newspapers in the state ran stories featuring her. 
"We need to change our attitude towards this profession. It is a good job and one can draw good income from it. The nursing course is such that even if one does not opt for a job, they can get the chance to serve from home and earn. I am of the view that more Muslim girls should study nursing as a profession," she said. 
28-year-old Shabrun Khatun was awarded in the ANM (Auxiliary Nurse and Midwife) category. She works at Darbhanga Sadar primary health center. She had applied for the award previously but it was her work during Covid-19 that won her an award this year. She recalled how she went for a door-to-door screening of Covid-19 in April 2020 while being on fast and continued to work in 2021. 
Shabrun told TwoCircles.net that receiving the award from President Murmu was quite encouraging. 
Her journey to success has not been smooth. She had to work in local hospitals to support her family but this experience helped her. "I was good at studies in school and got prizes for my co-curricular activities. I wanted to be a medical doctor. I was selected for MBBS at a private medical college but did not have enough money to take admission. I also wished to be an officer in administration but my father's proximity to doctors got me into nursing."
Shabrun's father Mohammad Akhtar is a tailor who would stitch clothes for operation theaters of hospitals nearby. She had cleared the preliminary test for selection in the police department but finally settled for a nursing course after her graduation in Zoology from her hometown of Rosera Bazar in Samastipur district in Bihar. 
Shabrun said that she had to face unfriendly treatment in society after she chose to become a nurse. "But seeing my success now, everyone is happy," she said. 
She is of the view that Muslim girls who are not able to qualify for MBBS should consider nursing as a career as "it gives the satisfaction of serving humanity in one small way." 
In December this year, she would be felicitated on the foundation day of the Darbhanga district. 
Sami Ahmad is a journalist based in Patna, Bihar. He tweets @samipkb
SUPPORT TWOCIRCLES
HELP SUPPORT INDEPENDENT AND NON-PROFIT MEDIA. DONATE HERE