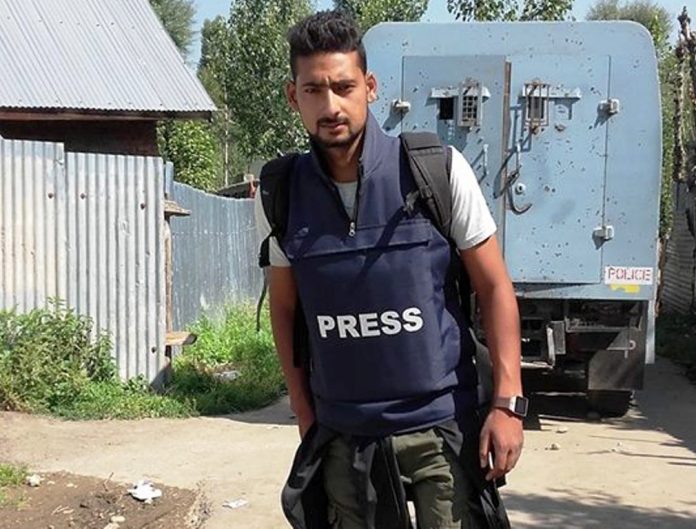 By Raqib Hameed Naik, TwoCircles.net
New Delhi: On Thursday, January 18, the National Investigation Agency (NIA) filed a charge sheet in the NIA Special Court at the Patiala House Courts Complex, against 12 persons including Kashmiri photojournalist, Kamran Yusuf alleging them to conspire to wage war against the country by carrying out "terrorist" and "secessionist" activities in Jammu & Kashmir.
---
Support TwoCircles
---
The 12,794-page charge sheet has been filed under sections 120B, 121, 121A and 124A of the Indian Penal Code and sections 13, 16, 17, 18, 20, 38, 39 and 40 of the Unlawful Activities (Prevention) Act, 1967.
The NIA in its charge sheet has alleged that Kamran Yusuf was a stone pelter and worked under the overall guidance and instructions from Pakistan to form strategies and action-plans to launch violent protests and communicate the same to the masses in the form of 'protest calendars' released through newspapers, social media and religious leaders, creating an atmosphere of terror and fear in the State of Jammu & Kashmir, a charge denied by the family.
"If he was a stone pelter then why isn't there a single police case registered against him in the local police station. From protest to funerals to army functions, he used to cover all and now all of a sudden he becomes a stone pelter," Irshad Ahmed, maternal uncle of Kamran told TwoCircles.net.
The National Investigation Agency had registered this case on May, 30 last year and subsequently, 10 arrests were made across Kashmir. The NIA has claimed to seize over 950 incriminating documents and over 600 electronic devices and has examined over 300 witnesses during the course of the investigation.
"He is innocent and being framed. The charges leveled are false and fabricated. Even the Ministers who we have visited regarding this case say that he is innocent," said Irshad.
The NIA charges come after the media circles in the valley were abuzz with a breakthrough and subsequent release of Kamran after Kashmir Editor Guild took up the case with state and central authorities.
"He lost his father and used to work hard to support his mother. She was expecting that he will be released soon but the NIA charge sheet has shocked her," he added.
The Committee to Protect Journalists (CPJ) in a statement following the NIA charge sheet has asked Indian authorities to stop abusing their power and asked for immediate release of the photojournalist.
"Indian authorities must stop abusing their power and using heavy-handed tactics to go after a photojournalist who was merely doing his job," said CPJ Asia Program Coordinator Steven Butler, in Washington, D.C. "Kamran Yousuf has already unjustly spent four months in jail and should be released immediately."
On Monday, September 4, 2017, Kamran Yusuf was asked to report at the local police station in Pulwama district from where he was taken to Srinagar, where NIA formally arrested him the following day.
Yousuf, a resident of Tahab village, located five km from Pulwama town in South Kashmir, used to work for various local media organizations and covered protests, encounters between militants and security forces and funerals of militants who died in the encounters along with covering official functions organised by politicians, bureaucrats, army and police.
In August 2017, Yusuf was named among nine emerging photographers in Jammu and Kashmir by With Kashmir, a digital media company.
The International Federation of Journalists (IFJ) in September 2017 had termed the move by the central agency an attempt to intimidate the journalist community.
Stating that "photojournalists are required as part of their professional duty to be present at the places of protests and sit-ins and take photographs of these incidents, and such presence cannot be termed as participation in the incidents," the IFJ had said, "the arrest and detainment of freelance photojournalist Kamran Yusuf by the National Investigation Agency in Kashmir, India without formal charges is an attempt to intimidate the journalist community."
Seeking Yusuf's immediate release, the journalists' body had further urged the Centre to "ensure that the power granted to agencies, such as the NIA, is not misused against journalists."
SUPPORT TWOCIRCLES
HELP SUPPORT INDEPENDENT AND NON-PROFIT MEDIA. DONATE HERE