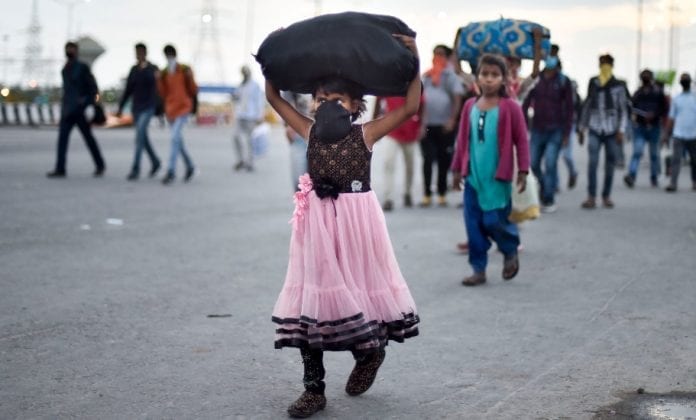 With the announcement of lockdown on April 19 by the New Delhi government, the migrant workers in the national capital stared at another crisis and decided to flee the city. TCN spoke to migrant workers departing the city to their homes to understand the challenges they face and how they plan to survive during the raging second wave of Covid-19. The story is the first in the TCN series on the eve of International Labour Day 2021, also known as May Day.
Shadab Farooq, TwoCircles.net
---
Support TwoCircles
---
On April 19, in response to the country's massive surge in Covid-19 cases, the New Delhi government declared a lockdown in the national capital. The announcement of lockdown spelt another bout of crisis and worry for migrant workers in the city. 
Prem Vir, 21, who recently joined as labour staff on a temporary basis in a medical company in Udyog Vihar, New Delhi began to remember the chilling memories of the previous 2020 lockdown. He decided to return to his village in Mainpuri Uttar Pradesh, which is nearly 350 kilometres from New Delhi, on the same day of the announcement.
"During the lockdown, we have no jobs, and neither our landlord nor the government can assist us. I went back to my village because of this. We would not be able to survive if there is a further lockout. The lockdown can be extended it seems. I came on my cycle last year and it took me three and a half days to reach home. The situation seems to be the same this time as well. I am not sure where I will get food or water while I am in Delhi. I will return once things have returned to normal. I have seen it earlier, I don't want to see it again," Prem Vir told TwoCircles.net. 
Hundreds of migrants workforce crowded the Anand Vihar Bus Terminal to board buses for their native places just hours after Delhi Chief Minister Arvind Kejriwal announced a six-day lockdown in the national capital area, effective from 10 p.m. on Monday night (April 19) until 5 a.m. on Monday (April 26). 
Announcing the lockdown, Delhi Chief Minister Arvind Kejriwal appealed to migrant workers to not leave the city, assuring that the restrictions will be lifted as soon as possible. "I appeal to all migrant workers to stay back. The lockdown will be in force for a brief period. I hope we won't have to extend it. Over the next six days, we will strengthen the medical infrastructure in the city in cooperation with the Centre," Kejriwal had said.
The migrant workers knew better than to trust Kejriwal's words. The crowd at the bus terminal was evidence of this deep mistrust.
Mukesh Yadav, 28, who works as a cook in Govindpuri, New Delhi bought the ticket at twice the rate and left the city on 22 April from Anand Vihar Bus Terminal. When the Indian government announced a sudden lockdown in March last year, Mukesh was among lakhs of migrant workers forced to leave cities and return to their villages.
"During last year's national lockdown, 'essential services' were also permitted, but millions of working-class and urban poor people were still stuck without employment, wages, or savings to access food or pay rent," Mukesh Yadav told TwoCircles.net. 
Yadav said that, "even when the pandemic is strong and everything is coming to an end, they (the government) is charging us more and more." 
Apprehensive that he won't be able to make a living in lockdown, Yadav said "It was better for me to leave the city as the government had failed us earlier as well." 
"Even this time, I paid Rs 600 for a ticket which on usual days costs around Rs 200. What can one expect? At home, I at least live with dignity," he added. 
Migrants like Mukesh and Prem Vir were hit hard by last year's sudden, nationwide lockdown. Thousands of people were left jobless and hungry. Due to the suspension of public transport, hundreds of thousands of these workers wandered long distances or crammed into trucks, tempos, and buses.
Prem Vir and Mukesh Yadav were among those who came back to Delhi for work when lockdown restrictions were lifted across the country. 
While Mukesh Yadav came back to New Delhi in July 2020 and Prem Vir came back in August 2020.
"I had no money left after June. My whole savings account was depleted. To earn money, I had to return to Delhi. I was fortunate enough that my Bau (the hotel's owner) rehired me," Yadav said. 
The Centre announced on April 23, 2021, amid the second wave of Covid-19, it will provide 5 kilograms of food grains free of charge to around 80 crores Pradhan Mantri Garib Kalyan Anna Yojana (PM-GKAY) beneficiaries in May and June 2021. 
In addition, the Centre declared in May last year that every migrant worker would receive five kilograms of food grains per month, even if they did not have ration cards or were not enrolled in the Public Distribution System. However, as Scroll.in discovered a significant number of migrant workers were not given any rations. 
Vir said that he "received no ration" and Yadav received only one month of ration during last year's lockdown. 
Chhotu Malya, 19, who works as a helper and daily wager in Delhi, took a train back to his village Araria, Bihar on April 22, 2021. "It is pointless to stay in Delhi if you are unemployed or don't have work," he told TwoCircles.net. 
Malya said he dreads "going through what I went through during the previous lockdown." 
"This government is not dependable. I recall walking hundreds of kilometres and seeing hunger-related deaths. I refuse to see it again," he said.  
The exponential increase in the Covid-19 cases and a series of new lockdowns in the worst-affected states might prompt a second migrant worker exodus in India. Reports suggest that hundreds of migrant workers from Bihar, U.P, Madhya Pradesh have returned home in buses, trucks, and trains in recent days.
It is largely because thousands of daily wagers were forced to walk home from faraway cities where they were working last year after the government imposed a nationwide lockdown on March 24, 2020, at midnight. The majority of the workers have returned to Bihar from Maharashtra, Punjab, Haryana, Uttar Pradesh, Delhi, Rajasthan, and Madhya Pradesh, where the number of Covid-19 cases has increased dramatically. 
"Mujhe ek khidki nazar aayi aur mein kood gaya (I saw a window open and I jumped), said Mohit Yadav, 21, who took a bus from Anand Vihar Bus Terminal and went back to his home in Bah Bateshwar, U.P on April 19 2021, the first day of the second wave of Covid lockdown in Delhi. 
"I am relieved that I was able to return home this time. People died on the road last year and no one took any action to prevent it. I don't have to beg if I remain at home during the lockdown, but I would have to beg if I were stuck in Delhi," said Mohit who walked nearly 300 kilometres to his home in last year's lockdown.
SUPPORT TWOCIRCLES
HELP SUPPORT INDEPENDENT AND NON-PROFIT MEDIA. DONATE HERE