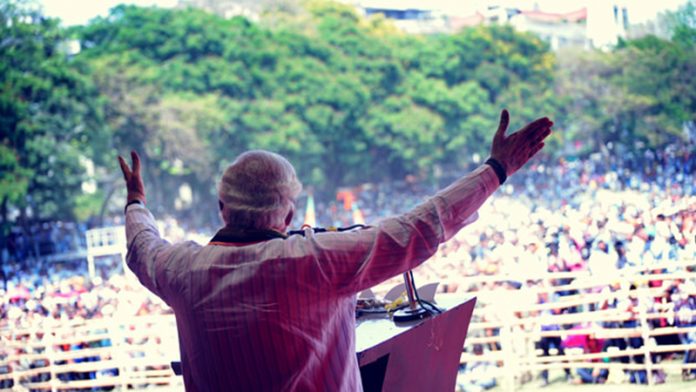 By Saket Suman 
Dehradun, (IANS): The country's leading writers and intellectuals denounced nationalism and targeted the central government for propagating hate among the masses
---
Support TwoCircles
---
on the concluding day of a literature festival here on Saturday.
In what was an absolute one-sided discussion, authors Nayantara Sehgal, Nandita Haksar, Harsh Mander and Kiran Nagarkar — all known to be from one school of thought — publicly condemned nationalism at a session titled "Nationalism in Digital India" during the WIC India Dehradun Community Literature Festival.
The tone for the discussion was set by the moderator, journalist Rana Ayyub, who sort of shifted the discussion to the issue of nationalism under the NDA government, instead of a debate on nationalism in the digital age that the session otherwise promised.
Noted writer and intellectual Kiran Nagarkar was asked by the moderator to share his views on similarities between Donald Trump's America and Narendra Modi's India.
Reflecting his views on the "Muslim ban" in the United States, Nagarkar said that it was not right to single out one community, adding that Hindus are, in his own words, as much capable of terrorism as any other community in India.
He then said that he does not give a damn about nationalism and is yet a proud Indian.
"I am a proud Indian but I don't give a damn about nationalism. I don't want India to be a great country. I would rather want India to be a good country where all is loved, respected and where everybody's rights are protected," he remarked to a house-full audience, comprising mostly of students from the many reputed schools of this hill station.
Accusing the ruling establishment of Prime Minister Narendra Modi of propagating hate among the masses, Nagarkar alleged that it hates questions.
"Hate is something that this regime thrives on. They breed contempt and hate," he maintained.
Harsh Mander, a former member of the Sonia Gandhi-led National Advisory Council and closely associated with the Congress party, said that there is a great churning about the idea of nationalism in contemporary times.
"Who does this country belong to? And on what conditions? What does it take to love the country," Mander asked the audience before stating that his idea of India is that this is the country that belongs to all and nobody has to prove his loyalty to belong.
"But it is a contested idea as some believe that India is a country of Hindu majority and you must be Hindus or subordinate to Hindus to belong here. This is not the country that our forefathers dreamt of. Also who gets to decide the idea of Hinduism? We live in an environment where to love your country, you have to hate," Mander, the author of several books on India, claimed.
This was soon followed by a relentless attack by acclaimed writer and a member of the Nehru-Gandhi family, Nayantara Sehgal.
She said the issue of nationalism is insignificant and a piece of nonsense.
"Nationalism is a piece of nonsense. There is no need for a country that has been free for 70 years to suddenly shout about nationalism. Those who are raising this slogan today — the ruling party — were nowhere to be seen when India was fighting for freedom. They were fast asleep on their beds. So what are they shouting about now," Sehgal asked the audience.
The much acclaimed author of "Rich Like Us" further alleged a "deal" to make people fall in line. She said that the ruling establishment wants everybody to agree with their ideology — of Hindutva and of Hindutva of their definition — and that all those who are in disagreement with this propagation are at the receiving end under the NDA regime.
"We have a fascist regime in power. Muslims and minorities are being targeted," she contended.
Sehgal also went on to inform the audience about the murders of rational thinkers and writers that had compelled her to return her Sahitya Akademi award in 2015.
The discussion, however, was primarily dominated by one school of thought — the Liberal Left — and lacked the "all-inclusive" and "diverse-viewpoints" that literature festivals claim to achieve and promote.
SUPPORT TWOCIRCLES
HELP SUPPORT INDEPENDENT AND NON-PROFIT MEDIA. DONATE HERE