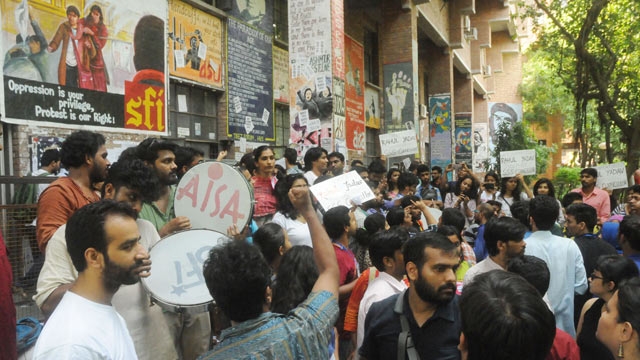 New Delhi, (IANS) : Rubbishing media reports claiming a massive cut in admission intake, the Jawaharlal Nehru University (JNU) on Wednesday asserted that there is no reduction in academic seats in any school or department of the premier education institution.
"There has been no such announcement from the university. We have effected no reduction in the admission intake for students. All the news which are circulating in the media are false," university Rector Chintamani Mahapatra told IANS.
---
Support TwoCircles
---
A number of media organisations on Wednesday reported that JNU made an "official" announcement on its website about reduction by hundreds in seats for several schools.
According to a media report, the university "announced massive reduction in student intake in M.Phil and Ph.D courses and scrapped fresh admission in some departments for the upcoming academic session".
On the other hand, Mahapatra said: "We haven't made any such cuts. The decision is pending in this matter and will be taken in near future."
However, implementing the UGC guideline that recommends a cap on the number of students who can be mentored by faculty members for Ph.D and M.Phil, may in effect mean no admission in these courses for a long time to come.
The guideline stipulates a maximum of eight Ph.D students for a Professor, six for an Associate Professor and three for an Assistant Professor. The maximum number for M.Phil candidates is three for Professor, two for Associate Professor, and one for Assistant Professor.
Going by this limitation, at present, a number of faculty members exceed the proposed cap by a considerable margin and, according to a calculation done by Democratic Students Union (DSU), a campus-based students organisation, many of these centres may have to go without any admissions in the concerned courses for three and four years variably.
SUPPORT TWOCIRCLES
HELP SUPPORT INDEPENDENT AND NON-PROFIT MEDIA. DONATE HERE