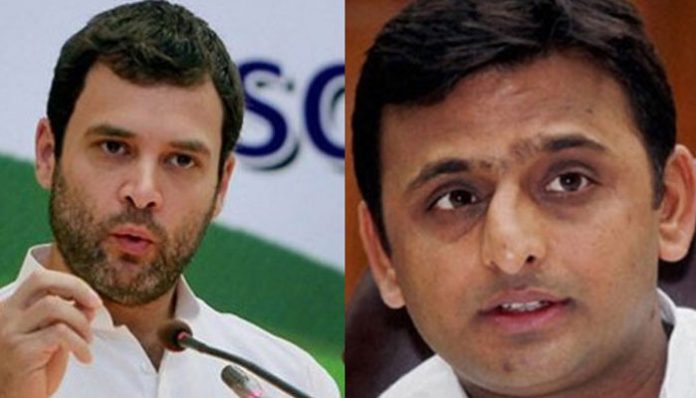 By Faisal Fareed, Twocircles.net
If elections are all about winning and getting the maximum votes, then can we say that like arithmetic, it is a game of numbers? Some people almost always refer to elections as a game of numbers, but is it so simple. Let's say, if A gets 40 votes and B gets 40 votes in one election and then fight the next elections as one unit, will they get 80 votes? Yes? No?
---
Support TwoCircles
---
The thing is, unlike arithmetic, elections can always never guarantee you a fixed result. So, keep all the "Two-plus-Two equals four" out of the equation. And we will analyse this statement in the context of Monday's announcement that after months of negotiations, the Congress Party had formally joined hands with Samajwadi Party.
Then Congress which got 11.65 % votes in 2012 polls while Samajwadi Party which polled 29.13 % votes. But if you believe that this means that together, they will poll around 40.78% votes in 2017 as they are contesting as an alliance, forget it.
Elections are not won on drawing room table by calculating the average and percentage. Elections are contested at booth level where every vote counts. This time, SP's national president Akhilesh Yadav and Congress Vice President Rahul Gandhi joined hands and claimed that their alliance will win over 300 seats. They also took out a roadshow in Lucknow as the first show of strength.
The Congress-SP alliance has only one silver lining, and for that too, you need to look hard.  It has cleared the confusion among its voters, mainly Muslims, that they are a more potent alternative against BJP than BSP which is aggressively wooing Muslims.
Except this, the alliance is unlikely to have any other potential impact and the reason is simple: there is no camaraderie between SP and Congress workers. They are two separate parties, after all. And of course, nothing remains on course when it comes to SP these days, The first line of criticism came from none other than Mulayam Singh Yadav who within hours of sealing the alliance termed it as 'opportunistic alliance for power' and ruled out any support. He even exhorted his workers to file nominations on those 105 seats which Congress has been allocated by SP in the alliance. See where this alliance is heading?
We must remember that alliances are successful only if the partners are in a position to transfer their votes to the ally. Going by the circumstances and current political situation, BSP seems to be the only party which has the authority to transfer its vote bank to any party. It means that its voters will follow the direction of their supremo Mayawati. Besides this, a few caste-based parties like Mahaan Dal of Keshav Prasad Maurya, Bhartiya Samaj Party of Om Prakash Rajbhar also have the power to transfer their vote to any party. It is another matter that they have never won a seat in UP assembly but have following among their community and have demonstrated it in 2012 polls. Except these, no party worth its name in UP can transfer their votes to any other party if contesting in an alliance.
When Rahul Gandhi was addressing joint press conference with Akhilesh Yadav at Hotel Taj in Lucknow, the few supporters who were present at UP Congress Committee office Nehru Bhavan in Mall Avenue, Lucknow were beaming with confidence. Their joy was not that they have forged an alliance and will now win seats; instead, they confided that now they have got a face-saving situation. In an alliance, at least they need not worry about managing the crowd and even finding candidates to contest polls as the grand old party was running short of serious candidates to contest all 403 assembly seats.
Statistically, Congress won 28 seats in 2012 from the contested 355 seats. What is lesser known is that 240 Congress candidates lost their deposits and the party failed to open its account in 53 districts from total 75 districts. In the caste-ridden politics of Hindi belt, there is not a single community which irrespective of their geographical presence in UP supports Congress. The party has virtually no vote bank in the state. Rahul's shows like Khat Panchayat, Kisan Sabha may earn him space in media but there are no takers among people. Leave aside supporting Congress, most of the communities who vote in block openly detest Congress in UP. Hiring poll managers even failed to change the situation for Congress in UP. The Congress winning seats in 2012 assembly polls can simply be attributed to candidates' individual capacity, local equations, and constituency specific reasons. MLAs like Pramod Tiwari, Anugrah Narain Singh, Ajay Kapoor, Vivek Singh, Nawab Kazim Ali Khan, Ajay Rai won as they have their individual aura. Others like Daljeet Singh, Bansilal Pahadia won due to local equations. Nadeem Javed, Pankaj Malik, Kaushal Kishore won due to their own poll management. It is hard to find a safe seat for Congress in all 403 seats which can be termed as its stronghold. Needless to say, the vote percentage may be 11.65% due to these candidates but not an iota of the vote is within the power of Congress to transfer. So when Congress does not possess vote bank what will it transfer?
But still, Congress stands to gain due to the alliance. Don't be surprised if its tally rises from existing 28 seats. But in a haste, don't attribute it to its rising popularity or efforts of its leaders. It will be totally due to two factors—firstly absence of SP candidates will limit the options in various constituencies and where BSP is lagging or Congress candidate is in a strong position, it will collect a majority of the non-BJP votes.
Secondly, some local satraps like Imran Masood will help increase tally in Saharanpur and the candidates hired from SP like Shahnawaz Rana, Sher Ali Khan, Kuldeep Ujjawal will help in increasing the vote share.
Finally what will happen is that Congress with increased share will give fodder to its armchair politicians for preparing charts, analysis, discussions for a possible resurgence of Congress. The laidback workers of Congress and its very very senior leaders though hailing from UP but doing national and international level politics will get ready for another round of elections in 2019. Because contesting elections is the easiest mode to remain alive in politics.
What does the SP gain?
As mentioned earlier it only gains by providing the psychological edge to its voters mainly Muslims that it is the only alternative against BJP. Even SP and Akhilesh don't have the authority or appeal to get these Muslims voters transferred to Congress as an ally. The other vote bank Yadavs, it will be again a tough task for Akhilesh to rally them behind Congress.
It is always better to part with some seats so that when you lose or win at least there will be some element left for political experts, seasoned journalists and debaters to discuss it as foremost reason for your result. SP may boast of getting 224 seats in 2012 polls but no one remembers that its candidates forfeited deposits in 53 seats and it even failed to win a single seat in nine districts.
As the election progresses there will be many hiccups. Already, three Congress and SP candidates are contesting against each other in Baldev, Koil and Pukazi seats in the first phase. Much more such cases will erupt. Then there is media originated pocket borough of Congress–Amethi and Rae Bareilly—where seats are under contention.
The maximum which can occur due to this alliance is very aggressive branding, advertising blitz, superb marketing will present the alliance as a strong contender and how much mileage it gives at ground level, it is still debatable.
SUPPORT TWOCIRCLES
HELP SUPPORT INDEPENDENT AND NON-PROFIT MEDIA. DONATE HERE