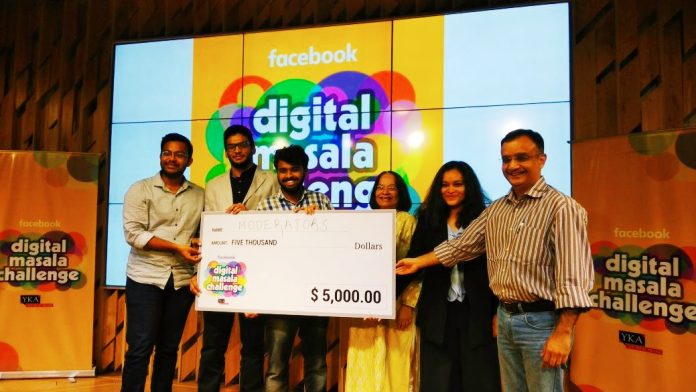 By TCN News
Aligarh: A group of three final-year engineering students from Aligarh Muslim University (AMU) won the two-day 'Digital Masala Challenge', a hackathon organised by the web portal "Youth Ki Awaaz" in Mumbai. The event was sponsored by Facebook India.
---
Support TwoCircles
---
The team, which identifies itself as "The Moderators", comprises Hamzah Khan, Ashar Shahid, and Baqir Khan. The app, which is a Natural Language Processor (NLP) based browser extension, analyses the violent and extremist content on the Internet and ranks them on a Polarisation Index.
Hamzah Khan, a final year Mechanical Engineering student and a member of the team said that "online extremism is a menace and engineers around the world are challenged to find a solution to check such contents on the internet. We are delighted to develop a device that will help curb extremism on social media".
Another member of the team, Baqir Khan said, "We are happy that our hard work has brought fruits which will encourage us to make this device better".
"Our future plans include bringing world-renowned scholars, sociologists, historians and journalists on board to teach our Artificial Intelligence (AI) Model and recommend readers what is correct and what is not," informed Ashar Shahid.
AMU team which had to compete with four other teams of professionals and students from across the country formulated the idea to monitor digital space to counter extremist contents, which provided a viable solution to the problem.
The panel of judges comprised Ruhee Neog, Director, Institute of Peace and Conflict Studies, Sushobha Barve, Ashoka Fellow and Program Director of Centre for Dialogue and Reconciliation and Shivnath Thukral, Public Policy Director, Facebook India and South Asia.
Facebook's Public Policy Director, Shivnath Thukral, said that it is significant to design a programme creating an immediate impact. He was impressed with the team Moderators' idea saying it was unique and could be monetized in the future.
SUPPORT TWOCIRCLES
HELP SUPPORT INDEPENDENT AND NON-PROFIT MEDIA. DONATE HERE