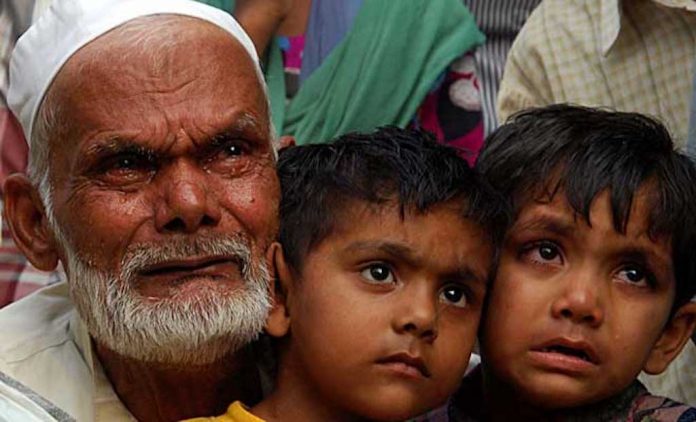 TCN News
On the four year anniversary of Muzaffarnagar riots of 2013, Amnesty International issued a report which tells that survivors and victims are still waiting for the compensation.
---
Support TwoCircles
---
"At least 200 families who fled their homes following communal violence in Muzaffarnagar and Shamli districts in Uttar Pradesh four years ago have been denied the compensation they were promised and are living in squalid conditions in resettlement colonies", said Amnesty International India today in a briefing titled 'Nowhere to go: the broken promises to the displaced of Muzaffarnagar and Shamli'.
In the 2013 riots, at least 60 people were killed and over 50,000 displaced because of the violence. Hundreds of families displaced from their villages have been denied the compensation of 500,000 INR promised by the then Uttar Pradesh government to families from the 'worst-affected' villages, for reasons ranging from clerical errors and corruption to inconsistent definitions of a 'family'. As per the Amnesty's report, many now live in resettlement colonies without proper access to basic amenities like drinking water, sanitation, and electricity.
"These families were forced to leave their homes and everything they owned during the 2013 violence. But successive governments in Uttar Pradesh have failed them," said Asmita Basu, Programmes Director at Amnesty International India.
Basu further said, "The state government first let riot survivors down by not providing security to help them return to their villages, and then denying them full and adequate reparation. With nowhere to go, these families found refuge in resettlement colonies with the assistance of NGOs and religious institutions. But the Uttar Pradesh government again let the families down by not ensuringbasic amenities."
Between August 2016 and April 2017, Amnesty International India and AFKAR India Foundation, an NGO based in Shamli, visited 12 resettlement colonies, met 65 families and analyzed the documentation of 200 families.
Amnesty International India spoke to many families who were denied compensation by authorities who claimed – despite evidence to the contrary – that they were part of a larger joint family which had already received compensation.
In Uttar Pradesh, as in many other parts of India, households that live under the same roof are demarcated as separate units depending on whether they use a separate kitchen. However several families said that they were denied compensation despite having separate kitchens and often having ration cards indicating that their addresses were different from those of their relatives.
Akram Akthar Chaudhary, Director, AFKAR India Foundation said, "We have met many families who were denied compensation because the state started clubbing many families as one joint family. You tell me, how are four brothers who have left their land, their house – everything they own – and who are married and have children, expected to live with 500,000 INR?"
An overwhelming majority of families in resettlement colonies lack access to basic services. About 82% of colonies in Muzaffarnagar and 97% of colonies in Shamli are estimated to not have safe and clean drinking water, while 61% of colonies in Muzaffarnagar and 70% of colonies in Shamli do not have drainage facilities. In colonies visited by Amnesty International India researchers, many families lived in unsanitary and dangerous conditions. Toilets, which invariably lacked proper drainage, were often shared by three or four households.
"In many colonies, where riot victims live, there are no facilities for water, electricity or proper toilets," said Mohammed Salim, President of the Riot Victims Justice Committee in Muzaffarnagar district.
"At night, women are very reluctant to go to the toilets alone. They go together, in a group. It is very dirty here. There is constant waterlogging and there is no proper drainage. There are so many mosquitoes here. People get sick a lot," he added.
"The families displaced by the Muzaffarnagar violence must be provided comprehensive reparation, which includes the compensation they were promised and also rehabilitation to help them rebuild their lives," said Asmita Basu. "The central government must also put in place a framework to protect the rights of internally displaced persons."
Amnesty International India has launched a petition demanding that the Uttar Pradesh Chief Minister ensure that families in resettlement colonies receive adequate compensation and rehabilitation, including immediate aid towards housing, water, sanitation and health care.
SUPPORT TWOCIRCLES
HELP SUPPORT INDEPENDENT AND NON-PROFIT MEDIA. DONATE HERE