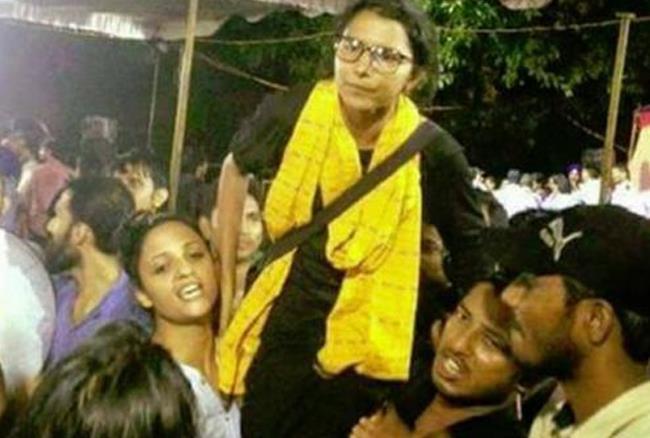 New Delhi, (IANS): Left-unity made a clean sweep in the Jawaharlal Nehru University Students Union (JNUSU) polls on Sunday grabbing all four seats for the central panel.
In the vote count concluded in early hours of Sunday, the election office announced Left alliance's Geeta Kumari as the President-elect for the JNUSU, who defeated the closest candidate Nidhi Tripathi of the RSS-affiliated Akhil Bhartiya Vidyarthi Parishad (ABVP) by a margin of over 400 votes.
---
Support TwoCircles
---
Kumari got a total of 1,506 votes against Tripathi's 1,042. Shabana Azmi of Bhagat Singh Ambedkar Phule Students' Association (BAPSA) ranked third with 935 votes.
Simone Zoya Khan, Duggirala Krishna and Shubhanshu Kumar from Left alliance were elected Vice President, General Secretary and Joint Secretary of the students union respectively.
CPI-Marxist party's Students' Federation of India (SFI), CPI-Marxist-Lenin (ML)-affiliated All India Students' Association (AISA) and an independent left group Democratic Students' Federation had formed a coalition to fight the election jointly.
Running for the post of President, Aparajita Raja of CPI-affiliated All India Students' Federation (AISF) could muster only 416 votes, while more students (127) chose to go for 'None of the above' (NOTA) option than voting for Congress-backed NSUI's Varshnika Singh, who received 82 votes.
Khan, the Vice President-elect of the union, received 1,876 votes against 1,026 of ABVP'S Durgesh Kumar, who was the second closest.
The University had held the election on Friday in which a total of 4,620 students cast their ballots to choose their representatives for next one year.
With the results, leftist groups maintained their hegemony intact in the campus known to be a bastion of communist parties.
Last year also all four central panel seats had gone to the SFI-AISA alliance. AISF had not fielded any candidate in that election.
The left had formed the alliance anticipating a tough competition from the ABVP — an ideological offspring from right wing RSS-BJP stable.
SUPPORT TWOCIRCLES
HELP SUPPORT INDEPENDENT AND NON-PROFIT MEDIA. DONATE HERE