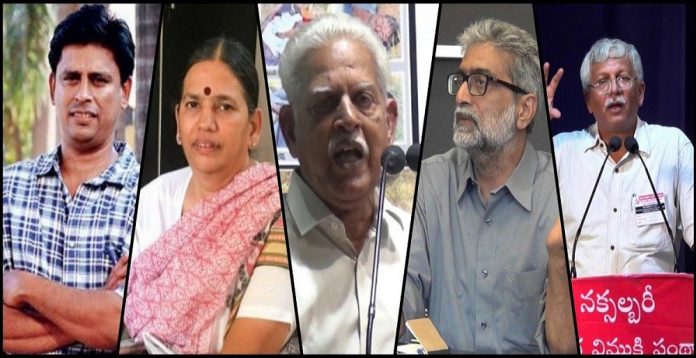 By Nikhat Fatima, TwoCircles.net
Prominent activists' and public intellectuals' houses were raided and the activists and intellectuals who were critical of the government were arrested on false charges on August 28, 2018.
---
Support TwoCircles
---
The raids that started from 6 am were done simultaneously at different parts of the country at the houses of Father Stan Swamy in Ranchi, Anala Kumaranth  in Hyderabad, Anand Tetlumbde in Goa and Prof Satyanarayana in Hyderabad and arrests of Sudha Bharadwaj, Vernon Gonsalves, Gautam Navlakha, Varavara Rao, Arun Ferreira, Kranthi Tekula and others is seen as an attempt by the government to strike terror among those who are fighting for justice for the marginalised and silence all voices of dissent.
The Government has invented a false enemy in order to polarise the 2019 polls and gain votes in their favour. The activists condemning this move by the government have drawn the attention of the public towards the fact that after arresting activist Sudha Bhardwaj, the Delhi Police actually awaited the arrival of a TV channel to sensationalise the matter and also demonise the activists.
The 'Committee for the release of political prisoners' in their press release stated that this is also a ploy to extend the custody of the 5 activists who were arrested under false charges in the Bhima Koregaon violence on Dalits. The committee also stated that the law upholders have been malicious and behaved with brutality with utter disregard to law.
Human Rights defenders of various organisations, documentary makers, journalists, students unions, academicians , lawyers, members of legislative assembly, writers, civil rights organisations like 'Civil liberties monitoring committee', 'Integrated India', 'Committee for the release of political prisoners' have all strongly condemned these arrests made by the Government terming it as a direct attack on democracy and totally unjust. They compared it to be an 'emergency like' situation.
The press release by the activists also stated that "this seems like a conspiracy to divert attention from the gravity of the Sanatan Sanstha conspiracy to carry out serial bomb attacks on Eid and Ganesh Chaturthi! The same Sanatan Sanstha was also involved in the murder of Gauri Lankesh, as per the ongoing investigations by Karnataka police. Today's arrests have been carried out in order to give cover to the murderers of Gauri Lankesh. By arresting people who stood for justice and rights, the BJP is only exposing its insecurities and its intolerance to any dissent or criticism of its policies."
There is a strong demanded for the immediate release of all the arrested individuals and to drop all false charges against them by the human rights defenders groups all over India.
SUPPORT TWOCIRCLES
HELP SUPPORT INDEPENDENT AND NON-PROFIT MEDIA. DONATE HERE