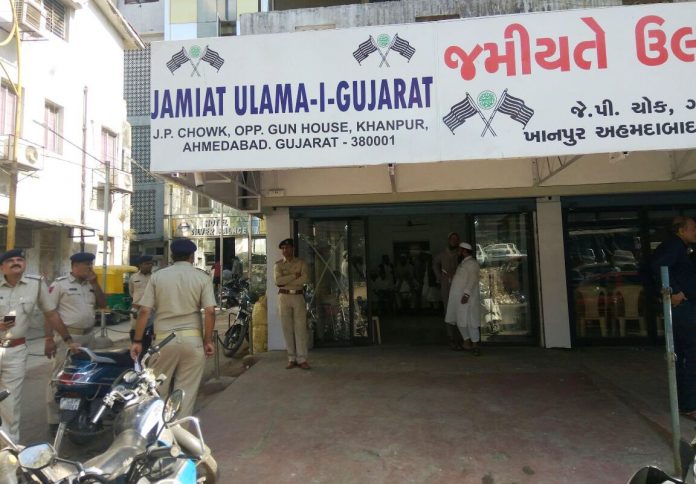 By Siddhant Mohan, TwoCircles.net
The Ahmadabad Police denied permission to Jamiat Ulama-i-Hind, which planned to stage protest against the Isreali Prime Minster Benjamin Netanyahu without assigning any proper reason.
---
Support TwoCircles
---
According to the press note shared by the JUH, the police even intercepted Jamiat's press conference which was going on in JUH state office at Khanpur. A quite number of police personnel were deputed around the office.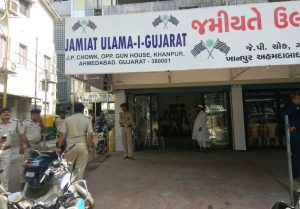 Moreover, Police also detained Mufti Arshad, the Jamiat's district general secretary, at Gaekwad police station till late afternoon only to harass him, alleged the press statement. Jamiat's media incharge Azeemullah Siddiqui informed TwoCircles.net that Mufti Arshad was only let go when a delegation reached the police station around 4 pm.
However, none of this could stop Jamiat's agenda. At the directive of Maulana Mahmood Madani, JUH's national general secretary, many JUH Gujarat state leaders gathered at its state office with banners and placards opposing this visit of Natanyahu. Jamiat also held the press conference at its scheduled time from 12 pm at the state office.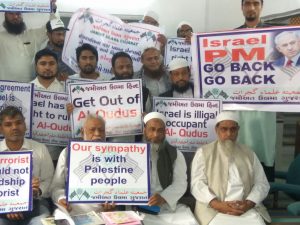 Addressing the press conference, JUH leaders came down heavily on the city police administration for denying the basic democratic rights. Citing the protests that took place in Delhi and Mumbai, Jamiat wondered that why they were not allowed the same in Ahmadabad.
"This is an emergency like situation for us that we are forced to stay in our office and police are deployed around us," said the participants in the press conference.
JUH leaders said, "We cannot welcome a leader of the nation whose hands are soiled with bloods of innocent persons at this land of Mahatma Gandhi. Mahatma Gandhi was the one who opposed the expansionist and cruel ideology of Israel till his last breath and now his predecessors are betraying this historic tradition of the country."
"It is ironical that our country which has been a target of imperialist forces for decades – against which our forefathers sacrificed their lives – is shaking hands with the same mindset and power now. This is betrayal and insult of our age old tradition," said the speakers. "How can we welcome the leader of the country who is notorious for indiscriminate killing of innocent children at the time when we are going to hold centenary on horrific incident of Jallianwala Bagh massacre next year in 2019."
Those who addressed the press conference included Maulana Hakeemuddin Qasmi, JUH national secretary, Nisar Ahmad Ansari, the general secretary Jamiat Ulama-Gujarat, Mufti Asjad Qasmi, vice president at Jamiat Ulama-i-Gujarat and several others.
One more serious allegation against Ahmedabad police is that several media houses received the calls that scheduled press conference was cancelled, but Jamiat denies this doing and suspects police's hand behind this.
"We did not call anyone about cancelling the press conference, it was possibly be done by police," said Azeemullah Siddiqui. However, police officials have denied this allegation and refused to answer the basis on which Jamiat's members were harassed.
SUPPORT TWOCIRCLES
HELP SUPPORT INDEPENDENT AND NON-PROFIT MEDIA. DONATE HERE