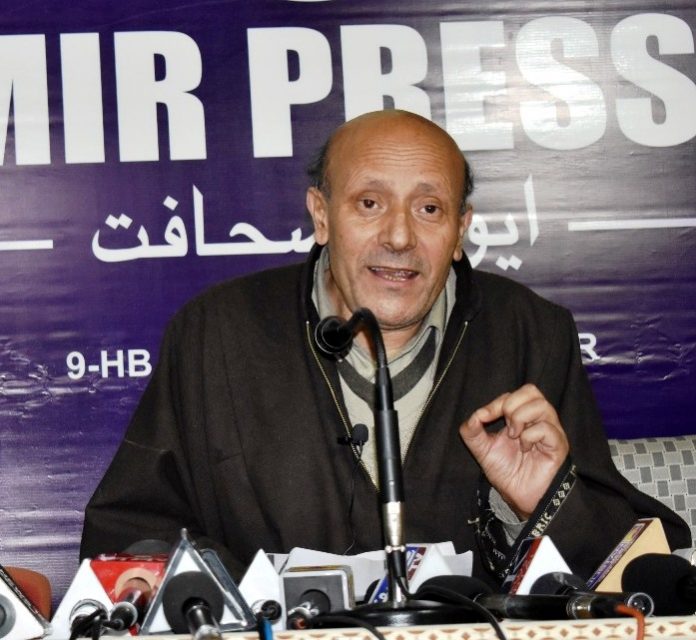 Engineer Sheikh Abdul Rasheed (Er. Rashid) is a firebrand politician and lawmaker from North Kashmir's Langate. He remains in news usually and is known for his hard-hitting views on Kashmir. Despite being a legislator, he demands the "right to self-determination" for the people of Jammu and Kashmir for which he was beaten up once in mainland India. An independent candidate who won two back-to-back Assembly elections, he has his own party Awami Ittehad Party (AIP) and is a crowd puller. Hundreds and thousands of people participate in his rallies and listen to him carefully. Despite being termed as a "Pro-India Politician", he continuously demands plebiscite for the state. Being a two-time MLA, he doesn't enjoy any kind of security as he believes that he is a "people's leader". Er. Rashid decided to contest for Lok Sabha elections for Baramulla Parliamentary constituency and is campaigning in full swing for himself. In an exclusive interview with TwoCircle.net's Kashmir correspondent, Auqib Javeed, Er. Rashid spoke about his plans on how to represent Kashmir in parliament, Kashmir Politics and many other issues.
Here are the excerpts:
---
Support TwoCircles
---
If you win in the upcoming Lok Sabha elections from North Kashmir what will you do which will be different from what others have done?
I represented Kashmir in Jammu and Kashmir Legislative Assembly for the last 10 years, I will do the same on a bigger platform (Parliament). I will persuade the Indian leadership that we are not terrorists and extremists. We simply want the resolution of Kashmir issue keeping the aspiration of the people on board.
You are often seen as a maverick, openly defying the government and speaking the "language of separatists". How would you define yourself?
If telling the truth and talking about people aspiration is separatism, then I am proud to be one. Tell me where I have said anything wrong? I met PM Modi last year and I told him if people from Gilgit-Baltistan and Azad Kashmir want to be part of India then hold a plebiscite and let them be part of India but he had no answers. So calling me a separatist is wrong. Maybe I can vote for India tomorrow. I never said I will vote for Pakistan or an independent state, but we have every right to decide our future.
Separatists are saying that by contesting elections politicians are legitimising the occupation here. What do you have to say?
I am sorry to say that they may be sincere but confused. Why are they saying so now? Ask Geelani Sahib how many times has he contested elections. Why did they contest election then? The truth remains always the truth. If J&K is a dispute in 2019, it was also disputed when they contested elections. This is an absolutely silly argument and they need to change it. Unless and until they change their approach, they will send entire Kashmir to hell. I  don't even want to discuss it, I have respect for them.
So do you mean they should also contest elections and fight for Kashmir dispute within Indian Constitution?
See the world is not cruel; the way we see it, there are good people in the world and they will support us in our issues. Imagine if Geelani sahib, Shah Faesal and Er. Rashid would be in the Indian Parliament, what will New Delhi do? They can jail us but the world will support us. Hurriyat needs to change its ways so that this dispute will be resolved.
Do you think elections can be rigged like 1987 in order to keep you away from Indian parliament?
State can do anything at anytime but I want to inform them that it will be last nail in the coffin of all those forces who believe in democracy. The fear of rigging the elections always remains there since 1987. It will be stupid on behalf of state if they did anything silly in the elections.
On one side you are demanding Plebiscite for the state while on the other side you are taking an oath of allegiance to India?
Let me put a counter question to you, who was India's first Prime Minister? It was Jawaharlal Nehru, didn't he take an oath of Indian constitution? So how did he talk of right to self determination for the state of Jammu and Kashmir? If people say Er. Rashid is a traitor then Nehru is the biggest traitor and if the Indian constitution allows me to fight for our fundamental rights, then the UN charter clearly states that self-determination is my right.
Ex-IAS turned Politician Shah Faesal has finally supported you in the upcoming elections, what do you have to say?
Let me tell you that when Shah Faesal resigned, I was the first person to offer him in my party and told him that we will fight together but the only condition was it should that we have to work for the resolution of Kashmir issue, a resolution which should be accepted by the people of both sides of the LoC (Line of Control). So then I asked him to support me in the coming elections and yesterday he finally did. I am thankful to him.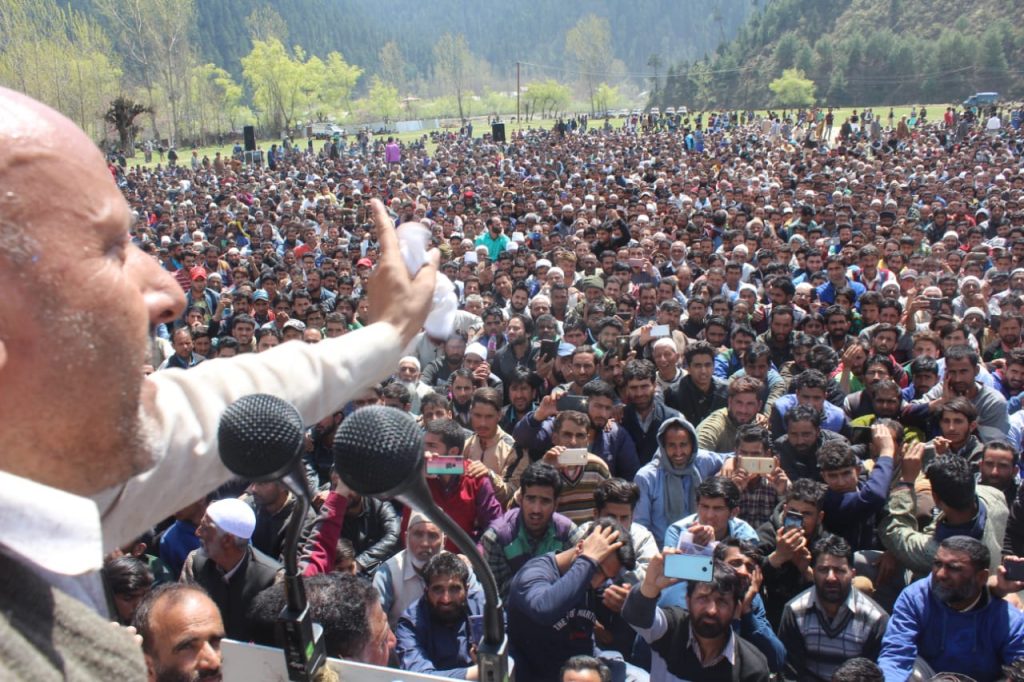 So, would you support him in Assembly elections?
I am ready to support Uddhav Thackeray, Sakshi Maharaj and Mohan Bhagwat if they speak for the rights of deprived people. It is not the question of a Muslim, Hindu, Shia or Sunni, its question of justice and justice has no religion neither does cruelty. As far as Shah Faesal is concerned, if he talks about the aspirations, emotions and rights of the people of Jammu and Kashmir, I am ready to support him anywhere.
In the run-up to the LS polls, both NC and PDP have intensified their attacks on Centre while asserting regional aspirations, how do you see this pre-poll posturing?
They are the ones responsible for all our miseries. They are representing Delhi in Kashmir rather than Kashmir in Delhi. Their non-seriousness has dumped us in the graveyard. Their disappointment has let others to leave the job and serve the people. I was an Engineer and left the job to serve the people, likewise, Shah Faesal did and there are so many others who are leaving their jobs just to serve the people, as the regional parties failed to do so from so many years. They are doing dramas to stay relevant now.
BJP has been able to make some inroads in Kashmir, thanks largely to PC-led by Sajad Lone. What do you think of BJPs prospects in the coming elections in Kashmir valley?
They will not succeed here but having a strong state machinery and the people like Sajjad sahib, they are trying their best to get some seats here but I must tell you that the Politics is battle of Ideas and I have no objection if BJP is working in Kashmir, let people reject them, why should we be afraid?
BJP leaders have renewed their rhetoric against Art 370. Do you see any real threat to Art 370 or is it just a political gimmick?
Where is Article 370? It has been eroded already. We have been left with Article 35-A and now the BJP is playing this card to make Kashmiris defensive and is playing a psychological war in the state, nothing else. But we have to work for the resolution of Kashmir issue and that is the biggest issue for us.
If BJP comes to power at the Centre, how do you think it will shape the politics of J&K?
Facts and history don't change. They have to accept the facts. Their muscular policy will not work in Kashmir. They have done the absolute worst to Kashmir and have fired every shot, but did anything change? What next? What will they do?
What is your take on the crackdown on Jamaat and JKLF? What can be the political ramifications of this exercise?
It has a long history. In the 1990s when militancy started here, New Delhi divided Kashmiris first into moderates and hardliners. Jammu and Kashmir Liberation Front (JKLF) was called a secular group while the Jamaat was called a hardliner. Then Yasin Malik left the gun culture and was welcomed, he even met former Prime Minister Manmohan Singh. If Yasin Malik has left arms and Jamaat-e-Islami have quit the armed struggle why they are being pushed to the wall? By doing this, the Centre is simply digging their grave in J&K.
In your opinion is the future of Kashmir safe with India?
See, I am not against India, I am even saying that if people from that side of the LoC want to be with India, I have no objection but let the people decide what they want. Hold a plebiscite and people will decide about their future.
What solution do you have in mind for Kashmir problem?
Nothing less than the right to self-determination.
SUPPORT TWOCIRCLES
HELP SUPPORT INDEPENDENT AND NON-PROFIT MEDIA. DONATE HERE