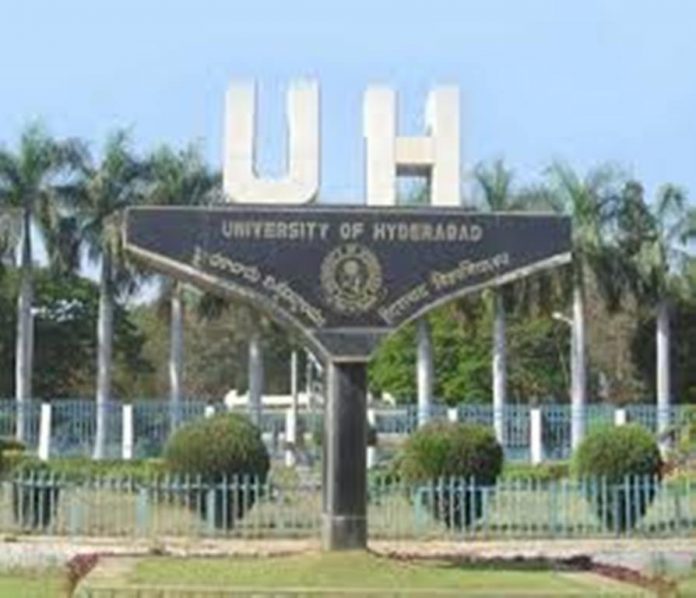 TCN News
Six students including research scholars were arrested by the Police from University of Hyderabad (UoH) and taken to the police station at Gachibowli for screening a documentary on Tuesday.
---
Support TwoCircles
---
Students of All India students association (AISA) sought permission to screen the documentary ' Raam ke Naam' by Anand Patwardhan in the University of Hyderabad from the dean of social sciences department but were denied. Subsequently they got the permission from the department of Sociology and began the screening in the afternoon at 3 pm today.
The police came suddenly and stopped the screening of the documentary and took 6 students BavaJaan, Sonal, Nikhil, Vikas and Arif ex Gen. Secretary of Students Union and another student in their custody.
A former scholar of UoH told Twocircles.net, " As soon the students were taken to the PS all others started protesting against this arrest. Universities are spaces where we all gather for lectures, discussions, documentary screenings and sharing our ideas. With this arrest the police want to instill fear in us. And soon such spaces will start shrinking".
All other students also expressed that the arrest of their peers is a clear violation of their rights and activities such as these should be encouraged not forcedly clamped. The students had no clue under what section their friends have been arrested and booked.
" Only the ABVP get permission to carry out their activities here, all others are denied permission", said he.
The arrest of the students also shows the highhandedness of the administration and their collaboration with students of ABVP.
The students were released at 9 in the night. Twocircles.net reached out to them and one student on the condition of anonymity informed TwoCircles.net, that " The police abused us saying that we take drugs and indulge in sex and that we are not good students. They had seized the lap top through which we were screening but returned back to us. The police personnel also manhandled the students and beat them up. One boy has suffered severe ear injury, I am afraid he may have lost his sense of hearing".
He also told us that the police told them that they got a phone call informing them that the students were screening a documentary that can incite violence and is anti-Hindu.
SUPPORT TWOCIRCLES
HELP SUPPORT INDEPENDENT AND NON-PROFIT MEDIA. DONATE HERE