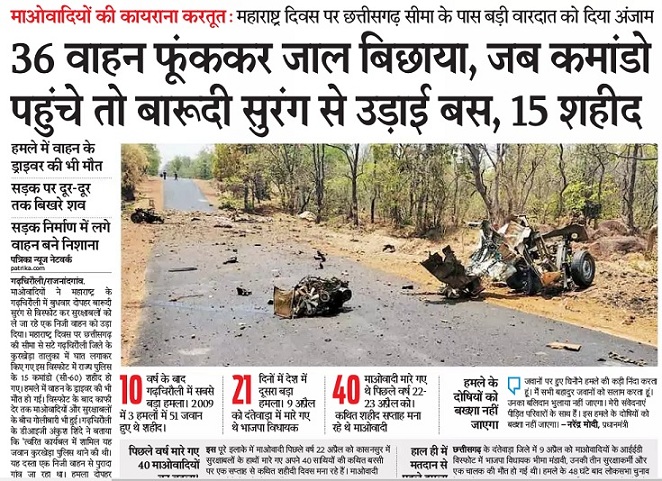 By Shams ur Rehman Alavi
In the last few weeks of April and May 2019, there were deadly terror attacks by Maoists in Chhattisgarh and Maharashtra on security personnel.
---
Support TwoCircles
---
First, in Chhattisgarh, a BJP MLA was among those killed when his convoy was targeted in the Bastar region. Then, 16 persons including 15 commandos and a driver, were killed in the IED blast in Maharashtra.
There were many other attacks as well but these two attacks killed the security personnel of India an yet the media who usually highlights the killings of the commandos underplayed these killings as a result not much response was evoked from the common public either.
Unlike the killings of the security personnel in February in Pulwama ( Jammu and Kashmir) which evoked sharp response from the media and prompted  nationwide anger.
In the case of Kashmir, TV channels just didn't let the incident go and kept showing the visuals for days and nights, until there was such outrage that across India, people took out rallies. In almost every city and town, youngsters came out on streets.
This also led to attacks on Kashmiris. What was the fault of Kashmiris living in other cities or hostels or students, traders in Meerut or Lucknow? But when the Maoists set off blasts in Chhattisgarh and Maharashtra, TV channels didn't have much time.
No questions are asked as to how so much explosive reaches these forests. Or, how Naxalites continue to get the weapons. Just a few days later one or two persons may be killed in an encounter and the 'claim' of killing conspirators are accepted in the press.
These incidents were not given focus though Pulwama had seen nonstop coverage. In the case of Naxal attacks, there was no report about identity of killers and there were no discussions. The focus remained on Lok Sabha elections.
Neither reporters talked about last rites of martyrs or cared about the compensation or how bodies reached the homes. This is strange. In case of Maoist terror, there is no seriousness and unfortunately for TV channels -newspapers it is just another attack.
Shams Ur Rehman Alavi, is a journalist and blogs at: www.anindianmuslim.com and tweets at @indscribe https://twitter.com/indscribe
SUPPORT TWOCIRCLES
HELP SUPPORT INDEPENDENT AND NON-PROFIT MEDIA. DONATE HERE