By Ras H. Siddiqui, TwoCircles.net
The Aligarh Muslim University Alumni Association of Northern California (AMUAA-CA) commemorated Sir Syed Day in honour of the founder of this esteemed institution on Sunday, November 17, 2019, at the India Community Center in the City of Milpitas in the San Francisco bay area. And in keeping the vision of Sir Syed (1817-1898) alive, this annual program also embeds within it the Aligarh Education Endowment Fund (AEEF, www.aeef.us) fundraiser. An annual gathering of alumni (known as Aligs) and their many friends from all over the region is an anxiously awaited affair. This year's Mushaira (or Urdu poetry recital) segment was especially noteworthy as many travelled to this venue with very high expectations which from the follow-up responses received were certainly met. 
---
Support TwoCircles
---
This event is a part of a nostalgic journey for Aligs and their families. And when you add one of India's pre-eminent Urdu poets, Bollywood lyricist and screenwriter plus political activist Javed Akhtar to the lineup for a Mushaira both the attendance and the enthusiasm was bound to go up considerably. And since the language of Urdu transcends South Asian borders, the addition of the distinguished Pirzada Qasim from Pakistan and a host of other talent ensured that this was the most heavily attended Sir Syed Day that this writer has ever participated into date. The event was sold out many weeks in advance and a waiting list was also prepared. We will return to poetry later in this article.
 Unlike other such events which like to withhold food till the end of fundraisers, the dinner at Sir Syed Day is served first and the menu is always in the Mughlai tradition. There is often an adequate time for socializing first, a chance to catch up with old friends and interesting people here. This year we had the Indian Consul General and his wife, Mr. & Mrs. Sanjay Panda, Mr. Abdus Salam Qureshi (Patron of the Association), and the Great Grandchildren of Indian President Zakir Husain in attendance, along with Retired Justice Markandey Katju an Indian jurist who is currently in the area. 
The formalities began when event emcee Amtul Suhail called for everyone's attention and invited young M. Zaid Khan to start the event with a recitation from the Holy Qur'an in the Aligarh tradition.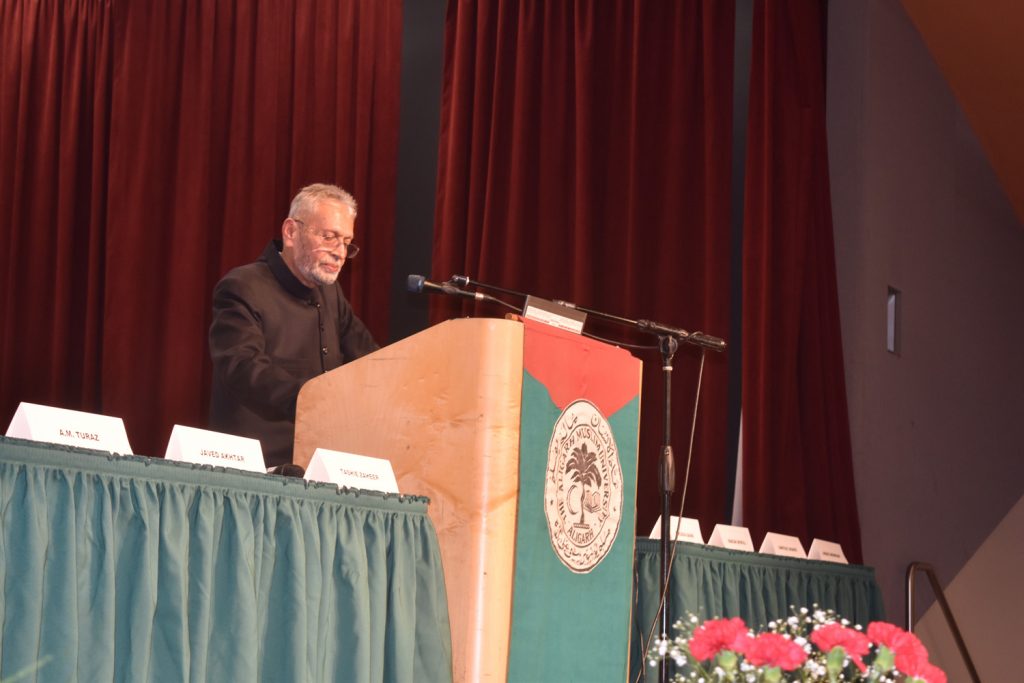 The Presidential Address was next presented by Suhail Farrukh (a man of few words). He first welcomed and thanked everyone for attending. "To see so many of you here is a delight that just cannot be expressed correctly in our appreciation", he said. "Many new faces have been added here this year, and we hope that your cooperation at this level will continue in the years to come", he added. Farrukh also profusely thanked the event sponsors Drs. Kamil & Talat Hasan, Mr. & Mrs. Zaheed Kanjani, Mr. & Mrs. Syed Sarwat, Mr. & Mrs. Jamal Qureishi, Mr. & Mrs. Shabbir Siddiqui, Drs. Yaminali & Athiya Javiad and the Amana Mutual Funds Trust. He added "that as you know we are gathered here today to honour our founder Sir Syed Ahmed Khan. And there is no better way than to further his vision of education which our association has been promoting for the past 23 years. Many in this hall have benefitted from an AMU education and it is our job to help others who may not be as fortunate to do the same. Many of you have helped us in the past and we are hoping that you will continue that support by the end of this evening." Farrukh ended his speech with a couple of lines of profound Urdu poetry praising Sir Syed. 
Next up Dr. Shaheer Khan came up to the stage and presented his annual AEEF update and started the fundraiser. He thanked everyone for their generous support over the years, without which we would not be where we are today. "We are a zero percent overhead organization", he said. A moving video was also shown which showed children benefiting from the AEEF projects. Shaheer added that we are here not to make big speeches to eulogize Sir Syed and sing Happy Birthday or cut a cake but to remember his legacy and take his mission forward.  This is the moment – Aligarh Movement 2.0. Khan said that education for underprivileged is a huge need in India and government alone cannot cope with it. It's obligatory on the part of civil society to come forward and play a role. It's great to see your direct and indirect support that reaches AEEF and someone somewhere is getting the education. Mrs. Talat Hasan also appeared on stage and reflected on her visit to schools benefiting from AEEF funding. Many people present were generous and the fundraising continued way past the AEEF Call For Action and the singing of the Tarana-e-Aligarh (Aligarh Muslim University Anthem) by many alumni present. This closed the first segment of the program. 
The second segment or the International Mushaira brought together some fine poets from local sources and some masters from both India and Pakistan. This writer realizes that to even attempt to encapsulate or capture the richness and depth of the Urdu poetry presented here this evening would be an exercise in futility. But nonetheless an attempt will be made here just to highlight the original works presented by the bay area's Aifra Ahmed and Ahmar Shehwaar plus Tashie Zaheer (Nazim), A.M. Turaz (India), Manzar Bhopali (India) Sarfraz Shahid (Pakistan), Javed Akhtar (India) and Pirzada Qasim (Pakistan) is the best one can hope to do.   
A fine job was done here by Tashie Zaheer on his Nizamat (conducting of the segment as emcee). First off Dr. Aifra Ahmed impressed us with her search for Sacchay Log, Voh Pakistan and the Time of Death. Ahmar Shehwaar followed with his pensive journey on Hijrat, Muskuraahat and more. Tashie also presented a couple of his own lines upon request. This set the stage for one of Bollywood's popular current lyric providers A.M. Turaz, who not only looks like a poet but presents like a star too. His Tarannum (song like) verses were well delivered. His ode to the fate of liars, Gaoon ke Larkay and choice Ghazals were very entertaining too. 
Urdu poetry has utilized symbolism since its inception. One of the best practitioners of this craft today happens to be Manzar Bhopali who used his time this evening to scratch many political, social and cultural surfaces to steal this show (Manzar Bhopali Ne Yeh Mushaira Loot Liya). Chiraag Aandhi Me Jal Raha Hai Yehi Bahot Hai being just one example. Aur Hindustaniyoon ke liyey "Yeh Dharti" was another. And just after Bhopali Sahib, Sarfraz Shahid was (possibly) purposely placed to provide some much needed comic relief as he had the audience rollicking in laughter in no time. His verses on romance, corruption, marriage and more were well received.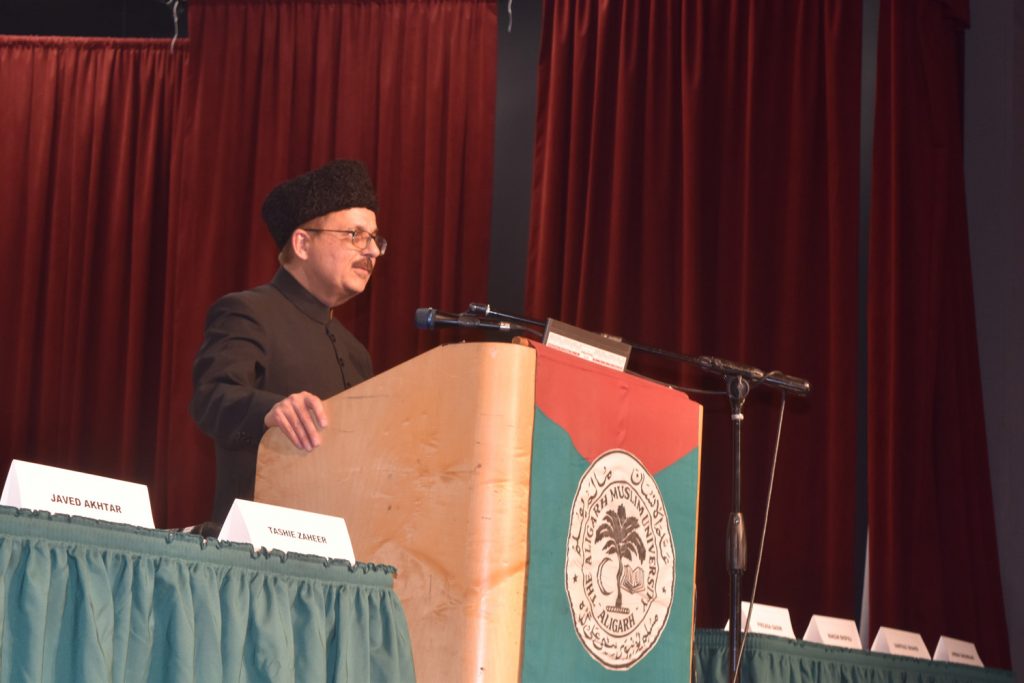 Javed Akhtar's work is already legendary. Some of his writings may be responsible for Amitabh Bacchan's most successful films ever such as Sholay and Zanjeer. Javed has quite a following with Urdu/Hindi language lovers worldwide. His wife Shabana Azmi also attracts a wide progressive following. Our deep condolences to her and her family as her mother Shaukat Azmi has just recently passed away. Here at this Mushaira, Javed Akhtar was deeply contemplative. Lines like Gham Hote Hain Jahan Zehanat Hoti Hai and questioning lines in Kiyoon Hai? and Kuch Din Lagain Ge sure made us think along with his Nazam, Aansoo. We also listened to and visited his melancholic Andhairay ka Samandar. At the end, he recited Naya Hukamnama on popular demand.
Last but not least the Sadr of the Mehfil, the senior-most poet of the evening Pirzada Qasim spoke of his people in Yeh Meray Log Hain in Mein Nahin Hoon. Delhi born Prof. Pirzada Qasim Raza Siddiqui has been an educator par excellence in Karachi and some of the attendees here made it a point to come and meet him because they were either his former students or family friends. Qasim delivered a fine closing to this memorable occasion. 
To close, this Sir Syed Day was a resounding success. Books by the poets who made this occasion shine were also available here and there was a long line of people getting their purchased books signed by Javed Akhtar till the very end. This writer did pick up a copy of the Sir Syed Day Aligarh Magazine 2019 published by the AMUAA-CA which continues a fine tradition of literary scholarship in both English and Urdu. And one last point. Next year we will celebrate the centenary of the establishment of Aligarh Muslim University. What a special 100 years it will be of a great man's legacy. 
SUPPORT TWOCIRCLES
HELP SUPPORT INDEPENDENT AND NON-PROFIT MEDIA. DONATE HERE