By Nazish Hussain, Twocircles.net
Ranchi, Jharkhand: "I don't know what the future holds. Do I even belong to this country?" wonders a visibly disturbed Afreen.
---
Support TwoCircles
---
Atiya Afreen, 23 a student of Architecture, hails from Ranchi. She is deeply concerned about her friends and relatives in Delhi and worries for their safety and well-being. Aghast by the thought that it takes just one hate speech for the masses to come out on the roads and start killing, she doubts if she can trust her own classmates.
"If someone comes says something inflammatory, will they also turn into a violent mob!" doubts Afreen, who is extremely disturbed with the Delhi violence just by seeing horrifying images and footage on social media. Even from miles away, she is so moved by the terrifying rioting that every time she sees an update, she prays things don't get worse.
It won't be wrong to say Delhi faced Anti-Muslim pogrom after BJP's Kapil Mishra, on 23 February, peddled hate comments against Anti-CAA protesters, issuing ultimatum to the police to evacuate the demonstrators or his followers would do it themselves. As northeast Delhi is seething with burnt, injured, missing and attacked by acid victims, the death toll has risen to 45. As per the latest media reports, around 200 people have suffered serious injuries and 400 have been detained.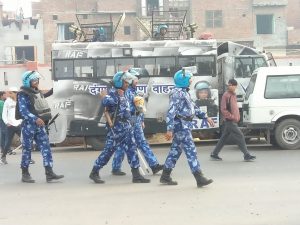 In the aftermath of Delhi violence, the repercussions of the anti-Muslim sentiments were felt in Jharkhand and Kerala as well. On 27 February, a video from Jamshedpur surfaced on internet, where a fruit vendor was threatened and verbally abused for his Muslim identity. Vigilant citizens tagged Chief Minister of the state, Hemant Soren, requesting him to take action. The CM was quick to respond saying that the accused person has been arrested. He also assured that religious hatred won't be allowed to spread in Jharkhand.
Similarly, Kerala police arrested Sreejith Ravindran, RSS worker, after a number of people complained him of directing threats targeted at Muslims after Delhi violence in a video on social media.
"Although Kerala has been relatively safe for Muslims, due to the recent incidents in Delhi I have become very anxious," says Ramziya who is from Calicut, Kerala.
The Muslims in Jharkhand are relieved as they feel the Anti-Muslim violence in the state has gone down after JMM came to power. However, hate sentiments against Muslims have permeated the mainstream and among the common masses to a great extent, turning them hostile towards the Muslim population in general. These sentiments are becoming more evident in the wake of Anti-CAA protests.
Shomaila Tahzib, a 33-year-old social activist, who has worked in Delhi feels, "Islamophobia is being spread blatantly which has affected even the educated class."
Shomaila, who is a gold medalist in Political Science from St. Xavier's College is appalled that her friends who have excelled in the field of Political Science are unable to understand what is happening. Shomaila has recently been in an emotional turmoil after seeing hate comments by close childhood friends on even "very secular posts."
She feels anti-Muslim sentiments have penetrated so deep that it has succeeded in ruining childhood friendships. "It has become 'sickular' to uphold your fundamental democratic rights," she shares. She discusses that the government at the center works by forming new nomenclature for everything like,  'hindu rashtra' ,and 'rashtra virodhi' which is getting accepted even by the educated class.
 Question on Democratic values and justice
"When you don't see any implication of democracy, secularism and justice in your real life, it becomes difficult to conceptualize it in design," says Afreen who is a working on her project which entails incorporating these ideals in her building design.
In the wake of communal violence in Delhi, she questions herself if these ideals exist in reality or they are simply hypothetical. The growing hatred and acts of violence that have been brazenly performed in front of cameras in broad daylight has shattered her idea of the society she believed in. She wonders if the hatred had already been there or it is only a recent propaganda.
She shares how as children, he has no vivid memories of it and she had only heard from her parents about what happened during the Gujarat riots. Until now, she believed such incidents were things of past.
"But all the horrific things I heard, has now been played before me. I could not believe people have the audacity to give hate speech and commit crimes live on camera," she explains.
"And it is because they feel immune. They know nothing will happen to them."
"Is there any justice?" she questions.
Villainizing the Muslim identity
A child next door came crying from school as her friends taunted her to go to Pakistan. Shomaila, who now resides in a Hindu dominated area in Patna, says from the last few days she has started feeling insecure and there is a palpable fear which she never felt before. She fears the toxicity that has penetrated into each family and wonders how long it would take for people to come out of the communal animosity.
"They are not CAA supporters but Anti-Muslims. They would not have desecrated mosques if they only had problem with the Anti-CAA protests," says Tassawoor Alam, first year student, B.A History.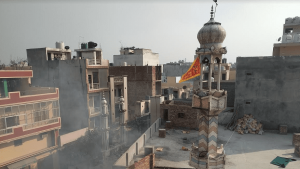 He believes Delhi violence is a clear case of Islamophobia. Speaking on the treatment meted out to Tahir Hussain, Aam Aadmi Party member and Councilor, he comments, "Whatever a Hindu does is acceptable but when Muslims act even in self-defense, they are labeled terrorists and all the blame is shifted on them."
He discusses that Assamese have long been affected by institutional violence. Even a small incident involving Muslims gets a communally flared up in Assam and if these kind of mob keeps increasing, the lives of Muslims will become even more difficult. Particularly concerned about the rights of Assamese Muslims being taken away, Tassawoor says, "Assamese Muslims are very marginalized, poor and landless."
Citing the example of violence against erosion victim families who are forced to take shelter on the roadside, Ashraful Hussain, activist from Assam says, "the local population goes and burns down the homes of erosion victim families, terming them as Bangladeshis." He adds that liberals often fail to understand the larger Hindutva agenda against Muslims and become complicit in it, calling out the support of liberals to the government's decision of shutting down state-aided madrassas.
"Resistance is the only hope"
"Hindutva has become a necessary tool to become successful in Indian politics" opines Shomaila, who is dejected by the role played by the opposition parties like Aam Aadmi Party and Congress in challenging the narrative set by BJP.
"Muslims should be prepared for the worst. No one will come to fight for us. It is our fight and we have to stand for ourselves," says Sheeba Minai, journalist turned activist from Hyderabad. She believes Muslims should make dissent and protests part of their lifestyle.
Amid such alarming communal violence and targeted hatred, however, hope is not lost totally. "Surfacing the social media are also footages as examples of humanity where non-Muslims have risked their lives for protecting Muslim neighbors." says Afreen. However, she feels, those who come out in support of Muslims also get targeted.
To stand on the side of the victimized needs a lot of courage and it remains for Muslims to see how many are actually willing to put their lives in danger to save others. Ruling out hopelessness, Shomaila believes resistance is the only way forward.
"There is no other way out of this Anti-Muslim sentiment and Islamophobia. We have to live here. And as long as we live, we have to keep resisting."
SUPPORT TWOCIRCLES
HELP SUPPORT INDEPENDENT AND NON-PROFIT MEDIA. DONATE HERE