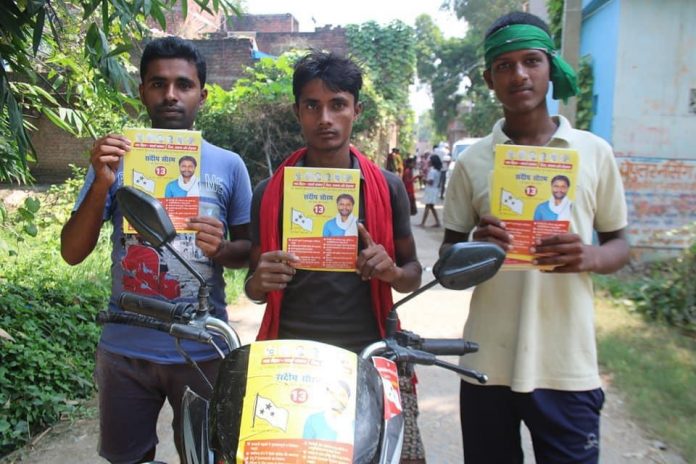 By Chinki Sinha, TwoCircles.net
New Delhi: There was a poem by Punjabi communist poet Pash he stumbled upon in Jawaharlal Nehru University (JNU) during his first year of master's in Hindi Literature. It was in a collection of poems published by his teacher. The book is still with Sandeep Saurav, the CPI (ML) candidate from Paliganj constituency in Bihar where elections are currently underway. This is the first time CPI (ML) has joined the Mahagathbandhan (Grand Alliance) with the RJD, Congress and other left parties and the historic alliance is to counter what Sandeep calls "fascism".
---
Support TwoCircles
---
The ideological differences have been set aside for now. The challenge is to defeat the NDA led by Nitish Kumar, he says while talking to TwoCircles.net.
On some nights after he has been out in the field campaigning, he picks up the book of poems as a reminder to his commitment to his politics.
"Tumhe pata nahi woh khatarnak party kya karti hai… siyah kali raton mein mohabbat ka ek uninda dastavaz koi dharti par farfarata hai. Lagatar kurediti hawa mein nange seene khare hone ka silsila hai," he recited over the phone from Paliganj.
Sandeep went on to explain the meaning of the fragment of the poem that he has always remembered.
"When it is cold and you stand in the cold, it is a brave act. I liked poetry. Poets say a lot of things. They create images," he says.
Sandeep calls himself a partisan.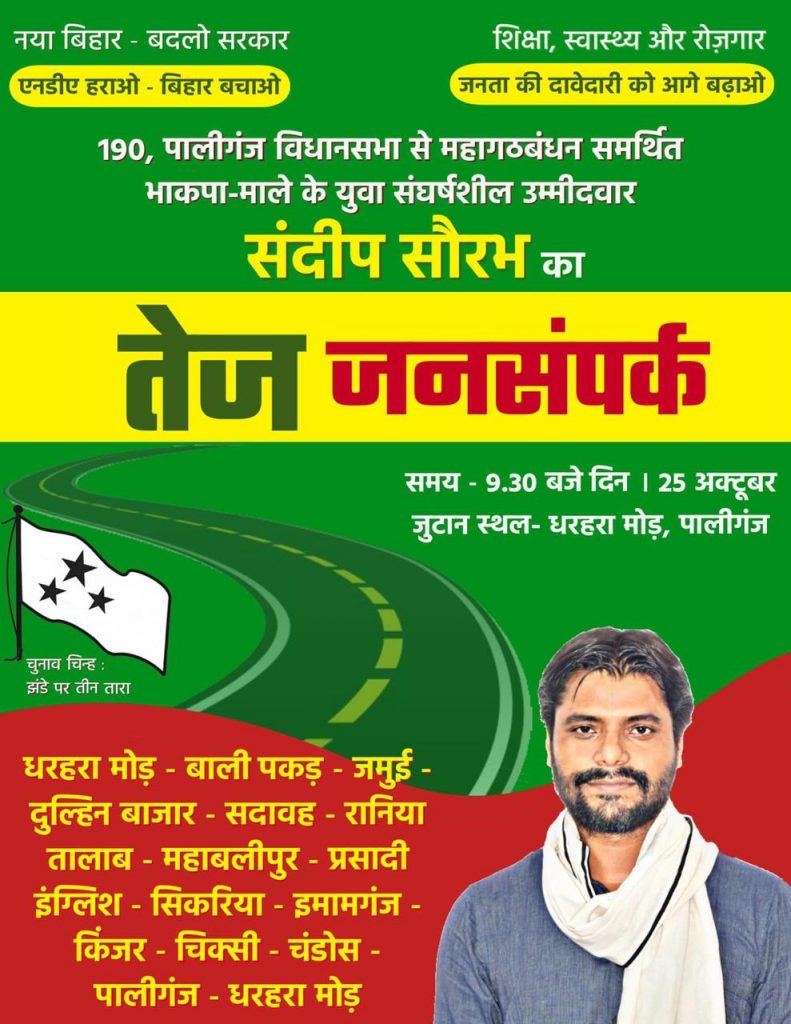 While he remains loyal to the CPI (ML) ideology, he says they decided to go with RJD because the situation with the country demanded an alliance that can challenge the right-wing hegemony.
"BJP is different. This is our first alliance with the RJD. We are contesting on 19 seats. Our movement is strong in Bhojpur and South Bihar and Patna Gramin. These were places of Dalit massacres and there was resistance. Yadav and Dalits have had conflicts historically," he says. "But the time has come to come together."
It was late night. He was on his way home from the last day of the campaign in his constituency on the outskirts of the state capital Patna. That was on October 27.
"Don't write the piece now. They will say this is propaganda," he says.
On October 22, UP Chief Minister Yogi Adityanath had a rally in Paliganj. In another place in the constituency, Sandeep raised the Hathras issue where a 19-year-old Dalit girl was allegedly raped and killed by the Thakurs. The UP police had cremated the body in the wee hours of the morning without asking the family.
"You want to bring the UP model to Bihar where the rapists are shielded?", he asked the people.
Hathras incident has been part of most of his speeches in his constituency, which he says is very backward.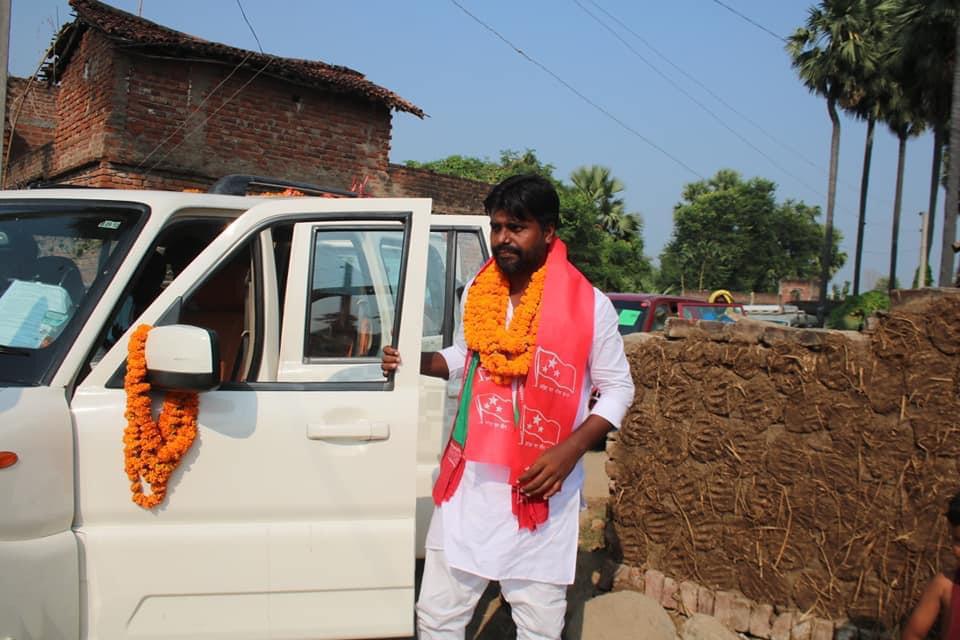 "We don't have roads. We don't have schools. We don't have healthcare," he says.
At 1 am on October 31, there is a message from him. He had kept his word despite the mayhem that comes with being on the road to campaign for candidates of Mahagathbandhan in Bihar. Sandeep, the national secretary of All India Students Association (AISA), says he knows the drill and he knows his politics. For him, it is the implementation of ideas and not just ideas. But then, ideas are integral. And so are the poems he read and remembers. The lines from Pash had been pasted on the walls in his hostel room in JNU. And that's how it began. He joined the AISA soon after he enrolled in JNU. He liked what they said. He liked their utopian dream of an equal and just society. He liked their commitment on the ground. For more than a decade, he has been part of left politics, which he says has made him battle-hardened. He is one of the many young candidates of the party that is contesting on 19 seats in Bihar and among the seven student leaders.
Saurav was born in Molanipur in Maner in 1987. His father was a farmer and mother Vimla Devi was a school teacher and taught girls in a school they had set up with some women to make education available to girls. He still remembers the name of the school.
"It was called Anurago Devi Ambika Singh Kendriya Ucch Vidyalaya and my mother taught there for more than 30 years," he says.
Sandeep stayed in a hostel in Danapur after studying until Class 3 in his village.
"My family wasn't affiliated to any political party. Even after graduation, I was not politically aware," he says.
Sandeep attended BN College in Patna and that's when he had a tryst with the Bhumihar domination. He is from the Yadav caste.
"All student leaders were Bhumihar. They would refer to the college as Bhumihar National College just to prove their dominance," he says.
For master's, he went to JNU in Delhi and joined the AISA. At the time there was a movement in JNU to demand minimum wages for construction workers.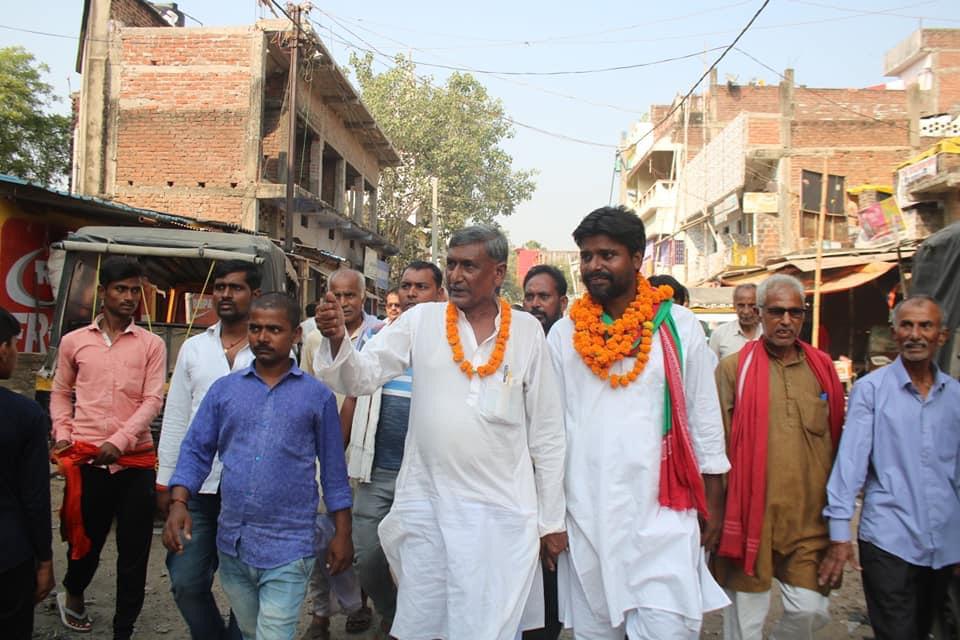 "AISA said we should do the movement. I liked the fact that they were fighting for the rights for labourers," he says. "JNU had idealist politics. It let us dream. Small things were big things there."
And for now, the agenda is clear. And loud. "There is a theoretical alliance of socially democratic forces. We unite to fight fascism. Fascism has grown and if we have to tackle it, we have to come together. It is not like we don't have differences with RJD. We have our contradictions. The biggest agenda is to remove Nitish. The reason is he has given RSS a place in the state. We as a state were not known as communal," he said.
Land reforms in Bihar, which is what the left parties have been fighting for, is part of the CPI (ML) agenda but for now, they have decided to not raise it.
Sandeep had been on the ground in the 2010 elections in Bihar and again in 2015. Paliganj is not far from Maner.
"Magahi is my mother tongue. Paliganj has a degree college but now it is no longer accredited. Land reforms need to be done and we will do it over time," he said.  "Migration is very high in Paliganj. Most Dalits are landless labourers. We have taken a position on this," he said.
Paliganj has 407 booths and 400 villages. And elections are a costly affair. But they have managed to raise some funds through crowdfunding and hired three vehicles. His two sisters who are teachers in Jehanabad and his elder brother have been campaigning for him.
They mostly hold their sabhas in Dalit colonies, he says.
According to political analysts in the state, the hold of the upper castes has weakened over the last few years.
Bihar elections are the first-ever large scale electoral exercise in a pandemic and so far the voter turnout has been impressive.
"It is a big state and traditionally BJP has always wanted to rule here. But it is the only state where they haven't been able to win a majority," said Prasanna Choudhary, an author based in Deoghar.
While the migrant workers' issue had taken a backseat in the first few weeks of the election campaigning with the mainstream media analyzing the social engineering of various castes in Bihar, the RJD's Tejashwi Yadav changed the discourse to unemployment issue in the state with his slogan "after social justice, economic justice" and promised to generate 10 lakh jobs putting the NDA on a back foot.
"A new coalition will empower the imagination. Some change is needed," Choudhury said.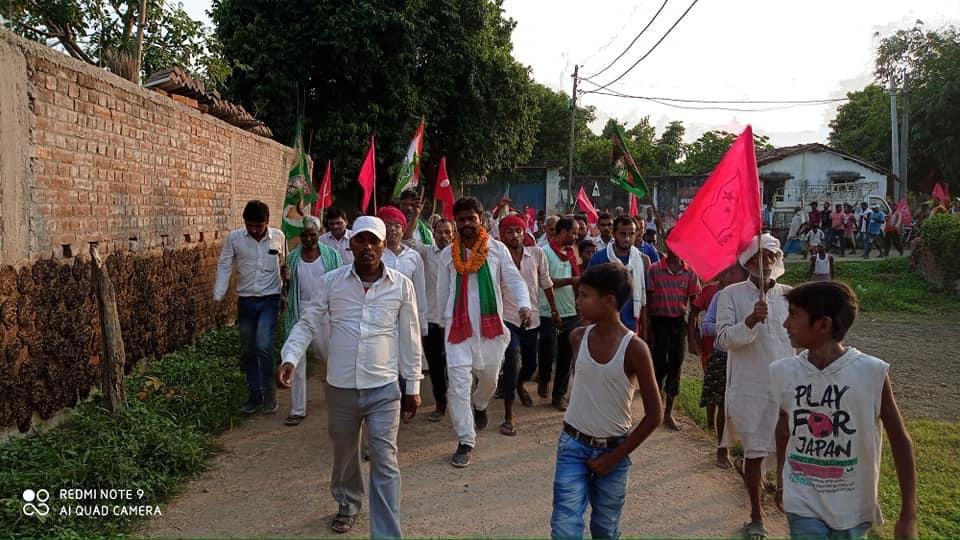 During the lockdown that was announced in March, lakhs of migrant workers lost their jobs and were stranded in cities without any support. Many walked and cycled for thousands of kilometres to reach their villages and according to come estimates, at least 35 lakh migrant workers returned to Bihar in April and May. The Nitish Kumar government had first denied entry to the migrants and even when they reached, they had to face stigma in the state and had no means of income. They weren't happy with the state government's treatment and while many argued that migrants are a floating population and therefore don't matter in elections, the situation on the ground seems to be different.
Tileshwar Kumar, a migrant from Bihar, said if it wasn't for RJD and Tejashwi Yadav raising their issue and coming to their rescue, they wouldn't have survived.
"We will vote for RJD. Our families will vote for RJD," he said.
Manish K Jha, a professor at the School of Social Work at the Tata Institute of Social Sciences (TISS) in Mumbai, said the Left had to recognize that a large chunk of Dalits and backward castes were solidly with Lalu Prasad Yadav when he first came to power. "Electorally Lalu diminished Left. CPI and CPM weren't even there but ML continued their grassroots work. They kept their ideological fight. ML's core vote base was EBCs and Dalits. And Nitish dented that with his Mahadalits politics," he said. "The alliance started from Lok Sabha elections where RJD left the Siwan seat for CPI (ML). There is a freshness now. Tejashwi has now changed the discourse. Now people have given up on land reforms in Hindi heartland. In Neoliberalism, a certain dominant discourse is there. We have to see what is possible on the ground. Land reforms are now subterranean. Even the constituents are resigned to the fact that this is not possible. Right now, we need to focus on education and health," Jha said.
In these elections, all the Left parties CPI, CPI (M) and CPI (ML) have joined hands with the RJD and Congress.  In a 2004 National Election Survey, over 50 per cent of Dalits saw Lalu Prasad Yadav as a "messiah of the poor" and Dalits became a key vote-bank of the RJD through the 1990s. Nitish Kumar then mobilized the Mahadalits excluding the Dusadhs.
According to the 2011 Census, Dalits constitute nearly 16 per cent.
DM Diwakar, director of AN Sinha Institute of Social Studies in Patna, said in the current scenario, this is the best alignment. "Secular and progressive forces need to move towards a new democratic alliance. They are focusing on immediate issues. The unemployment issue has become the foremost issue. They have come out of identity politics. This is good for left politics. Only the left gives hope to the poorest of the poor the chance for candidature. The new people will give more strength. In the immediate future, land reforms will take a backseat. People need employment and education. They can't defeat identity politics," he said.
According to Diwakar, women have abandoned Nitish.
"Around 50 per cent of youth voters don't know Lalu Raj. Under MNREGA, 1 crore 55 lakh people have got job cards and only 20,000 have got 100 days of work. Anti-incumbency is at a climax. People want change. Caste issue has become diluted and unemployment has taken center stage," he added.
It has been tough all these weeks leading up to the first phase of polling for Sandeep. Elections cost money and they managed to keep their expenses low.
"We had Rs. 4-5 lakhs and we managed somehow," he says.
Sandeep has faith in the alliance. The strategy has been effective. The first bit was to remove Lalu Prasad Yadav's photo from the posters. And that was done to remove any reminders of what the NDA has been referring to "jungle raj" and to counter the perception that RJD is only a Yadav and Muslim party.
"We now see a lot of non-Yadavs coming to Tejashwi's rallies and this never happened before," he says.
He is confident he will win the elections and he has already set aside a plan for his constituency that includes building pustaklayas or libraries for children and young men where they can study.
"In villages, we don't have a study space for young students. I want to build at least 10 such libraries where there will be a bench, tube light and a water tanker," he said. "Ideally, I would have wanted to build one in every panchayat and we 39 panchayats but we have to raise funds. We will form a trust for this."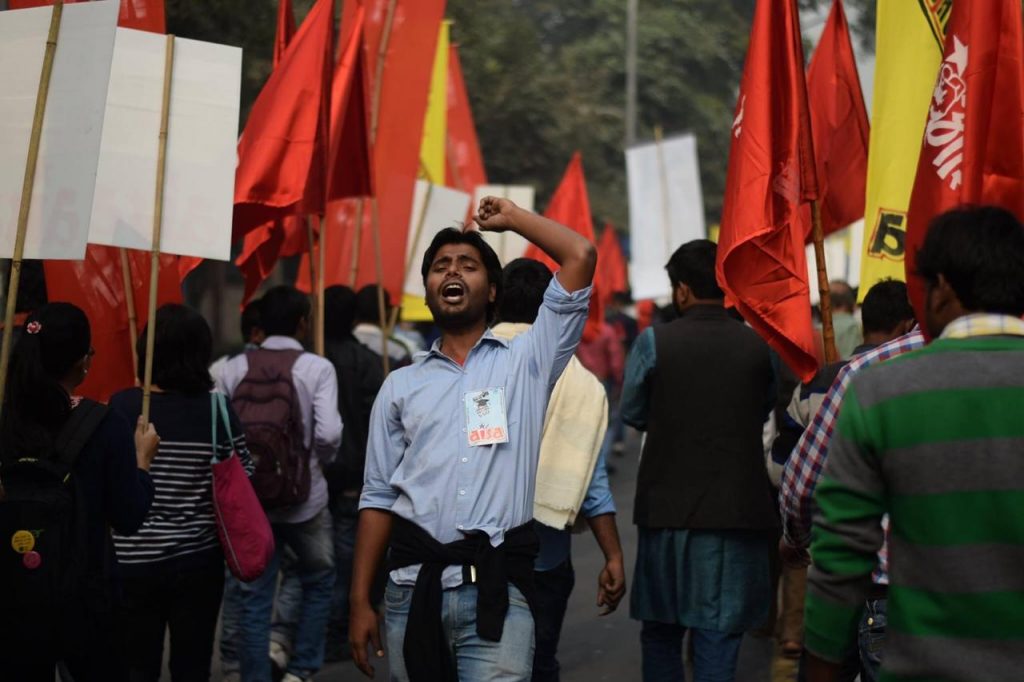 Next, he wants to train high school teachers and ensure quality education in the area. And then comes his plan for the Dalits. Sandeep said he wants to appoint teachers and volunteers who can dedicate two hours to teach children in Dalit mohallas. They will fund this via the trust, he says.
But the first thing he wants to do after winning the elections is to visit the villages and thank the people. He knows people look for a connect and they want their leader to be present.
"For me, the larger goal is an equal society, a just society," he says. "I am from the left political culture. We don't come from privilege."
There is always that romanticism that comes with the left politics. And there's always the poetry. The poetry that tells him that to stand in the cold wind is a brave act. And sometimes, you got to be brave. And at 2 am on October 31, he picked up the book of poems once again. He says all the poems mean something to him. And poetry is resistance. And to keep his promise of calling a reporter at the end of a gruelling day is also a commitment. And for a new kind of politics, the commitment is essential. At least that's what he believes will matter in the end. No matter what the end might be.
SUPPORT TWOCIRCLES
HELP SUPPORT INDEPENDENT AND NON-PROFIT MEDIA. DONATE HERE