How the marginalised communities struggled to gain access to relief materials during the pandemic due to ABBA systems
By Suchitra, TwoCircles.net
 New Delhi: Premsila Toppo is a Khadia Adivasi woman from Sundergarh. She has both a visual and a mental disability and is entitled to a disability pension. Her family has tried to get an Aadhaar for her multiple times, but it always fails because of her visual disability. Due to PDS-Aadhaar seeding becoming mandatory, she never received rations, nor does she have access to a Jan Dhan bank account— or for that matter a disability pension. All of this, just because she can't get an Aadhaar made; again, on account of her disability.
 Premsila is not the only victim of tech exclusion. Amid the coronavirus pandemic, India saw a high number of pandemic-related deaths that weren't because of the virus itself. Starvation and Exhaustion (no access to food, standing in lines, financial distress, and walking home) caused 472 out of 971 non-virus deaths. 
---
Support TwoCircles
---
 As the talk about linking the COVID-19 vaccination to similar technology is going on, it is reminiscent of the exclusion that came with the relief package announced at the start of the pandemic. The Central Government declared a Rs 200,000 crore fiscal relief package after the lockdown was imposed on March 25.
 The schemes were intended mostly for communities who are socio-economically marginalised or working primarily in the informal sector.
 Banamali Jena, from Keonjhar district, Odisha, has a different story to tell. He lost his fingers to leprosy. He used to get ration from under PDS until Aadhaar seeding with ration card was made mandatory in September 2019. He is a Dalit cattle rearer, living in Hatadhil Block, a Dalit-majority village. He didn't get free rations under PMGKAY until June and is yet to also get support to build a house or toilet on his thatched hut in his homestead land. At the time of reporting, Banamali had received rations, after going over three months without any food relief from the government.
 Reetika Khera, a developmental economist, social activist, and professor at IIT-Delhi, says, "Many people were using kiosks for cash transfers such as Pragya Kendra to withdraw their money because banks aren't accessible. Aadhaar is mandatory for them making it inaccessible for a lot of people, and they were also worried about catching the virus and refused to go to them. When people desperately needed such systems to bank on due to the pandemic severely impacting their lives, a method proven to be exclusionary should not have been used." 
 "Nagina, from Latehar, Jharkhand, has recently been robbed of Rs 24,000 of NREGA and pension money by a crook who gamed the Aadhaar-enabled payment system (AePS). This is not an isolated case, there are many others in Manika block in Latehar district," says Jean Dreze, a Belgian-born Indian economist, social scientist, and activist.
 Villages with more marginalised communities have lower access
Juang, a particularly vulnerable tribe of Odisha has been practising Jhoom cultivation for several centuries now. Amid the pandemic, three Juang families from Sukinda block, Jajpur district have had over half of their members being denied rations due to their ration cards not being seeded with Aadhaar. 
 Taking a look at Odisha's list of "invalid" or excluded Aadhaar from the NFSA scheme, i.e. PDS, the highest tribal populated districts have had a high percentage of cancelled Aadhaars too. Malkangiri, which is the district with the highest tribal population is also the district with the highest percentage, 44.7%, of invalid Aadhaars. 
 Adivasis and Dalits are among those marginalised communities who have been most disproportionately vulnerable to the impact of COVID-19. Forming a bulk of the informal labour force, they have been hit hard by the unplanned lockdown, with job losses, loss of wages, as well as difficulty in accessing relief. According to a report by Community Collect, only 29 per cent and 23 per cent Dalits respectively received the Rs 500 in their Jan Dhan account and towards the Ujjwala scheme.
 Heavy dependency on access to Aadhaar, PDS, Jan Dhan 
The declared relief initiatives still hadn't reached significant parts of the socio-economically deprived population according to a survey by the Center for Sustainable Employment, Azim Premji University. Only a third of the survey respondents received the Jan Dhan cash transfer. Overall, 6 in 10 vulnerable households did not have Jan Dhan accounts.
 According to a survey by Rapid Community response during the lockdown, 14 per cent of respondents said they did not have a Jan Dhan account. 
 Data by Community Collect, a survey across 476 villages suggests that 311 (65.3%) villages all over India reported no non-ration cardholders got access to rations. 
 The urgency of the need
"In the pandemic, pre-existing issues have been exacerbated. When you want to help marginalised— they're already excluded, you're putting pressure on them to prove that they are in need," comments Jayati Ghosh, an Indian development economist, Chairperson of the Centre for Economic Studies and Planning at the Jawaharlal Nehru University. "They should have distributed food for the migrants. Center is sitting on grains and they are not distributing it. It is just rotting away. How can they not recognise that thousands of workers walking back need money and food?"
 Logistical failures, thinner bank accessibility in rural areas
The density of rural bank branches is limited and it remains a problem that they are close to financial institutions. Less than 1/3rd of women can reach a bank branch within 1 km and almost 2/3rds within 5 km, according to the FII 2018 survey. There is an ATM/debit/RuPay card for just 27 per cent of adults. Banking correspondents and Aadhaar micro-ATMs might certainly assist by growing their scope, but their presence seems limited as of 2018. 
 In a survey by Rapid Community response to Covid-19, the rush at the bank deterred 11 per cent of respondents from withdrawing money. Fifteen per cent said they couldn't find time to visit the bank or e-Mitra centres because they were too busy with wheat harvesting and other activities.
 "As for Telangana," Srinivas Kodali, an independent data researcher says, "PDS beneficiaries are presumed to be dead if they do not use the scheme for 3 months. This means that a migrant worker who works outside of the state, is back to his home state due to the pandemic and wants to access the PDS schemes, will not be able to because he has been presumed to be dead by the authorities!" 
 Dreze says that, "One of the things that biometric authentication does is, the distribution takes longer because to distribute grain, they have to have connectivity, the machine has to work. In May and June, in Jharkhand, because they had removed biometric authentication, and because there was a lot of pressure on grain being distributed, within the first two or three days of each month, we saw that the grain has been distributed."
 "Speaking of DBT like pension systems, most pension beneficiaries prefer cash instead of bank transfer in Odisha because of bank inaccessibility," says Sameet Panda.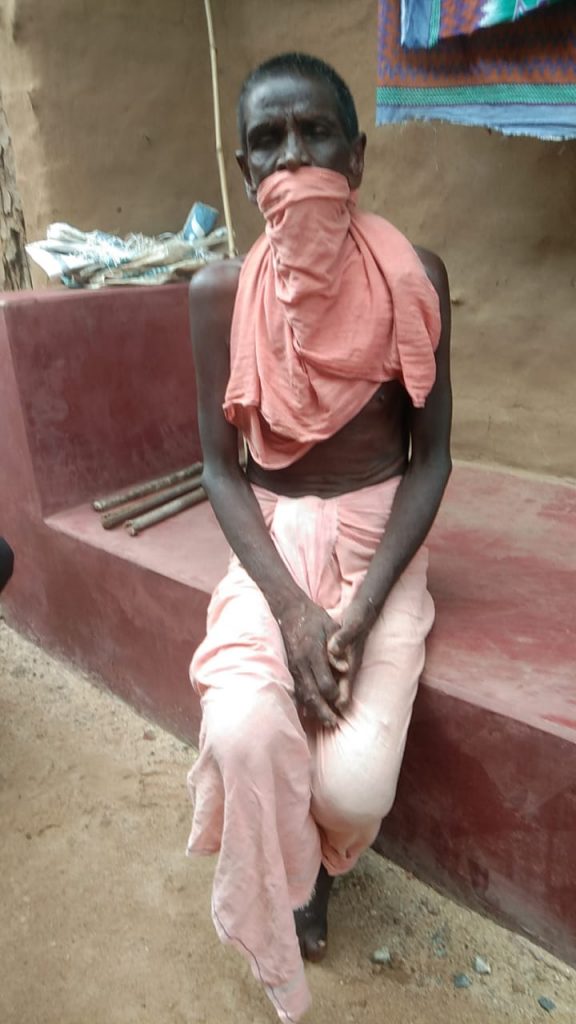 Biometrics not working in case of manual labour, old-age or disability
Premilsa Toppo was excluded purely because of disability. Purundhar Ketki, a man in his late 70s, of tribal Padampur Village, Kalahandi District hasn't accessed PDS in about 8-9 months now because he hasn't been able to procure Aadhaar even after many attempts, owing to his fingerprints becoming deteriorated with age.
 Jean Drèze says the problem is an implementation based one. "One can be that the person doesn't have Aadhaar, or didn't get one. Sometimes the handlers also do not know what to do with the errors. In principle, there is a way to get them that access but it's not always implementable. For some benefits, the government also imposes biometric authentication each time you want to access benefits, especially in the PDS biometrics. That creates a new layer of problems because the technology may not work. Some people's fingerprints may not be working. This creates a new layer of exclusion," he said. 
 Ghosh says, "Biometric identification doesn't work for large populations, because exclusions are bound to happen. We've had evidence that it doesn't work in cases of manual labour. In NREGA, that was observed as a big problem." 
 A severe lack of information 
There is no accessibility of information for most people such as on transaction failure rates and what happens during a failure of authentication, how to access the benefit and how to know if the benefit has reached.
 Dukhi Jani, 46, a single tribal woman, died after starving without food for three days in Kaliamba village under Nayagarh' Nuagaon block on 24 June. 
 As per Sarapanch Sahu, she was entitled to a pension as a single woman but couldn't get one despite applying several times via Panchayat and block officials. She did not have Jan Dhan support, the rice and dal offered under the PM Garib Kalyan Yojana even she had presumably a ration card. She was dependent on minor forest produce and the minimum support price scheme for minor forest produce, if had reached her, she might not have starved. 
 According to the RCRC survey, owing to no communication post lockdown, 20 per cent of women did not go out because they didn't know if they received the money.
 Banamali Jena for months couldn't figure out what the error on his authentication means. UIDAI itself publishes about 95 types of errors on its website for the Aadhaar authentication method. DBT transactions often do not function. While the errors have been listed in UIDAI's records, there is a serious lack of data on transaction failure trends and what follows post an authentication failure. UIDAI does not provide data that allows for complete independent testing. 
 Drèze says, "The people might not necessarily know what you need to do to access a certain benefit." 
 For Ghosh, 'most exclusions aren't fake cards, they're just people who couldn't link it with Aadhaars.' 
 "The families don't know what the errors are and hence cannot correct said errors," adds Ghosh.
 Khera blames it on the centralized system and says that operators don't understand what the errors are. "Rectification systems aren't in order and nobody was able to understand how the rectification is supposed to happen. UIDAI doesn't know what half the errors mean. Redressals are not possible at the lowest rung," he added. 
 Kodali is of the view that schemes like PDS should be universalised. "There's no point in linking Aadhar with PDS or direct benefit transfer, the biometrics should entirely be done away with. Aadhar has multiple privacy risks also, the One nation one ration card will fail. They have unnecessarily complicated a simple welfare scheme," says Kodali.
 Panda argues that Aadhaar should not be made mandatory. "Since Aadhaar seeding with PDS or pension has made people more vulnerable and it has very limited gain it should not be made mandatory rather Aadhaar should be delinked from PDS and Pension," says Panda.
 Jean Dreze says that the accessibility gap has always existed, not just during COVID. "Some of them have improved over time slowly as the glitches were resolved. During the crisis, marginalised people are unable to access benefits. There are better technologies than biometrics if you are concerned about fraud. Smart cards achieve pretty much the same results without the exclusion problems that are created with biometrics," he says.
 Suchitra is a freelance journalist.
SUPPORT TWOCIRCLES
HELP SUPPORT INDEPENDENT AND NON-PROFIT MEDIA. DONATE HERE