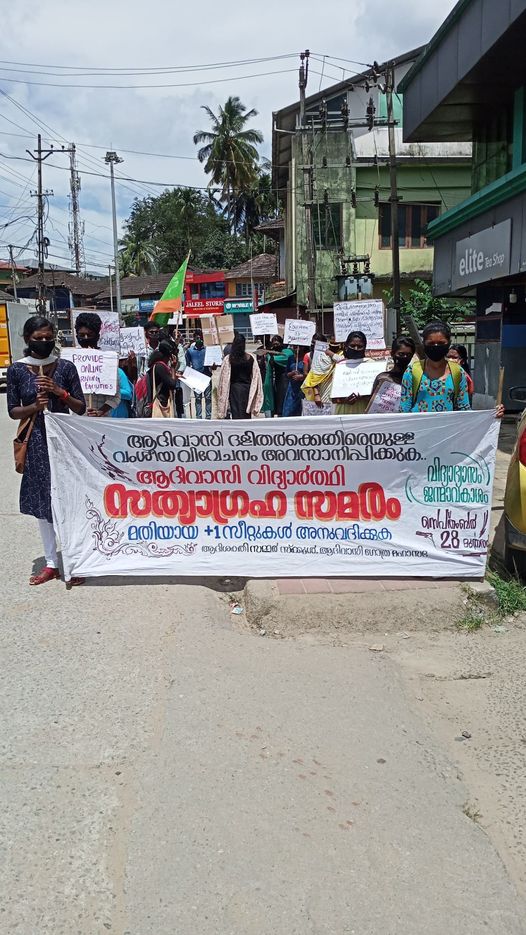 By Sukanya Roy, TwoCircles.net
Sulthan Bathery: Since 28 September, members and students of the Adi Sakthi Summer School, an Adivasi Dalit students' collective that facilitates the education and enrolment of local tribal youth in higher educational institutions in Wayanad, have been on an indefinite strike. They are protesting against the casteist and racial discrimination hindering tribal students from gaining admission and continuing their studies, in higher educational institutions in the district. The strike is taking place in front of the Mini Civil Station, Sulthan Bathery.
---
Support TwoCircles
---
The Summer School is an initiative of the Adivasi Gotra Maha Sabha (AGMS), whose Director M. Geethanandan, along with Mary Lydia, Co-ordinator of the Summer School, have petitioned the Chief Minister, the Minster of Education, the Director of Scheduled Tribe Development Department, Kerala, as well as the local MLAs of Wayanad, about this grave issue. The petition highlights the numerous, systematic hurdles faced by Adivasi Dalit students which force them to drop out after clearing their SSLC (10th standard) examinations, weakening their representation in higher education, and grossly violating their Right to Education.
The strike condemns governmental and bureaucratic apathy regarding the precarious social realities and futures of thousands of marginalised students, hailing mainly from Adiya, Paniya, Kattunaika tribes.
Lydia says, "So far, the Adi Sakthi Summer School was concerned about providing education to these students, but we have been compelled to stage this protest because the situation is so dire. Political intervention is crucial."
Exclusion reflecting in the numbers
A report on socio-economic status published by the Directorate of Scheduled Tribe Development Department in 2013, revealed the "drop out syndrome" prevailing in Wayanad. It estimated the drop-out rate of Adivasi Dalit student's at an alarming 95% (from primary school to SSLC). In the current academic year, 2009 students qualified in the SSLC examination. However, the number of seats available to Scheduled Tribe students was only 529, which negated any real chance for 1480 students to study further, despite qualifying their exams.
Further, 80% of the seats in other districts reserved for Scheduled Tribe students are illegally diverted to the General category.
In the 2019-20 session, 16000 seats reserved for Scheduled Tribe students were diverted to other categories immediately after the first allotment, despite several representations submitted by Adivasi groups to concerned government bodies against this. As a result, hundreds of Scheduled Tribe students of Wayanad were unable to pursue higher education and were forced to join the labouring class.
The Central Allotment Procedure (CAP) carried out by the Directorate of Higher Secondary Education also stipulates the number of stream-wise seats. Out of the insufficient 529 seats in Wayanad, 158 seats are for humanities, 159 seats for commerce, and 212 seats for science. It has been observed that the majority of students, especially those belonging to weaker sections, opt for humanities subjects. Hence, more than 2,000 tribal students from the district have to unfairly compete amongst themselves for the 300-odd humanities and commerce seats.
Bureaucratic hurdles in higher education faced by Adivasi Dalit students 
As for the 1480 students this year, and the similar percentage last year, unable to secure seats in government-run higher education institutions, a travesty called the "spot allotment mela" started last year.
Hundreds of such students are chosen and divided between parallel private colleges. As instructed by the District Tribal Department, these private colleges in distant areas run special batches for tribal students upon payment of fees. However, many tribal students are unable to afford the fees, and have to give up their chance to study.
The petition details the painful picture of social ostracisation faced by Adivasi Dalit Schools in private colleges, "(they) sit in the last bench as the "65th" student, and grapple with science subjects that they had to take against their will". The allotment procedure takes around three months to complete, by which time the session for General candidates is already in full swing. A lot is missed out by the tribal students, which pressurises hundreds of them to eventually drop out, the petition states.
In some colleges, an 'e-grant' is provided by the State government, but only after students have joined the course. To even enrol, students have to pay transport costs and other additional fees which the grant does not cover.
"The government must extend help with these additional costs if they want students to benefit from e-grants. It is impossible for students coming from remote areas to access this grant when they fail to enrol themselves in the college in the first place," Lydia told TwoCircles.net.
She adds, "We are also against the National Education Policy, which will make the existing situation worse. The autonomous and management colleges take additional fees for new-generation courses. So if a student receiving an e-grant for history wants to shift to a modern course like archaeology, they lose the grant. For these courses, students must pay full fees. Thus, their options get restricted. An additional burden is the PTA fees which have been waived by a mandate for SC and ST students, but continue to be extracted unlawfully."
Structural gaps worsened by Covid-19
In June 2020, in the middle of the Corona pandemic, Adi Sakthi Summer School conducted an Online Application support program with the help of PhD and UG student volunteers. A group of 80-100 volunteers contacted students who wanted to study their Plus One but were facing problems with online admission due to lack of information and internet access. They identified several issues which had rendered the online higher secondary admission process inaccessible to tribal students. They realised the urgent need to stage a protest until these problems were resolved.
Lydia says, "We took their details and filled their application forms. It would have been very difficult for them otherwise, to finish even their schooling. Not only that, the procedure has been made harder this year. They were asking for a complicated alphanumeric password, along with which an OTP was sent to their phones. The only number available to the vast majority of students was their parents' numbers. If their parents happened to be at work, they failed to log in and were made to wait for two hours to try again. All of this made online admissions extremely uncomfortable for Adivasi students."
Jishnu, a BA economics student from St. Paul's College, Ernakulam, and one of the leaders of the protest told TwoCircles.net, "Most of the tribal students of Wayanad come from interior areas with no stable internet facility at their houses, and travelling long distances is not possible in Corona times. They feel very left out because they do not have money to buy laptops or smartphones on which they can use Google Meet etc."
He adds, "My journey of education has been very hard. Due to lack of seats, I went to a parallel college but found there weren't enough teachers. I joined another college and saw the same problem again. Then, I got into a college in Ernakulum, far from home. I am here for the protest because I don't want the same situation happening to my brothers and sisters."
Several Adivasi students stay in Model Residential Schools, set up specifically for Scheduled Tribes who originally hail from remote hilly and forest areas of Wayanad. Many students staying in Residential Schools were unable to write their last exam, as they had to go home during the pandemic. Re-examinations for these students have not been conducted yet, while online applications for most universities are already over.
Tribal students also have to pay an enormous fee of Rs. 500 for each paper that they fail to clear, more than once. Aswathy, a youth from Wayanad told TwoCircles.net, "There weren't enough seats in Humanities, so I had to take up Commerce, in which I had no interest. I failed in five subjects and my family couldn't afford to pay the re-exam fee. The system left me with no choice but to drop out."
Lydia recounts another horror story of Vishnu from Cheeral Colony. "16 year-old Vishnu was in an Asram school, where he failed his Class X exams. For the re-exam, the school was demanding over 6000 rupees from Vishnu's family. They could not produce the amount and he had to quit his schooling, although he was very keen to study further", she said. Vishnu has been waiting since then to turn 18, just so that he can write his equivalency exam, with two years wasted for no fault of his own.
Due to these issues which are targeting Adivasi Dalit children disproportionately during the pandemic, the AGMS and Adi Sakthi Summer School have written to universities and autonomous colleges demanding that vacant ST seats not be converted into General Category seats, until the final leg of admissions.
The process for Special Allotment for Scheduled Tribes and Castes is woefully vague, activists leading the protests allege. The Special Allotment lists are never shared online and students are unaware about the date or location of admission. Often admissions under the Special Allotment list are not scheduled, and ST/SC children miss out on their rightful chances to education.
Determinations behind continuing the protest
Rejani, an MA in History from Calicut University, is one of the leaders of the strike. She has volunteered as a Coordinator of the Adi Sakthi School for 5 years, teaching Adivasi and Dalit children. She says, "I come from the Paniya community and my ancestors have worked as bonded labourers on fields for hundreds of years. We still don't own land. We never had a chance to access education and our rights have been repeatedly violated. To earn money for higher education, we still have to do menial jobs, and this cannot go on forever. Education will make us self-sufficient and give us power. This is a fight for our basic rights."
Sathi Sree Dravid, State Coordinator, who hails from Kottayam states the need for an undaunted protest, "Even though it has proven slightly difficult for us to unite due to COVID, so many students have come from their homes in remote places, even if that means getting infected themselves, and spreading the virus to their families and colonies."
The implications of this must be understood with due gravity, keeping in mind the subpar access to healthcare facilities in rural areas.
Dravid continued, "Still, we have gathered here because this is a bigger, more pressing fight for us, and we are dedicated to face this with all of our strength. We want to convey our problems to the media and government. The School works with the help of independent well-wishers, and we are facing a serious financial crisis in terms of sustaining this protest, given that no political party or mainstream media house is supporting us. We have the double threat of Corona and dwindling funds."
M. Geethanandan, State coordinator, Adivasi Gothra Mahasabha, shared a few suggestions to improve this dismal academic situation, which have also been presented in the petition. He said, "We need special batches in areas where the Scheduled Tribe population is high. This can be implemented by diverting the excess of seats reserved for the Scheduled Tribe category in other districts, which remain unfulfilled. Seats for tribal students of Kerala are also filled up by students from Lakshadweep."
Stressing on the need for hostel accommodation for Adivasi Dalit students, he added, "Scheduled Tribe students are prepared to go for all levels of higher education, provided there are hostel facilities. Class strength must be increased in Model Residential Schools, and extra batches added.
There are ample infrastructural facilities in most existing schools that are under-utilised."
Even though all these demands have been presented to the two local MLAs, I C Balakrishnan (Congress), and CK Saseendran (CPI-M), the legislators seem to have only paid lip service to the cause, without making clear the specifications of the plan ahead, the protesters say. The strike promises to continue, with or without their support.
SUPPORT TWOCIRCLES
HELP SUPPORT INDEPENDENT AND NON-PROFIT MEDIA. DONATE HERE