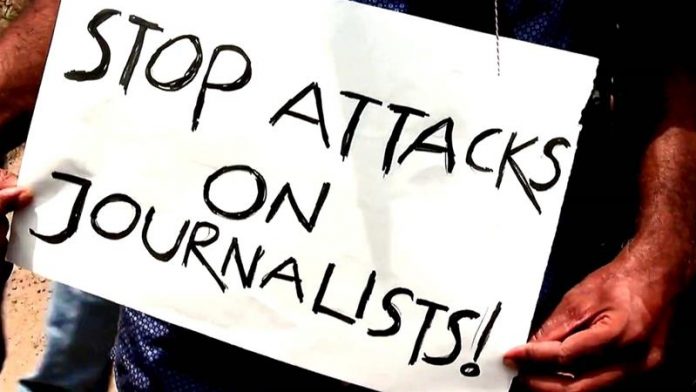 TCN News
Delhi Union of Journalists (DUJ) and Press Club of India (PCI) have expressed shock at the detention and assault of The Caravan reporter Ahan Penkar while on duty.
---
Support TwoCircles
---
The 24-year-old Penkar on October 16 was reporting a protest at the site concerning the alleged rape and murder of a 14-year-old Dalit teenager when Delhi Police suddenly stopped him and interfered in his reporting. Ajay Kumar, the assistant commissioner of police at the Model Town police station, reportedly kicked and slapped Penkar while he kept showing his press card repeatedly.
Penkar has filed an FIR detailing how he was at first, forced to go inside the station and then thrashed with "brute force" by Kumar and other men on his command. The police detained him for four hours in the afternoon during which they forcibly took Penkar's phone and deleted all the photos and videos he had recorded. He sustained injuries on his nose, shoulder, back and ankle.
"We call on the CP to suspend this hubris-filled, irresponsible, official who appears unfit to don the police uniform," PCI stated regarding accusations against the police officer and other officials. It said that coming so soon after the Hathras incident, this is "extremely shocking", something that has shocked the conscience of the country.
Reminding that the Delhi Police comes under the Union home ministry, PCI has resonated that the eagerness "to hush up rape and murder, and with barbarity beating a journalist in order to prevent the facts from being publicized," the Delhi Police appears to "have exceeded the UP Police in vileness."
Expressing great concern for safety and enquiry into the alleged rape and murder of the Dalit girl, PCI has called on Delhi's Commission for Women, and the Delhi Human Rights Commission to take appropriate action.
In its official statement PCI has stated that the officers "have blatantly prevented the reporter from carrying out his duty in a very sensitive matter," hence demanding Delhi Commissioner of Police (CP), SN Shrivastava "to do the right thing."
DUJ and PCI have further expressed their full support in urging enquiry into the allegations against Kumar and others, stating that "the senior police officials deserve to be booked under various sections of IPC for brutally beating a journalist" other than deserving to be "proceeded against for wilful negligence. "
SUPPORT TWOCIRCLES
HELP SUPPORT INDEPENDENT AND NON-PROFIT MEDIA. DONATE HERE