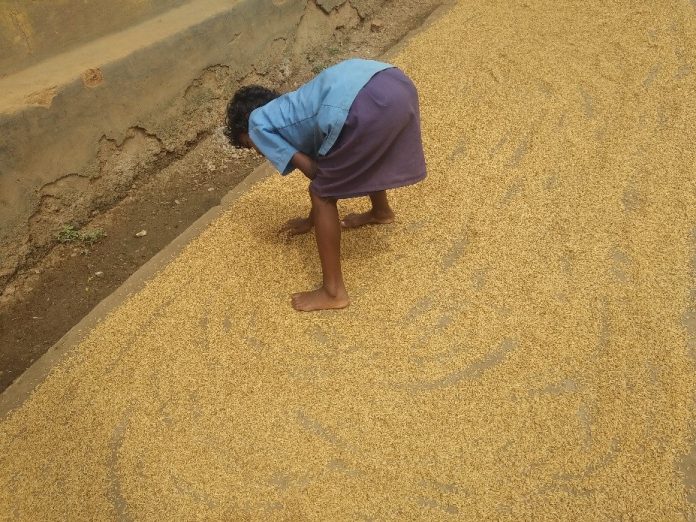 By Sukanya Roy, TwoCircles.net
Purulia: As I walk down the Gurabera village in West Bengal's western-most district of Purulia, bordering Jharkhand, Anita Mandi, 10, is busy thinning out a golden sheet of paddy drying in the sun. Noticing the school uniform, I ask Anita if she has come back from school.
---
Support TwoCircles
---
Out of the 19 districts of West Bengal, Purulia stood at the 17th spot in 2011, recording a dismal 39.77% female Scheduled Tribe literacy rate. Standing by her side, her mother informs that the primary school in the village remains closed due to the pandemic. With a wry chuckle, she adds, "The uniform works as a nice set of clothes, since we don't have money to buy new ones."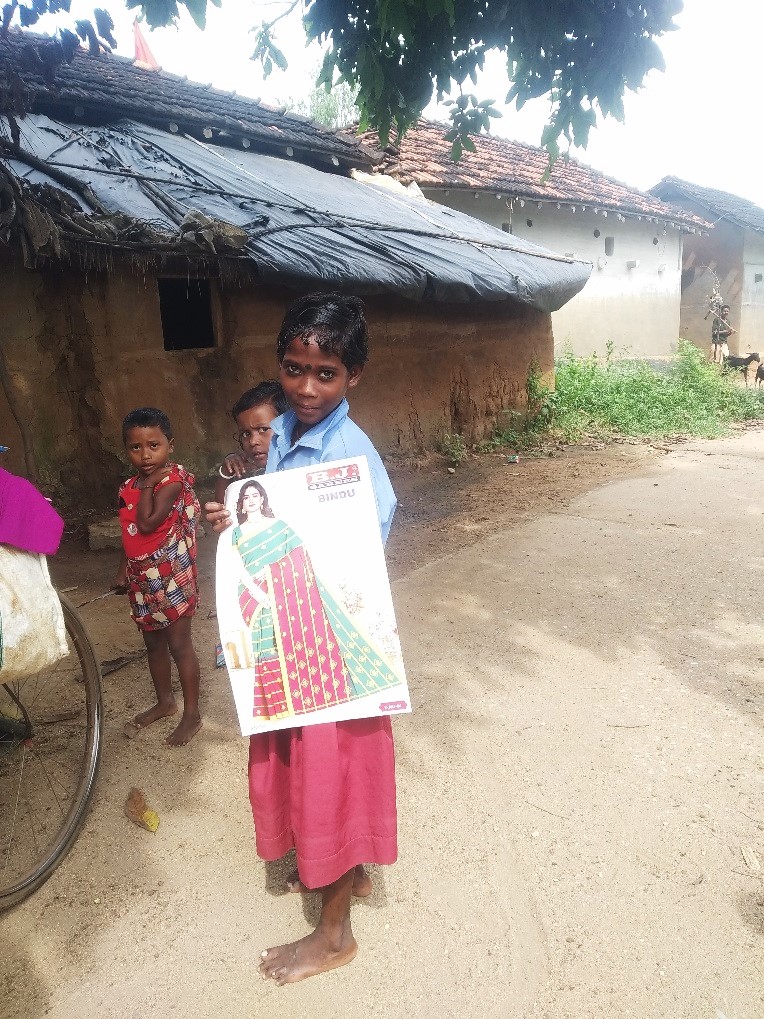 Jaladhar Mandi is a local of Gurabera village who kindly volunteers to take me around on his Scooty. He works as a caretaker at one of the eco-tourism resorts that have mushroomed in Murguma village over the past five years, attracting people from Kolkata and other big cities to bask in "pristine surroundings". These areas of Purulia are flanked by the Ajodhya hill range, a part of the Eastern Ghat mountains, and dotted by a number of rivers.
"We grow many crops on our soil, although everyone does not own land, and work on others' fields. Sugarcane, Bajra, Chickpea, Corn, Shellac, Urad dal, mustard, wheat and rice are our main crops. A good rice harvest depends on the kind of rainfall we get. Luckily, this year we had good rains and a decent yield. The past few years were very dry", explains Jaladhar.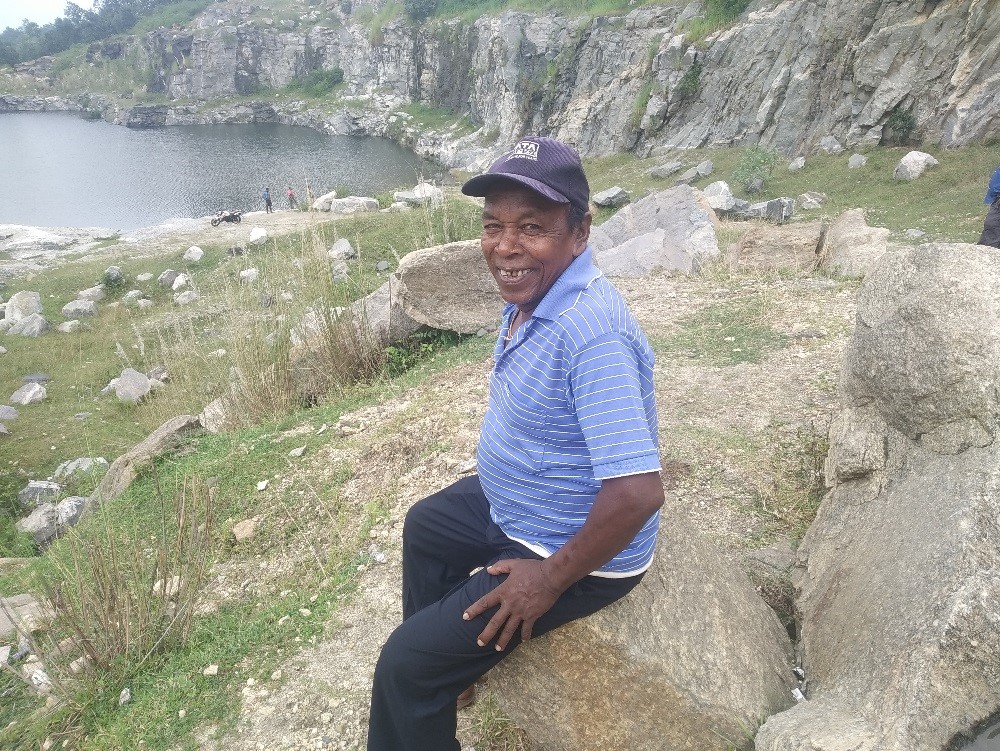 He slows down his Scooty a few times, to let herds of cows pass. As we wait, he tells me, "These paka (metalled) roads, built some five years back, have helped us greatly. Before that, kacha (unmetalled) roads would be a mess during the rains. I can tell you of a time when we had to cross rivers on foot, with people dying or gravely sick on charpoys, to take them to hospitals in Purulia or Ranchi." He even states a specific number, "318 people have died in this process."
Education and marriage in Gurabera
Entering his home in Gurabera, I meet his daughter-in-law, Kajori Mandi who has completed her schooling from Baghmundi Girls' High School. Shy to speak at first, she is coaxed by Jaladhar, "If you have an internal disease and won't express your pain, how will someone know?"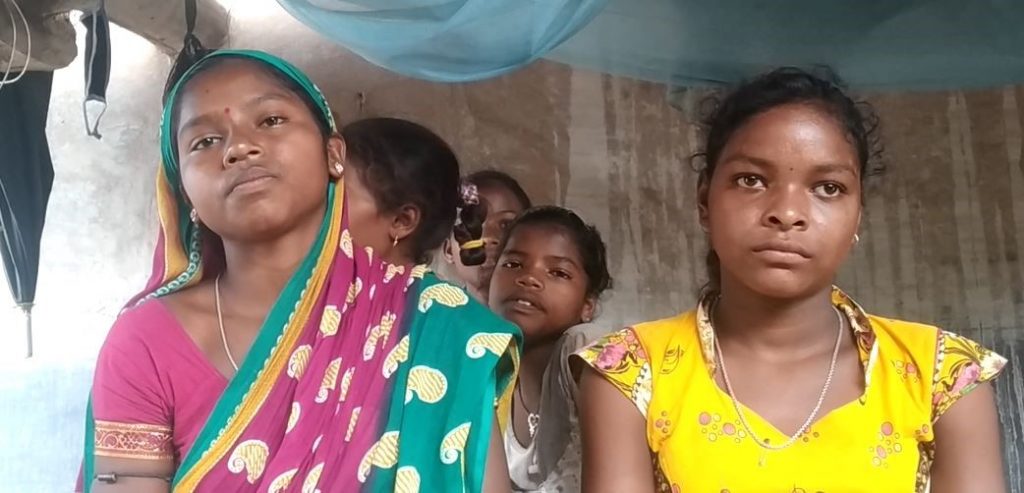 Kajori relents and says that the best part about school was staying at the Baghmundi Girls' Hostel with her friends. "I stayed at the hostel from Class 5th to 10th, but gave my plus two exams from home (11th and 12th), as I had to help with housework. There is no electricity in Dungridi, so it was very tough to study for my exams," she says.
She adds, "Parents get us married right after finishing school. Whether to allow us to go to college is our in-laws' decision."
It's not as if getting married is easy either. Not only has Sonamandi Mandi never studied, her father has been unable to find her a husband, on account of their extreme poverty. "My mother passed away when I was young. I have small siblings whom I take care of. I have no education, work, money or chances of marriage," she says without betraying much emotion.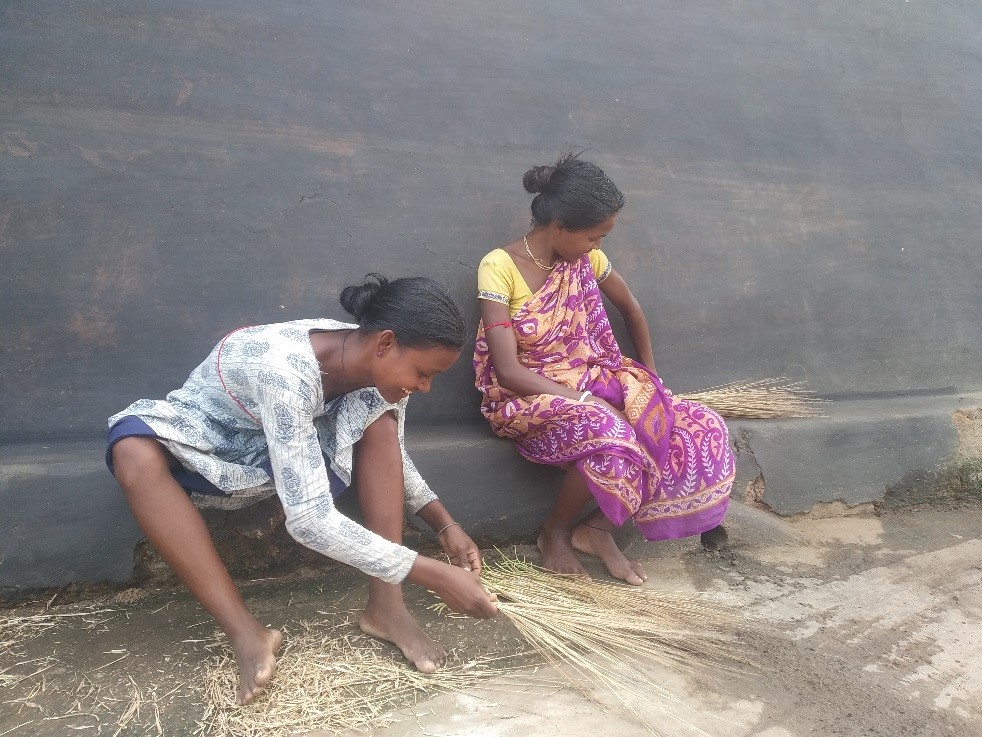 Challenges of livelihood
In the absence of truly radical economic and social interventions by Central and State governments, the primary means of income for Santhali communities in Purulia, continues to be the collection and sale of wood. Men, and sometimes women, go to the densely forested hilly areas to fell wood and gather them in bundles, which they sell at the rate of Rs. 120 per bundle on good days, at Begunkodar, the market nearest to Gurabera and Murguma.
However, locals allege that the Forest Department does not make this process easy. They must do it inconspicuously, to avoid being fined.
While the Bengal government has banned tribals from felling Sal trees that grow naturally on their land, it has not provided enough alternative jobs, nor taken into consideration that mostly dead and stunted trees are felled to earn a modest living.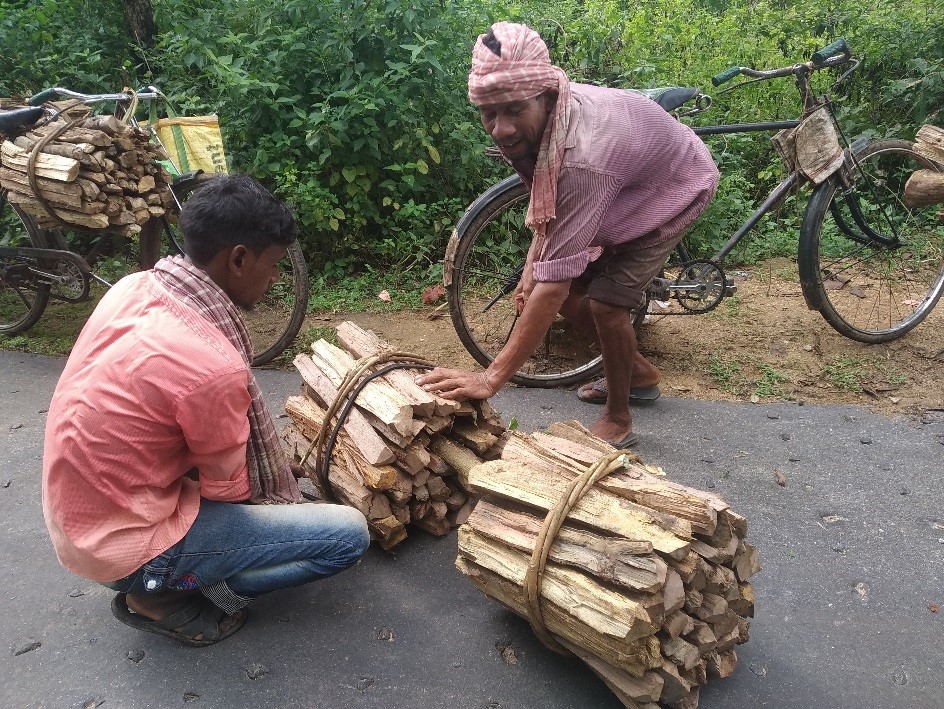 The number of Sal, Mahua and Teak trees felled in the construction of dams seems to evade governmental scrutiny. Ajodhya Dam is a Rs. 3000 crore project, which has been functional since 2008. Khairabera Dam and Thurga Dam are smaller hydel power projects near Murguma. These dams on tribal lands become tourist attractions, harness electricity and create reserves for powering urban centres, away from villages.
The lockdown has further added to locals' worries as their movement from the forests to the market has been restricted. Additionally, felling trade is challenged by a shrinking market for combustible wood, with rural households being given free LPG connections by the Central Government.
Locals also risk animal attacks, given that forest areas are populated with wild elephants and bears. Sibu Mandi cycles into the village with wonky sunglasses and a jaunty air. He brings his cycle to a rash stop to talk patiently. "I had just finished my HS (Class 12th) when one day, I went into the forests as usual. A bear came out of nowhere, pounced on me, and made away with my right eye. This was 16 years ago, and I still feel lucky to have escaped alive."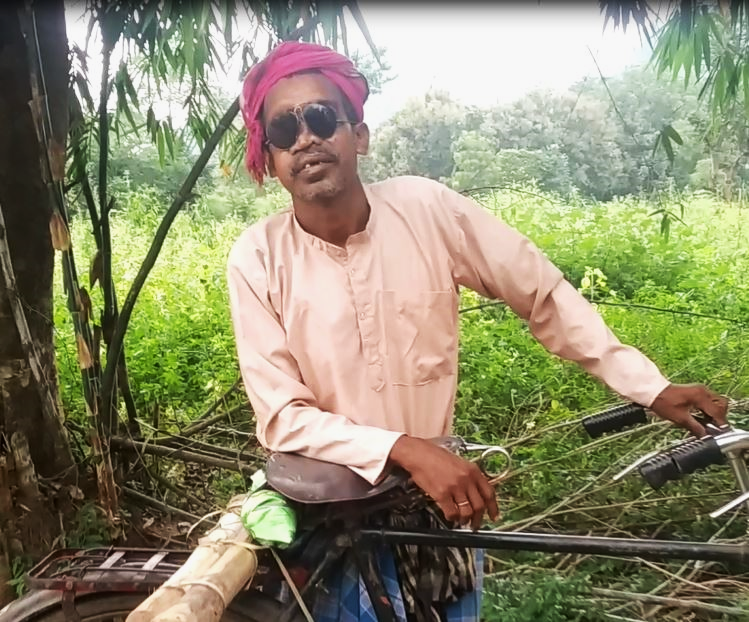 "I couldn't get a proper job, and it has been extremely difficult to work with only one eye. I can't do the same amount of work as before, but I still need to support my family. I have received no kind of official compensation for my accident," he says.
While pointing towards the two wooden sticks tied to his cycle, he says, "This is my entire morning's work. It'll be used to make the handles of axes. I will get no more than Rs. 20 for them."
Along with wood-collectors, small traders have also been pushed into ruin during the lockdown.
Prayag Kumar, from Begunkodar, buys iron and steel scrap from neighbouring villages, and sells a homemade sweet called mihidana, out of a small pot attached to his cycle. "I have four children and can only afford to send two of them to school. These days, I learn little more than Rs. 75 daily. How can I do anything more with it? I need to put food on the table and just rice won't do. A kilogram of potatoes itself costs Rs. 35," he says.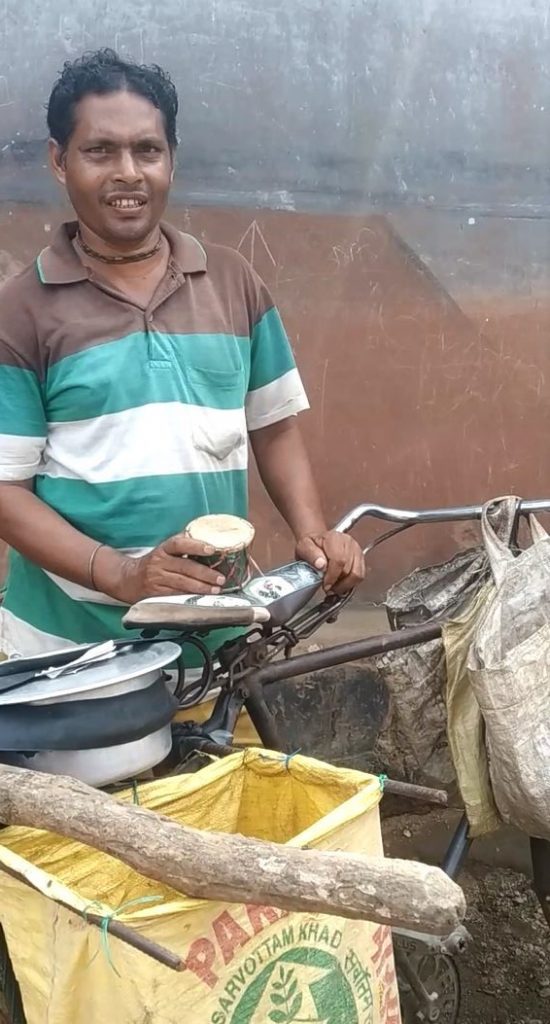 "Should I run my home or fix my home?"
What turned out to be, perhaps, the most common and persistent complaint of the villagers of Gurabera, Murguma and Lakhipur, was their inability to build a paka (cement) house, upon not receiving any, or subpar funds under the Central Government's Indira Awas Yojana.
Jaladhar himself received only a partial amount under the scheme, and has been trying to finish construction by selling off his goats and cows.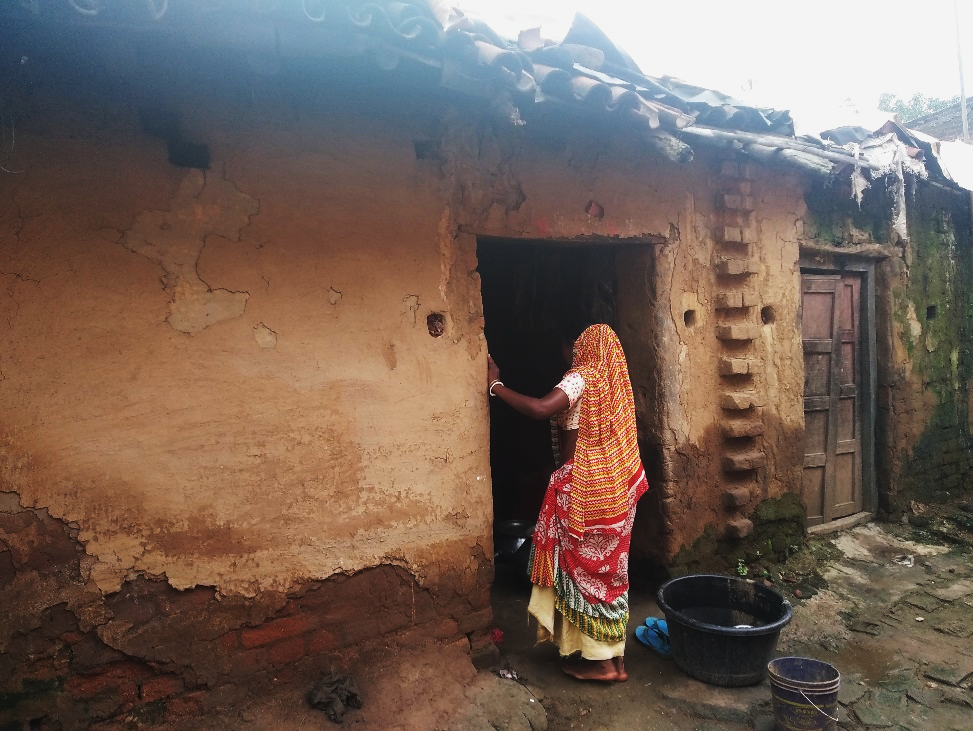 Sudhir Tudu, 60, shared, "I finally received Rs. 70,000 two years ago after submitting my form multiple times. The stipulated amount under IAY is Rs. 1.2 lakhs. Middlemen ate up 50,000." Pointing at his half-built house, he adds, "I have spent nearly all of my life savings to continue construction. Tell me, should I run my home or fix my home?"
Walking back, Jaladhar stops for a drink of water at a hand pump. He says, "There are only five hand pumps in the most densely populated part of this village, housing at least 200 people. This was not working properly for the past two months and another is totally useless. Our children fall sick if they drink water from the river. When we went to the Block Office, they kept putting us off, and repaired it only after a month."
At this point, Rabi Hansda (name changed), standing at the side, says emphatically, "We don't have access to clean water or education, can't cut wood, can't pay electricity bills, don't have a paka house… and they call this area Jangalmahal. This is why Maobadis (Maoists) became active here. Their discontents are our discontents too."
Hansda mentions that for "people of the forest", needs and societies are different than in Bengali communities. Their differences fail to be respected, and "progress" is unfurled while turning a blind eye to their traditional systems of knowledge and skill.
SUPPORT TWOCIRCLES
HELP SUPPORT INDEPENDENT AND NON-PROFIT MEDIA. DONATE HERE