Sitting at his home, Zuhaib Qureshi has a look of satisfaction on his face over securing 6th rank in the recently declared Indian Engineering Services (IES) exam results. His parents are elated and unable to contain their happiness amid a festive atmosphere at their home. For Zuhaib's mother, she says "her Eid has arrived on the very first day of Ramadan." 
Aas Mohammad Kaif, TwoCircles.net
---
Support TwoCircles
---
Uttar Pradesh: When one walks from the famous Meenakshi Chowk in Muzaffarnagar Uttar Pradesh towards the Shamli bus stand, about 100 meters ahead of the historic Shaheed Chowk, the second most popular place here is 'Bashir Tehri'. In front of this particular point of Khalapar, a bright star is shining in another narrow street inside a road lined with a dozen cloth shops. The star is Zuhaib Qureshi – a youth who secured the sixth rank in the recently declared Indian Engineering Services (IES) exam results. The IES is a top all India level engineering services exam.  
Sitting at his home, Zuhaib Qureshi has a look of satisfaction on his face. His parents are elated and unable to contain their happiness amid a festive atmosphere at their home. 
For Zuhaib's mother, she told TwoCircles.net that "her Eid has arrived on the very first day of Ramadan." 
Zuhaib's brother says that their parents have raised them well and credits their upbringing for his brother's success. 
Zuhaib lives in the Khalapar locality of volatile Muzaffarnagar and locals from the area complain of "negative portrayal of the area by mainstream media." 
A perception has been created that the area is packed with criminals, they say. 
However, Zuhaib's story proves otherwise. People of the locality are happy with Zuhaib's success. Standing in a street, a middle-aged man Rashid Khan is telling his nephew to follow in Zuhaib's footsteps. 
Zuhaib Qureshi's father is a scrap trader. Most of the Quraishi's in the area associated with the meat trade and are well off. However, the respect and admiration Zuhaib has earned surpasses all, the locals say. 
Abdul Sattar, a local councillor, told TwoCircles.net that he feels pride in Zuhaib's success. "The boy has become a star. He kept studying quietly but his result has made a noise. A good noise," he adds. 
Zuhaib has secured the sixth rank in the IES exam in which nearly 10 lakh candidates appeared. He is one among 40 selected candidates. 
In recent times, youth from Muzaffarnagar and Bijnor in Uttar Pradesh have done well in civil services exams. 
In 2018, Shaad Mian Khan of Bijnor scored 25th rank in a civil service exam, while Junaid of Nagina got the third rank in IAS. 
Recently, Mohammad Tabish of Muzaffarnagar also emerged successful by getting the third rank in AIIMS and second in PGI Chandigarh. The success of the youth of Bijnor and Muzaffarnagar in recent years in the top exams of the country has been hailed by people here. 
Speaking with TwoCircles.net, Zuhaib says he is overjoyed at his success. "I always thought I have a scientific temperament and now I will use it to strengthen and serve my country," he says. 
Zuhaib achieved this success in the first attempt. Having studied in a Hindi medium school, Zuhaib has tried hard to excel at English. 
He talks about his study strategy. "I made a plan with myself. I knew that 8 to 10 lakh people sit in this exam and only 41 seats are available. I researched why the participants will not be able to get success even after all the hard work," he says. 
Zuhaib's mother Shaheen wants Zuhaib to contribute to his country's progress. 
"I have prayed a lot to Allah. He (Zuhaib) was very anxious on the day of the result. He was constantly looking at his phone. When I tried to snatch is a phone, he announced that 'Ammi I got All India sixth rank.' I cried on hearing the news. Our world has changed since that day. All people are congratulating us. Zuhaib has passed many big exams before but he dreamt of IES which he has now achieved. May Allah be kind to him," she told TwoCircles.net. 
Zuhaib credits his success to Jamia Millia Islamia (JMI), one of India's premier higher education institutes, where he did his engineering studies.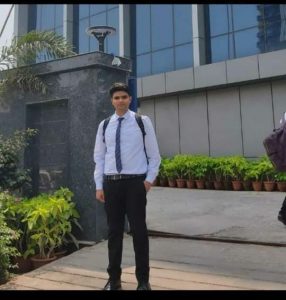 Gauhar Siddiqui, a social worker from Muzaffarnagar told TwoCircles.net that the area and community from where Zuhaib comes from are not very keen on studies and "obviously his success is very big and this will inspire other youth of the area to study hard and be successful." 
SUPPORT TWOCIRCLES
HELP SUPPORT INDEPENDENT AND NON-PROFIT MEDIA. DONATE HERE