The second wave of the coronavirus has taken India by a storm, with over 300,000 new Covid infections reported every day. The scenes of bodies piling up at cremation grounds have shook citizens as well as the government. The workers at one of the cremation grounds in New Delhi are working in extreme conditions to provide last rites to the deceased Covid-19 victims. A TCN Ground Report.  
Suprakash Majumdar, TwoCircles.net
---
Support TwoCircles
---
New Delhi: Scores of dead bodies sealed in medical hazard bags were lying in a neat line at the gate of New Delhi's Nigambodh Ghat cremation ground. The bodies are of the people who died of Covid-19. Grief and sadness were visible on the faces of people standing beside the dead bodies of their deceased loved ones.
A few men with torn masks and cloths wrapped around their necks stand with the relatives of the Covid-19 victims. These are the cremation ground workers who have been working in extreme conditions to provide last rites to the deceased Covid-19 victims. According to a priest in the cremation ground, these men are 'the last companions of the deceased on their way to moksha.' 
Navraj, 40, was preparing the firewood for the cremation of a 65-year-old man who died of coronavirus. "This is a tough job but it is an important job. If we don't do it, then who will?" he said while poking a pyre with his long wooden stick. 
Navraj is a migrant from Nepal and has been working at Nigambodh Ghat for four years. He has a wife and a six-year-old daughter back at home. 
While working, he is not wearing any protective gear except a torn mask, which one can see has been stitched. 
"Of course I am scared of this disease or whatever it is. I take proper precautions as I was told by our seniors. I don't touch the body (of the deceased victim) and I don't get too close to the body as well," he said. 
It was easy to distinguish the cremation ground workers from the general public as none of the workers was wearing any kind of protective gears but the others were wearing proper PPE kits. New Delhi, India's national capital, is witnessing a huge boom in Covid-19 cases for the last few weeks. The capital reported 23, 933 new Covid-19 cases and 350 deaths on Sunday (April 25). The severity of Covid-19 cases in New Delhi is such that a park was turned into a cremation ground in south-east Delhi.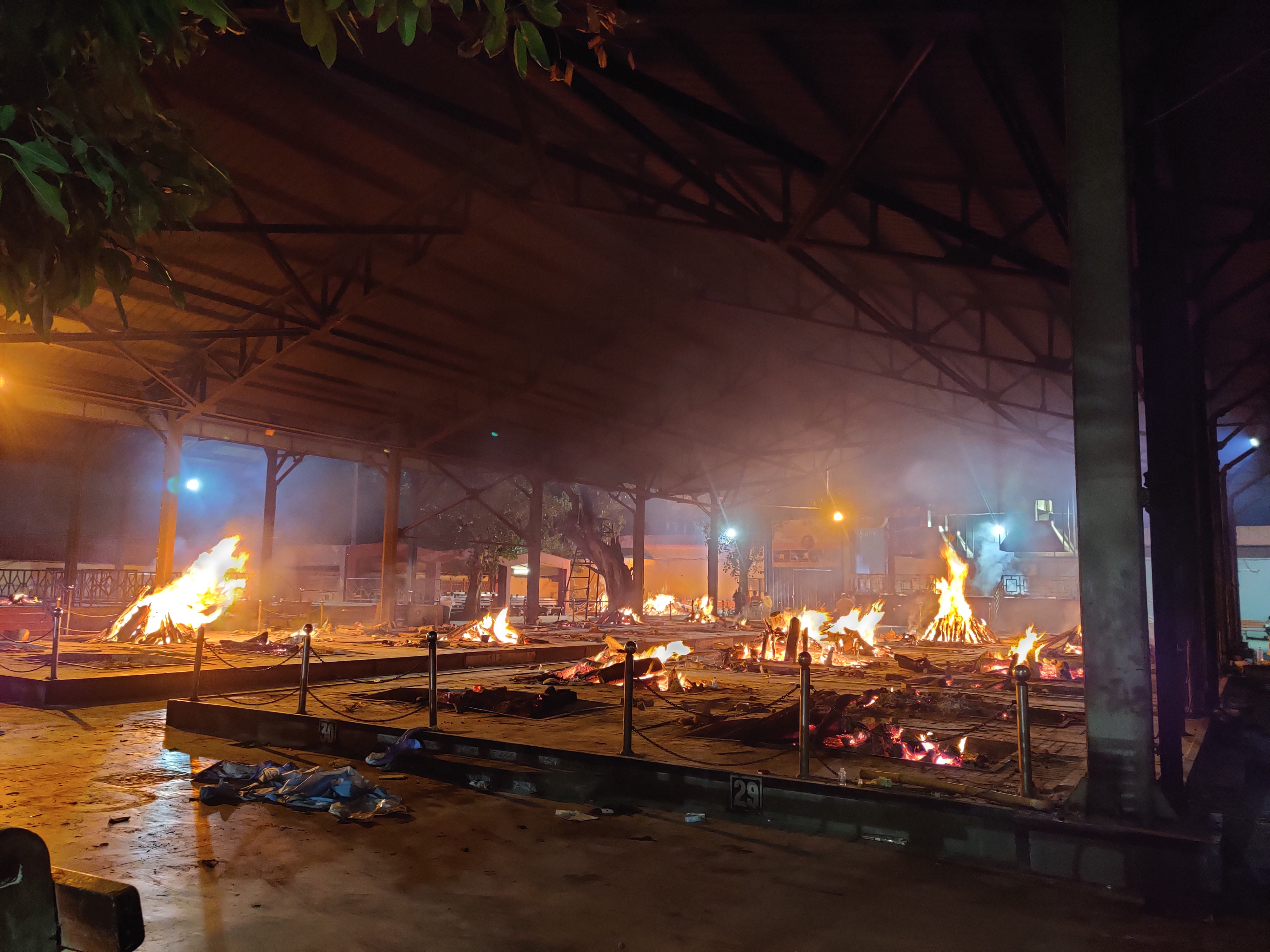 "It has been a busy week for all of us. There are 60-70 workers here in total and we are all working overtime to complete the cremation of all these bodies," Navraj said.
Navraj alleged that none of the workers was given any PPE kits. "Even if we were given those kits, none of us would wear it. We can't work while wearing those PPE kits because we work in conditions like a furnace. It gets too hot and if we wear it, many of us would faint," he added.
Another worker, working on the other side of the cremation ground told TwoCircles.net that workers here don't wear the kits. But after coming to know that he was talking to the media, the worker said that has just arrived for duty. "I was in a hurry so didn't get a chance to wear it," he said. 
For Navraj, there was no time to rest. After finishing with one dead body, he immediately moves on to the other. 
"Yesterday was a busy day," he said. 
He said there were too many bodies and there was no place left to cremate them, as a pyre needs 4-5 hours to burn off to make room for another cremation. "We had to take the remaining bodies out on the river bank and then cremate them," he said.
Standing nearby, a man whose mother died of Covid-19 said "they (cremation ground workers) are very helpful and if they weren't here, I wouldn't have a clue about what to do." 
Following the cremation of his mother's body, he gave a tip to the priest who helped him with the religious ceremony and Navraj, who did all the work from getting firewood and making a pyre.  
The priest received Rs 2000 while the cremation ground worker Navraj only got Rs 300. 
Most of the cremation ground workers at Nigambodh Ghat are from Dom caste, a Dalit caste in northern India. Most of them come from North Indian states like Bihar and Jharkhand in search of better work opportunities and to escape casteism which is very prevalent in those areas. 
"I have worked in Gulf countries as a labourer but I get the most satisfaction from the work I am doing there," Navraj said.
"One of my relatives passed away a few years ago and I came to this place. I found out that this place needs a 24 hours service and it is important too. I feel like I am doing something good for society by working here," he added.
Navraj sleeps for six hours and works for the rest of the day. "I like to help people and I get a sense of importance here. I am not well educated but I think I can help people by doing this work. I console the grieving family members and I guide them with the procedures as it is important to me," he said.
When this reporter asked him if he is comfortable being pictured, Navraj got up to tuck his shirt in his loose trousers and brushed his hair with his bare hands and asked with a smile, "With or without a mask?".
SUPPORT TWOCIRCLES
HELP SUPPORT INDEPENDENT AND NON-PROFIT MEDIA. DONATE HERE