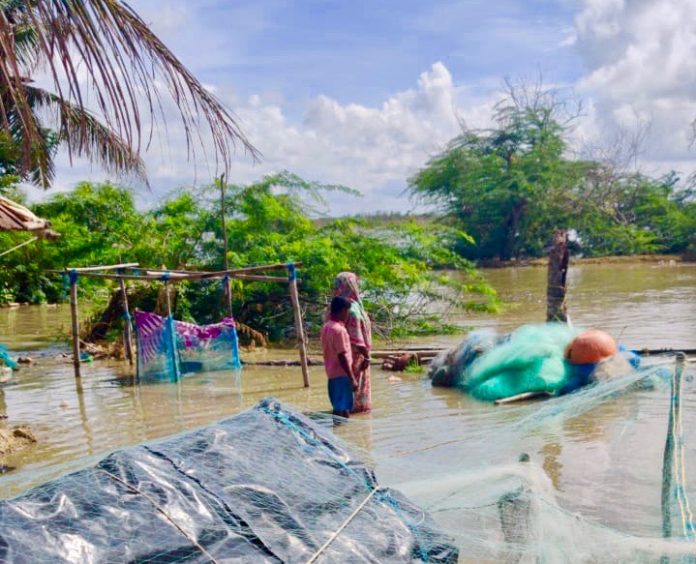 Amid slogans of Jai Shri Ram and Jai Ma Durga in ongoing elections in West Bengal, all political parties have forgotten the Sundarbans island , not even referring to what is to be done about climate change.
Suprakash Majumdar, TwoCircles.net
---
Support TwoCircles
---
Sundarbans: Sushmita Haldar, a 4-year-old, wades through 1 foot of water when everything has sunk after a high tide, holding her father's hand— to come back from tuition. This is a challenge she has to overcome every single day of her life.
"I like going to school but my parents don't allow me every day," she told TwoCircles.net. Her father, a fisherman doesn't let her go outside. "When the seawater enters the street, the freshwater snakes come out and it is very dangerous for her to go outside," says Sushmita's father.
Sushmita lives on a small island called Mousuni located in the Sunderbans delta, India. The island is located in the southern part of the delta where the Ganges meets the Bay of Bengal.
Sushmita complains about not being able to play with her cousin in a playground she loved. When asked if it is because her parents don't let her, she says, "No. The seawater came and now it is a pond."
Every morning Ashiba Bibi, 48, goes out and checks a makeshift dam that she and her husband made to protect their land from getting submerged in water.
For the last 5 years, the seawater rushes into homes, streets, and farms of the island twice a day for about 4 to 6 hours.
BJP leader Amit Shah promised to make the Gangasagar an international tourist destination in February. It's amusing that he completely ignored these environmental aspects, many of which can be observed in Mousini— a destination visible from Gangasagar, where he made this speech.
"What can we do? Water enters our home almost every day. Every morning I keep the important household item on shelves to protect them from seawater," says Ashiba as she stands in one foot of water outside her home.
Ashiba lives in a small mud hut with hardly enough space for herself, her husband and her 12-year-old son. "When the water rises to about two feet, we have to leave the house and move to the main street as it is on higher ground," she added.
"Can you stop the water coming in?" asks thirty-year-old Kavita Poera. "We close the main door and move to a flood relief shelter for 5 to 6 hours. There is not enough space even there as everyone wants a safe place," she says.
Mousuni's residents are traditionally from the fishermen community. The population depends on the sea for their livelihood. The land is unfit for agriculture because of high salinity. The island has significantly shrunk due to the rising sea level.
Nearly 45 families have had to shift their homes in the last 5 years as the sea continues to engulf their land.
Suparna Parai, 28, moved her home about 1 kilometer inwards from her previous home, which is now underwater.
"Water used to rush into our home in the middle of the night. We used to pack all the essentials in a hurry and leave the home in the dark over two feet of water. This is our everyday life," she says as she pointed towards the direction where her old house was; but all that can be seen now is just open sea.
According to the locals, as sea levels keep on rising, water continues to engulf more and more land on every high tide. During the low tides, mangroves are still-standing but dead coconut trees can be seen on the beaches.
Walking on the beach, you can see remnants of old embankments, worn out and broken by the waves— water seeping in from the cracks.
Although a year before the last elections, construction of new embankments by the government was started. This got halted because of the lockdown, and Amphan Cyclone destroyed whatever work was started.
The residents, dejected but determined to keep water from entering their homes, start making embankments outside their homes. Every time before a high tide arrives, it is a common sight to see the locals fixing these embankments which are usually damaged because of the high tide before.
When asked about why they think water is coming in for the last five years, none of them could answer. None of them has ever heard about terms quite familiar to us— "global warming" or "rising sea levels".
About 1500 families face this problem every day. The worst period is during the new moon when the water reaches its highest level and nearly 2800 families are affected by this.
Another island, called Ghoramara Island faces a similar problem but on a larger scale. "It used to take about a whole day when you walked along the circumference of Ghoramara about 10 years ago, but now it takes you not more than an hour," says a local who visits the island regularly.
From the south-western part of Mousuni, one sees another island, called Jambu island. It is about 2.5 kilometres away from Mousuni island. According to the local elders, this 2.5-kilometre wide stretch was earlier just a small stream dividing the islands.
"When I was a child, I used to play with my friends in sand-dunes amid mangrove forests, and there was at least a 10-15 minute walk to reach the sea. Now it's right outside my doorstep," says sixty-year-old Tapan Poyal. "I was born here. I have been living here for 60 years and I wish I die here, but it's uncertain because I don't know where we will go if this water keeps on rising like this," he sighs.
Saral, a local teacher and a local activist says the island has shrunk about 25 to 30 per cent. "We checked the maps from the British Raj era and compared to the modern maps and we were astounded!" he exclaims.
According to him, in the Sundarbans, the sinking of an island and the creation of a new island is natural but the rate at which these islands are sinking is unnatural. "We can't blame the local governments or even the national government. A permanent solution can only come from a global effect as it is a global problem," he says.
Poyal was a fisherman when he was younger. He has two sons – one of whom has left the island to avoid these everyday struggles, and the second one works in shipping boats. He recounts the old days. "Mousini island used to be like heaven. We used to sit on the beaches every evening, but now the sea we depended on has become the biggest threat to us."
Walking along the main streets, there are many damaged houses on both sides of the streets. Many of these are vacant houses, as many have left the island for their survival. "Not everyone is as lucky as the people who left for safer places," says Aarti Doloi, while her husband struggles to repair the embankment, as the seawater starts to enter aggressively. "One of the workers who was working on the government embankment project was stuck, and I rescued him on my boat," she laughs.
Many government projects are going on to build a permanent embarkment but it might have to be rebuilt in the next few years. In the last decade, numerous embarkments were built but none of them survived. The Indian government has allotted 2.6 million pounds (INR 11.9 Crores )to build an embankment on the southern and the eastern parts of the island which are the most affected regions.
Ujjwal Sardar, a geologist and an activist who works to protect Sundarbans, worries about the future of the island. "We don't know how much time we have to save Mousuni. Ghoramara Island has already reduced to 40% of its actual size and will eventually disappear," he says.
As the rest of the world is taking off towards a better future, people from these islands are struggling to keep their feet on the ground, quite literally.
Amid slogans of Jai Shri Ram and Jai Ma Durga in ongoing elections in West Bengal, all political parties have forgotten the island completely, not even referring to what is to be done about climate change.
"I don't know what climate change means. I don't know where I will go when this island completely submerges. I can envision that day coming very soon. I have no money, I am not sure how we will survive without our only belonging i.e. this house," says Ashiba Bibi.
SUPPORT TWOCIRCLES
HELP SUPPORT INDEPENDENT AND NON-PROFIT MEDIA. DONATE HERE