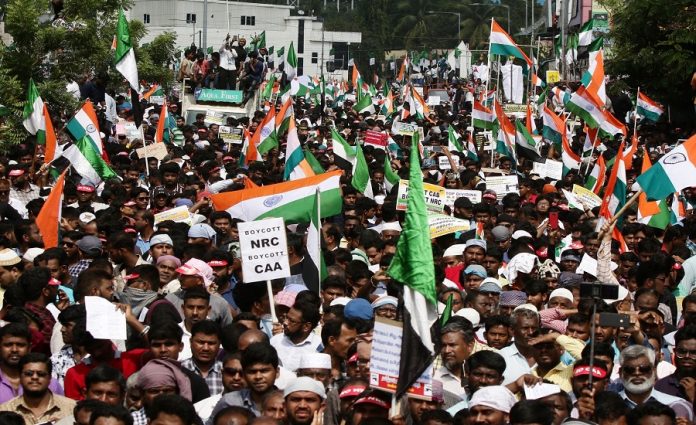 Muslims comprise 5.86 per cent of Tamil Nadu's population according to the 2011 census, but only 7 Muslims have been elected to the 234 seats Legislative Assembly in 2021 Assembly Elections and none belong to a "Muslim party". Two of these Muslim candidates are part of the new cabinet headed by Dravida Munnetra Kazhagam's (DMK) President and Chief Minister M.K Stalin. A TCN Ground Report looks at the performance of Muslim candidates in the southern Indian state and what ails their representation in electoral politics. 
Shalini S, TwoCircles.net
---
Support TwoCircles
---
Tamil Nadu: The Secular Progressive Alliance (SPA) led by Dravida Munnetra Kazhagam's (DMK) President M.K Stalin emerged victorious in the recently held Tamil Nadu Assembly Elections 2021 against All India Anna Dravida Munnetra Kazhagam in alliance with Bhartiya Janata Party (BJP) led by Edappadi K Palaniswami. M.K Stalin was sworn in as the Chief Minister of Tamil Nadu on May 7. 
The Tamil Nadu Assembly Elections 2021 was a much-anticipated one with iconic leaders M. Karunanidhi and J. Jayalalitha of the two Dravidian fronts gone. Opening up the political vacuum, cine stars like Rajinikanth (only to exit later) and Kamala Hassan announced their entry into the political arena. The Tamil nationalist party, Naam Tamizhar Katchi (NTK) led by Seeman, Amma Makkal Munnetra Kazhagam (AMMK) led by T.T.V. Dinakaran and Makkal Neethi Mayyam (MNM) led by Kamal Hassan were the other alternatives for people in Tamil Nadu.
However, the Muslim political parties retained the status of "fringe parties" or "minority wing of DMK."  
Muslims comprise 5.86 per cent of Tamil Nadu's population according to the 2011 census, but only 7 Muslims have been elected to the 234 seats Legislative Assembly in 2021 Assembly Elections and none belong to a "Muslim party".
The new Council of Ministers includes 2 Muslim candidates in its cabinet, with S.M Nasar as Minister for Milk & Dairy and K.S Masthaan as Minister for Minorities Welfare and Non-Resident Tamils Welfare. The outgoing assembly had 5 MLAs but no Muslim Ministers in its cabinet.
No elected candidates from Muslim Parties
Muslim parties in Tamil Nadu like Indian Union Muslim League (IUML) and Manithaneya Makkal Katchi (MMK) were in alliance with DMK. Secular Democratic Party of India (SDPI) and All India Majlis-e-Ittehadul Muslimeen (AIMIM) were in Alliance with AMMK.
IUML, SDPI, and AIMIM did not secure a single seat in their allotted constituencies. MMK fought for two seats in Papanasam and Manaparai and won in both constituencies.
Jalaluddin, State Joint Secretary of Islamic Democratic Forum and a political analyst based in Pondicherry told TwoCircles.net, "MMK candidates were able to win as they contested under the "rising sun" (DMK) symbol."
In the Papanasam constituency, M. H Jawahirullah won with a margin of 16,273 votes against the AIADMK opponent K. Gopinathan. In the Manapparai constituency, Abdul Samad P won with a margin of 12,243 votes against AIADMK's R. Chandrasekar.
Kanimozhi (NTK) secured 3rd position in Manapparai constituency. Both Chandrasekar and Kanimozhi belong to the Urali Goundercaste, the majority in Manaparai, the vote split between AIADMK and NTK proved beneficial for the MMK candidate, Abdul Samad.
IUML contested under their independent symbol in Chidambaram, Vaniyambadi and Kadayanallur. 
In Chidambaram and Kadayanallur, IUML candidates, A. S. Abdul Rahman Rabbani and K. A. M Muhammed Abubacker lost with heavy margins contesting against AIADMK candidates.
In Vaniyambadi, a heavily Muslim populated region in Vellore, IUML candidate N. Mohammad Nayeem lost with a small margin of 4,904 votes contesting against G. Senthil Kumar (AIADMK). 
Social activist Palar A.C. Venkatesan told The Hindu that the people in Vaniyambadi will never vote for a party that's in alliance with BJP. Given that, AIDMK's victory in this constituency is appalling with the pending of the Thenpennai – Palar river link project for ten years now under its reign.
Do Muslim parties lack a charismatic leader?
Next in order, SDPI and AIMIM faced defeat with a heavy margin in all of their constituencies. SDPI had contested in six constituencies and AIMIM in three.
Jalaluddin remarks the total vote percentage of SDPI in the assembly election as 0.06 % and AIMIM's vote percentage as 0.01%. The total vote count of the SDPI candidates is 26,289 and the total vote count of AIMIM candidates is 3,045.
Rizwan, a Tamil Nadu based journalist, reasoned lack of organizational skills and political maturity among AIMIM and SDPI for their poor performance in the election. 
Jalaluddin, in general, observed that all Muslim political parties in Tamil Nadu lack charismatic leadership.
Commenting on the charges against SDPI as violent and rigid, Rizwan said, "It is true that SDPI will not compromise easily in an alliance, and it is a good thing too. SDPI cadres are mostly from the lower middle class or downtrodden. They are being looked at as having an elite mindset. When SDPI wants to sustain its autonomy, it is seen in communal lines."
He said, for such reasons, parties like AIMIM and SDPI are branded as B-team of BJP by hardcore DMK cadres, to maintain the Dravidian party's electoral dominance.
Elected Muslim candidates in DMK alliance
Three DMK Muslim candidates, Abdul Wahab, Nazar and Masthan won in the Palayangkottai, Avadi and Gingee constituencies respectively. 
Aloor Shanavas, Viduthalai Chiruthai Katchi (VCK) candidate in alliance with DMK secured a seat in the Nagapattinam constituency with a winning margin of 7,238 votes against an AIADMK candidate.
VCK in its election Manifesto has highlighted the issues of CAA and wrongly convicted Muslims in Tamil Nadu's prisons. National Crime Records Bureau (NCRB), 2015, shows that in Tamil Nadu, the percentage of Muslims currently incarcerated was almost thrice the percentage of the Muslim population living outside.
Assan Maulana of the TN Congress committee in alliance with DMK won in Velachery Constituency defeating an AIADMK candidate with a Margin of 4,352 votes. Out of the 10 Muslim representatives from the DMK alliance, 7 secured seats while IUML lost all three.
AIADMK had only one Muslim candidate, Syed Khan, who stood in the Cumbum constituency and lost to the DMK candidate N. Ramakrishnan. Other parties like NTK had 11 Muslim candidates, MNM had 8 and AMMK only one, all of whom lost. It is to be noted that no party outside the two leading alliances secured a single seat.
Will DMK assure better prospects for Tamil Nadu's Muslims?
While talking to TwoCircles.net, Jalaluddin said, "DMK didn't have to appease the minority as the Muslim population was anti-incumbent. DMK was complacent in its attitude. Tamil Nadu's socio-political scenario is not Periyar anymore. The Hindutva propaganda is steadily rising in the state. M.K. Stalin also openly stated in the campaign that 90% of his party cadres are Hindu. The party is forced to do it and will not openly support the Muslim cause. However, the appointment of two Muslim candidates in the cabinet is a good sign. The Muslim population will expect the state's solidarity against CAA. DMK cannot entirely wipe out the Hindutva propaganda against Muslims but can dilute it to a good extent."
The Muslim parties have extended unconditional support to the DMK alliance to counter the BJP insinuation in the state of Tamil Nadu. Even Manithaneya Jananayaga Katchi (MJK), a breakaway group of MMK and an ally to AIADMK in the 2016 election had extended its solidarity to DMK. Non-political organizations like Jamaat ul Ulama Peravai openly supported the DMK alliance to consolidate the minority vote against the AIADMK – BJP alliance.
"We were clear about not voting for the BJP alliance. We wanted someone new to come to power. Other small parties did not stand a chance, the Muslim population came together to counter any BJP insinuation than to establish their power. So the votes went to DMK alliance than the small Muslim parties," the Muslim youths of Tamil Nadu told TwoCircles.net. 
The Muslim population of Tamil Nadu has invested their vote and trust in the DMK alliance. Whether the party will live up to the expectations of the Muslims and provide them with a sound and promising livelihood will only be determined in time.
SUPPORT TWOCIRCLES
HELP SUPPORT INDEPENDENT AND NON-PROFIT MEDIA. DONATE HERE