With a population of 2.5 lakh, Mushar community in Bihar are considered Maha-Dalits (Dalits among Dalits) and discriminated against. Amid the ongoing Covid-19 lockdown in the state, Mushar children were seen collecting rats in an area in Patna only to feed themselves and their families as the community is facing hunger and starvation. A TCN Ground Report provides a glimpse into the difficult and dehumanizing lives these children live and failure of the government in providing for them and taking measures to uplift their community. 
---
Support TwoCircles
---
Sami Ahmad | TwoCircles.net
PATNA – Biskarma is hardly 7-years-old and is catching rats to cook as a meal. On a sunny day in late May, he along with his six friends were seen in Phulwari Sharif's Alba Colony, a suburb of Patna, the capital of Bihar – collecting dead rats to feed themselves and their families. 
While most of the children are locked inside their homes amid the Covid-19 pandemic, these boys are running from one locality to another where garbage is dumped and chances of finding rats is high. These children are also picking rags to sell but they cannot do that these days because the scrap centres are closed.
Since May 1, Bihar is under lockdown due to a massive surge in Covid-19 cases. The lockdown has been extended till June 1. Bihar government's disaster management department announced on May 20 that free meals have been provided to more than eight lakh people from community kitchens set up across the country. That is apart from the food distributed by non-governmental organizations. 
In Patna, almost a dozen and half community kitchens are being run, as claimed by a government official. 
But Biskarma has no food.  
Biskarma belongs to the Mushar community, Dalit among Dalits, or Mahadalit in Bihar government description. According to the census of 2011, there are 2.5 lakh Mushars in Bihar.                  
This reporter tried to talk to other boys but only Biskarma responded after much prodding. He speaks in Magahi, slightly different from Hindi. Here is a quick recap of the conversation:
TCN: Where is your home?
Biskarma: AIIMS. (That is All India Institute of Medical Sciences, Patna. Their locality is called Mushar Toli).
TCN: What does your father do?
Biskarma: Kuchh nahin (Nothing).                                        
TCN: What are you doing here?
Biskarma: Chuha mar rahe (I am catching rats).
TCN: How many rats have you caught?
Biskarma: Ek kilo (One kilogram). He says with a smile.         
TCN: How do you catch rats?   
Biskarma: Khatkal (The rat catcher using a spring trap is called Khatkal. It is not a closed rat-trap but a loosely assembled open trap).        
TCN: From where did you get this Khatkal?
Biskarma: Keena hiyo (We buy it from the market).
A Khatkal is priced at Rs 50. 
Biskarma is a single child. When asked if he has gone to school, he replies in negative. When asked the reason why not? he simply smiles.               
He turns back on being asked more questions. 

This reporter followed another boy to convince him to talk, he, however, had a simple response: Hamra Achha Nai Lago Ho (I don't like it).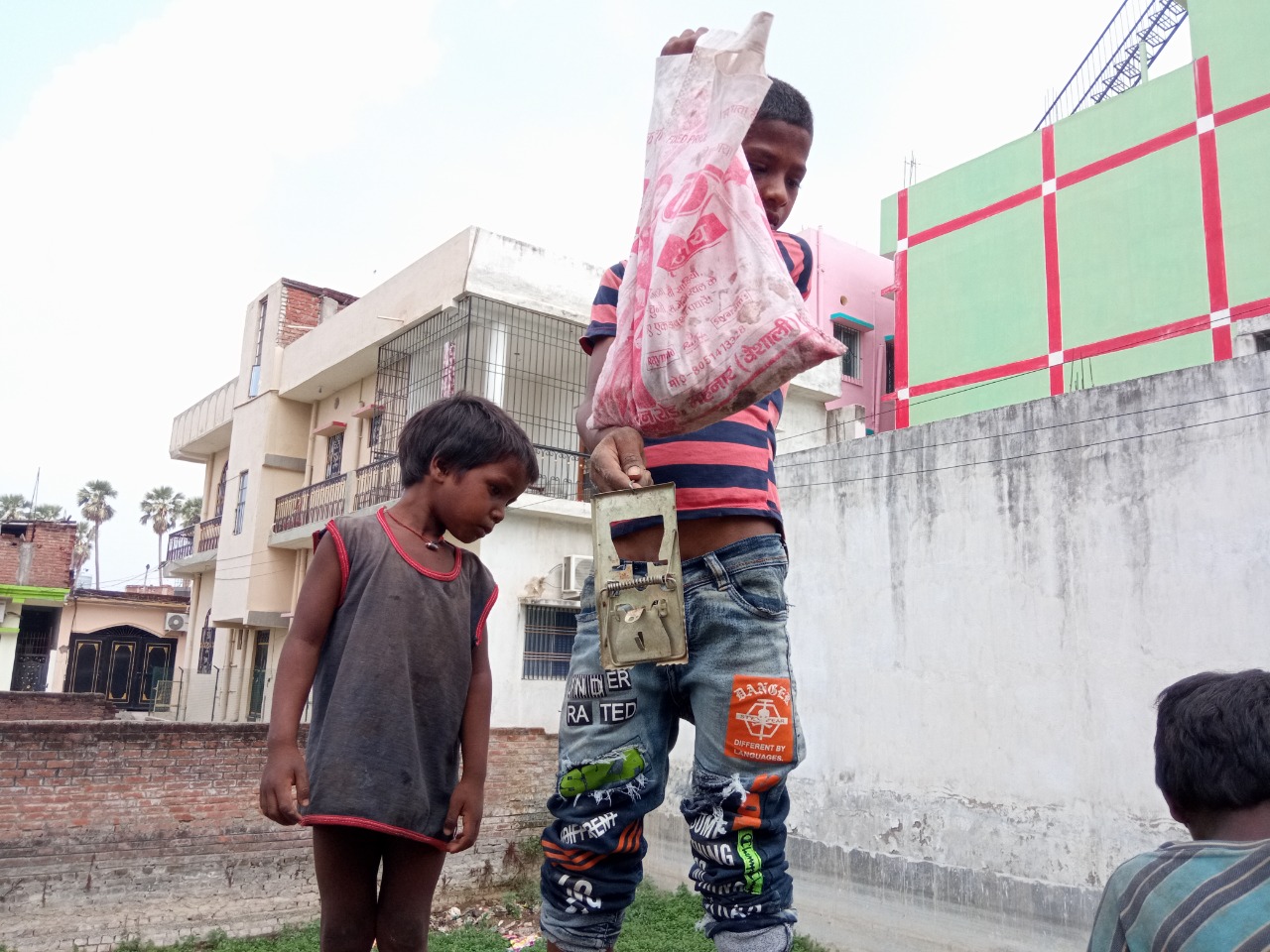 On being asked why the children from this community are catching rats and not getting food, Rupesh of the Right to Food Campaign, said, "No one cares for these children and their community." 
"Parents of these children are mostly illiterate and there is no reach out program for them. They lack proper documents to get the social welfare schemes of the government," he said. 
As these children are not registered at Anganwadi centres under Integrated Child Development Scheme (ICDS), they remain deprived of the benefits of the scheme, like getting nutritious food.  
Sudha Verghese, a Padma Shree awardee social worker, while talking to TwoCircles.net said that the "Mushar community is at the mercy of many things, they are at the mercy of even rats too." 
She said that it is not important whether they eat rats or not, but the question is do they have a choice? "Can they afford mutton or chicken? No," she added.  
Sudha Didi, as she is popularly known, is working for the upliftment of Mushar children for the last 21 years. She rues that Mushars still face untouchability. "Their women are asked to sit apart in marriage ceremonies and I am a witness to that," said Sudha. 
She further said that Mushar children are discriminated against at the government-run Anganvadis. 
Srikant, author of the book 'Bihar Mein Dalit Andolan' (Dalit Movement in Bihar) told TwoCircles.net that the caste name is indicative of their eating habit: Mus meaning rat, Mushar means one who eat rats. 
Srikant said that Mushars are considered untouchables and the stigma continues. 
According to Srikant, Mushars used to work as bonded labourers earlier in time and they were given land at the outskirts of the city to live on. "They were not allowed to mix in the society. They speak a different language and found mainly in the central Bihar and some parts of Jharkhand," he said.  
Sudha said that it is getting tough for the Mushars to even catch rats as agricultural lands are bought by the big apartment builders. 
She explains that the elder men do some daily wage labour but that is not enough for their livelihood. "Their women cannot go to catch rats. 
Therefore, their children are asked to do the same," she said. 
In his book, Srikant writes that Mushars used to catch fish and collect forest produce. "They also used to collect wood from the forests and sold it as fuel," he said.  
Rupesh rues that society has still not accepted the Mushars as fellow human beings and they are not allowed to mingle. "First they would not go to the community kitchens apprehending rebuke and then chances are high that they would be driven away," opines Rupesh. 
Rupesh said that many of the Mushars in Patna have been displaced as constructions like flyovers, new bus stands and railway tracks have dismantled their mud houses. 
In last year's lockdown, the Bihar government asked the ward councillors and Jeevika Deedis to accept an application for Ration Cards but it is reported that hardly 10 per cent are getting ration on subsidized rate. In other states of India, temporary ration cards are given to the needy but in Bihar the same facility is unavailable. 
Rupesh comments that it is not practical to expect that Mushars would go to the government facilities, instead, the government should reach to them to educate them and provide the benefit of government schemes meant for the Dalit community with automatic inclusion. "Mushar community both in rural and urban areas should be either exempted from the entitlement documents or be provided those with great care," he said.
Sudha is of the opinion that the Mushar community should be mainstreamed. "They need to get the basic 'Roti-Kapda-Makan'. They don't have land. They must be provided with a piece of land to live. They still don't get clean water and toilets. How can we think of their upliftment without these basic amenities," she added.  
Sami Ahmad is a freelance journalist based in Patna, Bihar.
SUPPORT TWOCIRCLES
HELP SUPPORT INDEPENDENT AND NON-PROFIT MEDIA. DONATE HERE