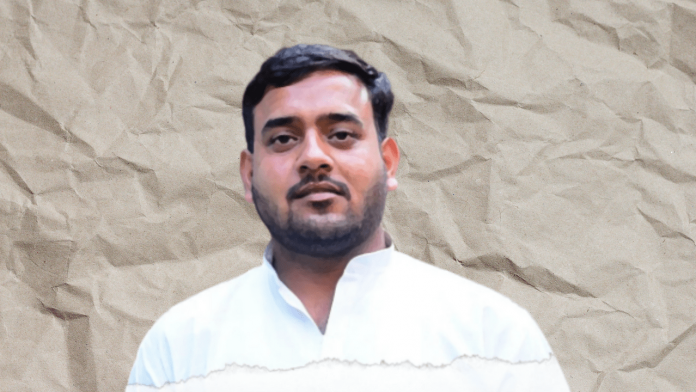 The family of incarcerated activist Atikur Rahman, who is in Mathura jail under UAPA, have alleged that 'medical neglect at the jail is worsening Rahman's health condition.' Rahman is suffering from a heart condition called aortic regurgitation. Rahman's family is praying for his bail, which was earlier rejected by court.
Nikita D | TwoCircles.net
---
Support TwoCircles
---
NEW DELHI – The continued incarceration of Campus Front of India (CFI) activist Atikur Rahman (27) under the stringent Unlawful Activities Prevention Act (UAPA) at Mathura jail in Uttar Pradesh has "worsened his health condition," his family said. "We haven't been able to get any relief for him," his wife Sanjeeda Rahman told TwoCircles.net. 
Rahman is suffering from a heart condition called aortic regurgitation since his childhood. If not treated, he could suffer from heart failure. 
Rahman was scheduled for an open-heart surgery last year in November but was arrested a month before in October by the Uttar Pradesh police. He, along with journalist Siddique Kappan, Masood Ahmed, and their driver Alam, were arrested by the UP Police while on their way to Hathras on October 5, 2020, where a young Dalit woman was gang-raped by upper-caste men and later succumbed to injuries. A resident of Riawali Nagla village in Muzaffarnagar district of Uttar Pradesh, Rahman comes from a family of sugarcane farmers.
His wife Sanjeeda Rahman is distressed due to her husband's continued incarceration and fears for his life. 
"Despite falling ill several times in jail, the authorities brought him to the jail hospital where treatment for his condition is not available," Sanjeeda said. 
Sanjeeda said the state's neglect and delay towards Rahman's deteriorating health condition "is putting his life in danger."
Sanjeeda said she spoke to Rahman earlier today who told him that he is not well. "He is in Mathura jail hospital. His condition is not good. He has palpitations, high blood pressure and high fever due to his condition," she said. 
Even after spending more than a year in jail, Sanjeeda said "the hearing of case keeps getting delayed."
"The hearing was on October 19 and was shifted to October 27. Nothing happened and the hearing has been postponed to November 11 now," she said, adding, "His other hearing for medical treatment was due on October 25 and it didn't happen and got delayed again." 
Sanjeeda has appealed to the court to provide immediate treatment to Rahman at All India Institute of Medical Science (AIIMS) in New Delhi. 
"We want him back. We are ready to take responsibility for his surgery but we do not want to send him back to jail after surgery. We are praying for his immediate bail," she said. 
Sanjeeda said that his husband's heart condition is serious and can be fatal. "I know this because I too am a heart patient with the same condition," she said. 
When Rahman fell ill on September 22, he was taken to the Lucknow PMLA Court, which directed the Mathura jail authorities to take Rahman to AIIMS immediately for medical treatment. Two weeks after the court's direction, Rahman was finally taken to AIIMS New Delhi on October 8 for a medical check-up. The doctors at AIIMS once again advised surgery for Rahman. The surgery would cost up to 2 lakh rupees. 
According to his family, a letter was sent to the Deputy Inspector General of Police (DIG) regarding the issue of funds for Rahman's treatment. At the time of publication of this report, the family has not received any response from the higher authorities. 
Talking to TwoCircles.net, Brijesh Kumar, Superintendent of Mathura district jail said, "I do not know how much time it will take for the application to process. I have forwarded the letter to the DIG and have verbally told him about it as well. We are doing his (Rahman's) follow up in AIIMS." 
Advocate Saifan Sheikh – who is one of the three lawyers fighting the Hathras case, told TwoCircles.net that Rahman has two pending cases against him. "One in the PMLA Court in Lucknow related to the ED (Directorate of Enforcement) and the UAPA case in Mathura court. His bail plea got rejected in both courts. The bail plea rejected by the Mathura court has now been sent to the Allahabad High Court."
Talking about the status of medical treatment for Rahman, Advocate Saifan Sheikh said, "The application is pending with the jail authorities, but since they are taking so much time, we have filed another application for bail on medical grounds at the PMLA court. At present, the habeas corpus application is also pending at the Allahabad High Court."
Advocate Sheikh said that Rahman's arrest along with other three people is similar to that of student activists Umar Khalid, Safoora Zargar and others.
"We saw how they harassed and wrongly incarcerated Umar Khalid, Safoora Zargar and others after the Delhi program. In the same way, Rahman and others are being made the scapegoat in the Hathras case," Shaikh said.
Time is of essence for Rahman considering his health condition, his wife maintains. "We just want him to be free so that he can get proper treatment," she said.  
Nikita D is an intern with TwoCircles.net.
SUPPORT TWOCIRCLES
HELP SUPPORT INDEPENDENT AND NON-PROFIT MEDIA. DONATE HERE