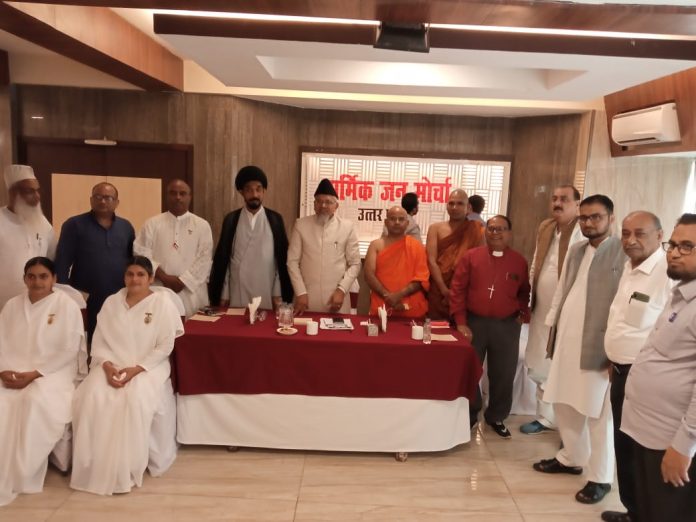 Jamaat-e-Islami Hind Vice President Salim Engineer with other religious leaders formed a united front 'Dharmik Jan Morcha' in Lucknow, Uttar Pradesh to promote peace and amity.
NEW DELHI – Leaders of different religions have formed a religious front 'Dharmik Jan Morcha' in Lucknow, Uttar Pradesh for promoting mutual love, brotherhood and amity among people of all faiths. 
---
Support TwoCircles
---
The announcement of the formation of this religious front was made in a press conference after a symposium. The press conference was attended by leaders of different faiths.
Jamaat-e-Islami Hind (JIH) Vice President Prof. Salim Engineer will be the national convener of the Dharmik Jan Morcha'. 
The Morcha was formed in eight states of the country with an aim to promote peace and amity in society.
Besides Prof. Salim Engineer, Bhikshu Gyan Lok, Bhikkhu Kaushal Buddha, Father R.B. Roy, Maulana Saif Abbas Naqvi, Abhishek Jain, P.K. Jain, Devinder Pal Verma, Brahma Kumari Nandini, Brahma Kumari Kusum, Maulana Tahir Madani, Satish Tripathi, Dr Malik Mohammad Faisal, Advocate M. Akram Khan and others have attended the joint press conference in Lucknow.
Speaking on the occasion, the JIH Vice President said that India is a unique country in the world with diversity where people are living together despite having different beliefs and faiths. 
Prof. Salim Engineer said, "For thousands of years, India has preserved this important heritage. Our religious leaders and institutions have played a vital role in preserving this legacy. They have always taught their followers how to live with mutual love and sharing one another's sorrows and joys. Unfortunately, now some people are working to damage this long-time legacy for their political interests. They want to spoil the peaceful atmosphere of the country by spreading hatred between different groups of society. This peace-loving society is under threat from some elements, which are pushing society towards moral degradation. Therefore, it is, once again, the responsibility of these social leaders to come forward and play their role in establishing peace and harmony in the country."
On the occasion, representative of Bhikshu Samaj, Bhikshu Gyan Lok said that the "society needs such people who work to unite it and in such a situation, when people hate each other, it becomes our responsibility to teach them the lesson of love."
Representing the Christian community, Father RB Roy of the Methodist Church, pointed out that there were other issues in the society that should be talked about. He said the "country would go backwards rather than moving ahead, with the things which evoked communal hatred, ignoring real issues like rising unemployment, inflation and development."
Representative of the Jain community, Abhishek Jain said that religious leaders should teach mutual love and brotherhood among their followers and they should also understand that only mutual love can save this country from the fire of hatred.
Shia cleric Maulana Saif Abbas Naqvi said that Islam and other religions teach that all human beings are brothers. "If the believers of all faith, following the teachings of their religion, nurture mutual love and affection for one another, then communal riots will automatically end," he said. 
It is pertinent to mention here that the Dharmik Jan Morcha aims to initiate talks and dialogues between people of different religions to promote mutual love, brotherhood and amity in the country, work together to eradicate the common evils of the society, dispel misconceptions spread among the followers of various faiths, create a free environment for the people to follow their religions, stand together for the weak and downtrodden sections of the society and make citizens aware of their cultural and religious freedom guaranteed by the Constitution of India.
SUPPORT TWOCIRCLES
HELP SUPPORT INDEPENDENT AND NON-PROFIT MEDIA. DONATE HERE