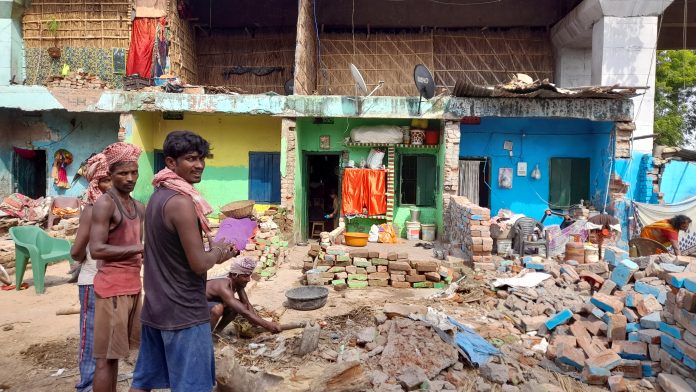 Scores of families belonging to the marginalized Nat community of Patna, Bihar were left homeless after a demolition drive carried out by the Patna authorities on September 22. The families, and their children criticized the drive and are facing homelessness, loss of livelihood and education.
Sami Ahmad | TwoCircles.net
---
Support TwoCircles
---
BIHAR – Young Sunaina Kumari has stopped going to school since September 22 as she has lost her books during an 'Atikaraman Hatao Abhiyan (anti-encroachment drive) launched by the authorities in Patna, Bihar. Her books were taken away by the 'Police Gadi'. Her school dress and bag were lost as the police bulldozed their 'houses' and loaded all the belongings with a backhoe and loader to a tractor. Sunaina belongs to the marginalized Nat community of Bihar.
Talking to TwoCircles.net, Sunaina said, "Jab kuchh bachbe nahin kiya tou school kaise jayenge' (When there is nothing left, how can I go to school?).
Sunaina has not given up on her dreams though. She is a 3rd standard student and hopes her 'Papa' Bindu Nat will arrange her books and school dress. Bindu is a daily wage Thela driver who belongs to the Nat community, one of the most impoverished Dalit communities of Bihar.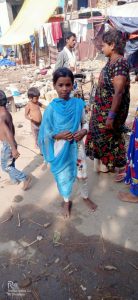 Along with Sunaina, Indu, a 2nd standard student and Janki, a 1st standard student also lost their books and notebooks. They all belong to the Nat community residing under the Chitkohara foot overbridge in Patna. They are neighbours to the health minister of Bihar Mangal Pandey.
Their 'Rajbhawan School' is near Bihar's Governor House in Patna. The residence of the chief minister of Bihar Nitish Kumar is just a kilometre away from their area. Bihar Legislature is also near them.
Talking to TwoCircles.net, Advocate Anshul expressed his amazement over the demolition drive of the place which is also called Jagjivan Nagar named after renowned Dalit leader late Jagjivan Ram. He said that "there is a stay order dated 11 July 2018 by the Patna High Court on any demolition plan under case CWJC no 13166. This case is listed for hearing on 27 September 2021 and just five days before the hearing the houses there were demolished."
Advocate Anshul said that there is a notification of the Bihar government that asks for a survey and in situ development before removing anyone from any place which the government may require in an important or extreme case. "It is also a rule to first arrange the resettlement and only then shift the settlers," he said.
Under this foot over bridge runs a railway track that connects Patna to the national capital New Delhi but the woes and pleas of these nearly 300 Dalit families living have fallen on deaf ears. They have been left in the rubble.
The circle officer of the area Rakesh Singh told TwoCircles.net that with the help of local police a team of the municipal corporation was employed to clear the encroachment of more than 50 houses.
The affected families, however, allege that police used force against them without any notice. They accused the officials of beating women.
Days after the demolition, the residents of Jagjivan Nagar are still separating the bricks from the cemented sand. They are using clothes as a wall to live and cook. At one place there are two Chowki (wooden beds) erected at a right angle to control the flame of Chulha (a stove).
Rupesh is the convener of the Shahari Garib Vikas Sangathan (Urban Poor Development Organization). He told TwoCircles.net that they have been living at the foot over bridge and in the adjoining areas for decades. "When this foot over bridge was being constructed the government promised to rehabilitate them, but what they got was a Kabutarkhana under the FoB (foot over bridge)," rues Rupesh.
Rupesh said that the government did nothing after that although, in the last 25 years of the FoB, their family members have increased.
Badly hit by this anti-encroachment drive, Puja is sitting beside a road under a tree to keep away from the scorching sun, ironically adjacent to the Bihar Land Tribunal as her house too was demolished. She is collecting the fallen woods to use as fuel. Her mother-in-law Bichchhi was lying on the road on a plastic sheet. As this reporter talked with them, Puja got scared because of an approaching police jeep. She gets ready to leave as she apprehends that the policemen will beat them. Her husband Pintu is away driving a Thela.
Bichchhi said that the policemen beat them when they tried to collect their belongings. "Sab samaan le gaya kiraan se (They took all the belongings collecting by a crane.)" She claims that they have been living in the area for almost forty years and have Aadhar and ration cards. She alleged that police harasses them and "such level of demolition has been done after a long time."
"During the demolition drive, the electric wire was damaged," she said. There is no light in the house, neither the fan works and she has taken shelter under a tree.
Puja and Bichchhi insist that they are Muslim Nats but it is difficult to know about their religion by their names.
Rupesh said that the majority of those living under the FoB belong to the Nat community. They are landless people doing small works like collecting honey, selling idols. They are involved in hunting too but the activity has gone down with decreasing number of trees. Some Nats are forced to beg too. It is said that the word Nat has roots in Sanskrit for the dancers.
Ft. Dr Jose Kalpura is the director of Xavier Institute of Social Research at Patna. He has co-authored a book called 'Bihar Ke Nat- Jine Ki Bazigari (The Nats of Bihar-Jugglery of Life). Talking to TwoCircles.net, Dr Kalapura said the population of the Nat community is around six to seven lakhs. "The Nats are 'Ghumantu' but now they are trying to live in a settlement," he said.
Dr. Jose said that the Nats are service providers to the urban rich but they don't get dignity and proper wages for their services. "Though they move around for their livelihood but ultimately come back to this settlement. They are known for rope walking too," he said.
Anjali Kumari belongs to the Mehtar community, which is another Mahadalit (a term coined by chief minister Nitish Kumar). She is a third-year college student. She is pursuing a B.A. course with Sociology honours. She has lost her father and lives with her mother Nilam Devi who works as domestic help. She said the portion of her house that was demolished had a toilet too. "Me, my mother and my sister-in-law have been forced to use the community toilet." To provide for them, her brother sells honey which he collects from the unowned trees.
Anjali's mother Nilam said that the police always threatens to demolish their 'jhonpri (shack)'. "We never had any land and if our houses are demolished this way, where shall we the poor go?" she said. She rues that they cannot afford any house on rent.
Niraj Mahto, a Beldar, belongs to a backward caste and drives an E-rickshaw. He said that after the demolition they are using old sarees and other clothes as a wall. He has an Aadhar and ration card but no papers of any land as he never owned that. He claims that before the construction of this foot over bridge in 1995, they used to live near the M.L.A. flat of the late RJD and socialist leader Raghuvansh Prasad.
"We miss Raghuvansh Babu who never allowed the police to act against us," he said.
Rupesh explained that it is the orientation of any particular government that decides their destiny. During the time of Lalu Prasad Yadav, they were untouched but the current Nitish Kumar government has a different orientation of getting a 'tip-top' image. "So, these people are not a major concern for the present government. I once met CM Kumar who flatly said that since the land of the city was too costly, he cannot allocate land for them here," Rupesh said.
Sajda Khatoon is one of the few Muslims living under the FoB. She said that a few years back one ward councillor had promised them an Indira Awas but that was never realized. They were even given house number, but the house remained elusive. Her house too was demolished. Her son and grandson are forced to sleep in the open even during the night. There is tap water and electricity connection in their house but this demolition has forced them to think for a new place. Her son runs an E-rickshaw and cannot afford a rented house.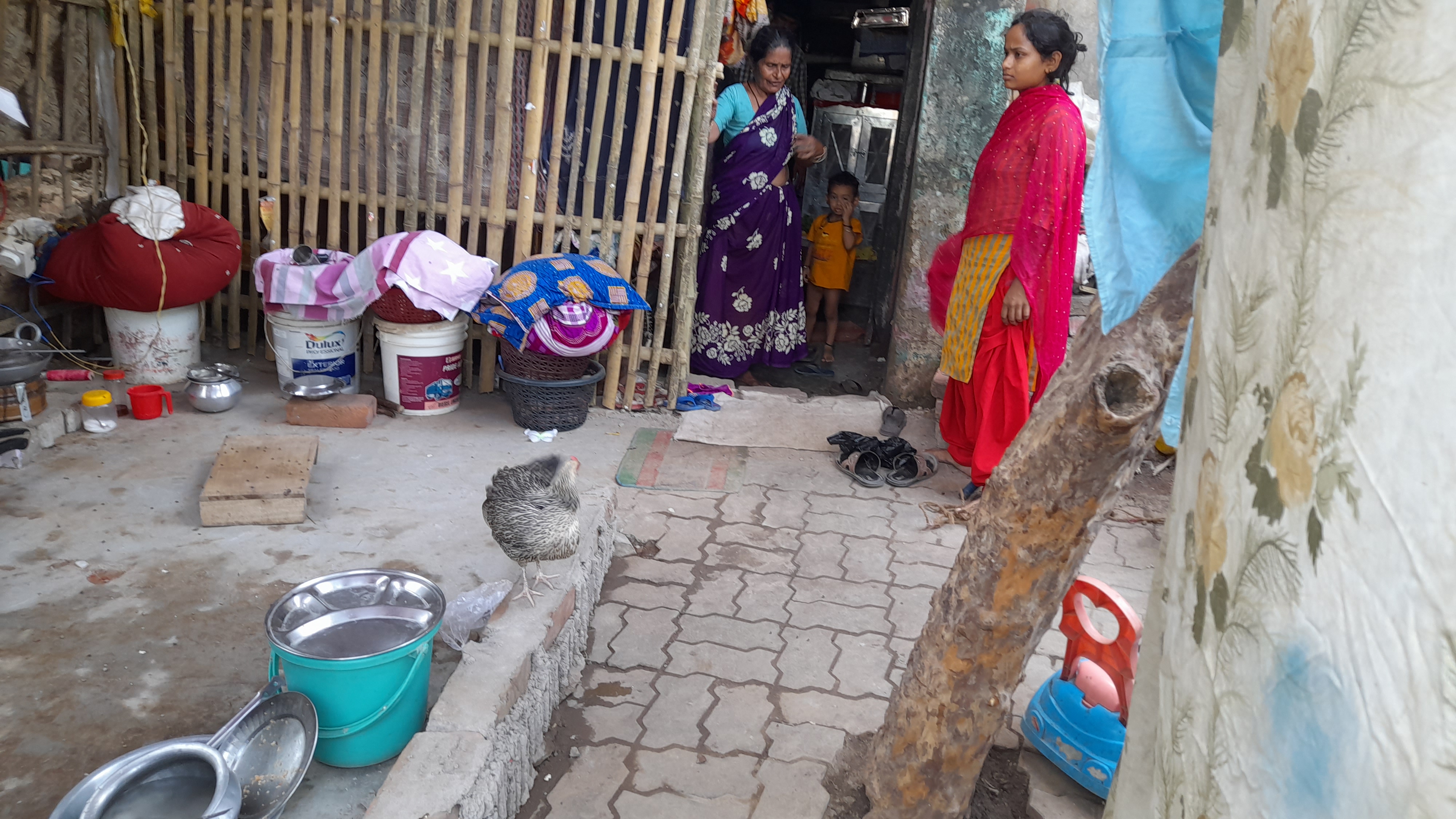 This area falls under ward no. 9 of the Patna Municipal Corporation. Councillor of this ward Abhishek Kumar agrees that an application to give houses to these people under Prime Minister Housing Scheme was submitted in 2018 but no one got a house. "Before dismantling the house, there should be an alternative arrangement to allocate an alternate place for them to live," he said.
Jigar Nat also pulls a Thela to earn his livelihood. He had two 'rooms' but the police demolished both of them. "Chimiki taan ke rah rahe hain' (I am iving under a plastic sheet.), he said, adding, 'Du muttihi anajo nahin chhora' (They not even spare a handful of grains)."
"Sab le gaya,- Chawal, daal, bartan" (They took away everything – rice, pulses and utensils). Where shall we go?," he questions.
Shakuntla Devi is inconsolable. She starts crying while talking to TwoCircles.net. She is a Dhobi by caste, a scheduled caste, and works as a washerwoman. The demolition drive has hit her livelihood. She said the police took the "iron and even the clothes of the customers." Weeping, she asks, "How can we return those clothes of the customers?"
SUPPORT TWOCIRCLES
HELP SUPPORT INDEPENDENT AND NON-PROFIT MEDIA. DONATE HERE